Business leaders should keep a close eye on the travails of Alabama's crowded prison system, the leader of the Business Council of Alabama told Calhoun County business leaders Thursday.
BCA president Katie Boyd Britt said the prison issue may not seem like something that directly affects business.
"We have a little bit of time to fix that," Britt said. "If we don't fix it, the federal government will come in and take over our prison budget."
Britt was the keynote speaker at the annual meeting of the Calhoun County Chamber of Commerce at Oxford's Civic Center on Thursday. The yearly luncheon, which draws hundreds of business executives and government officials, typically includes a speaker who offers a look at what's ahead for businesses in the coming year. 
Britt, a former chief of staff for Sen. Richard Shelby, R-Tuscaloosa, was named in 2018 as president of BCA, a statewide lobbying group for businesses. 
Photos: Chamber of Commerce Annual Meeting
A slideshow of images from the Chamber of Commerce Annual Meeting Thursday at the Oxford Civic Center.
Lawmakers return to Montgomery next week with a familiar set of challenges on their plate, most notably the state's prisons, which were packed to 169 percent of their built capacity in October, the last month for which statistics are available. Sentencing reforms have brought the inmate population from the highs the past decade, but the state is still facing the possibility of intervention from federal courts.
Deteriorating underground utilities at William C. Holman Correctional Facility are forcing the closure of parts of the prison and the transfer of more than 600 inmates to other crowded facilities around the state, officials announced Wednesday.
Corrections plans to move 600 inmates to other facilities; St. Clair Correctional Facility in Springville is the only maximum security prison not above 100 percent capacity already. It was at 90 percent capacity in October, state numbers show, with space for 179 more inmates. 
Britt said judges, plaintiffs and the Justice Department are all in agreement that conditions in the prisons are unconstitutional. But a court-ordered solution, she said, could cost the state a lot of money.
Local leaders say Nathan Hill, military liaison for the Calhoun County Economic Development Council for nearly two decades, played a key role in landing future repair work for the Army at Anniston Army Depot. For his work on that effort, Hill was named The Anniston Star's 2020 Citizen of the Year. 
"Currently our prison budget $590 million," she said. "It's 28 percent of our General Fund"
In recent years, lawmakers have begun every legislative session with some sort of plan to expand or replace the state's prisons, and have typically ended the session with no agreement. 
Britt said 2020 could also bring a debate about legalization of medical marijuana. A state study commission in December proposed legalization for medical use, but so far no bill to that effect has been filed.  
Britt said BCA hopes to "make sure the employer is protected in that conversation."
"If employers want to make sure that if you're using medical marijuana, you're not using a forklift, we want to make sure employers are protected in that situation," she said. 
Britt praised the local chamber and county leaders for recent successes, particularly in setting up the East Metro Area Crime Center and persuading the Pentagon to make Anniston the main repair depot for the Armored Multi-Purpose Vehicle, or AMPV, which is expected to replace the widely-used M113 armored vehicle. 
"You spoke with one voice," she said.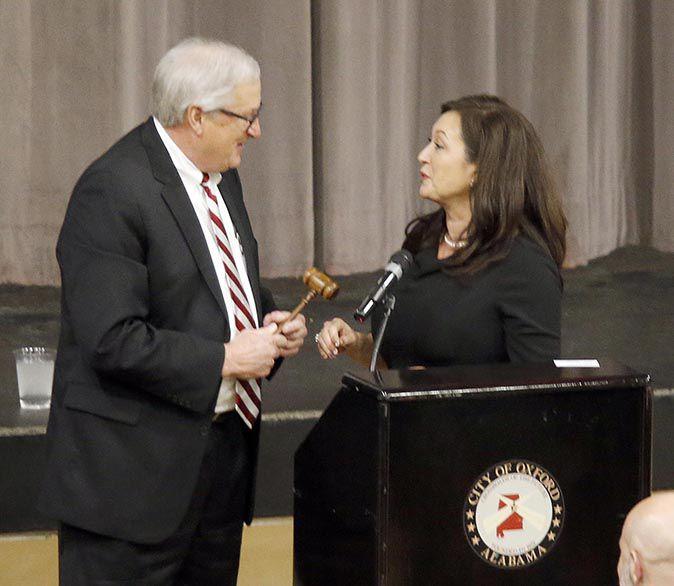 Anniston Star editor Anthony Cook surprised Nathan Hill, the military liaison for the Economic Development Council, with The Star's Citizen of the Year award shortly before Britt's speech. 
The chamber also swore in new officers, including new chairman Larry Deason, who takes over for outgoing president Gayle Macolly.