Alabama's unemployment rate tied a record low last month, with record numbers of people working, according to figures released Friday by the Alabama Department of Labor.
In Calhoun County, unemployment was at 3.4 percent in May, down from 4.3 percent the same time last year.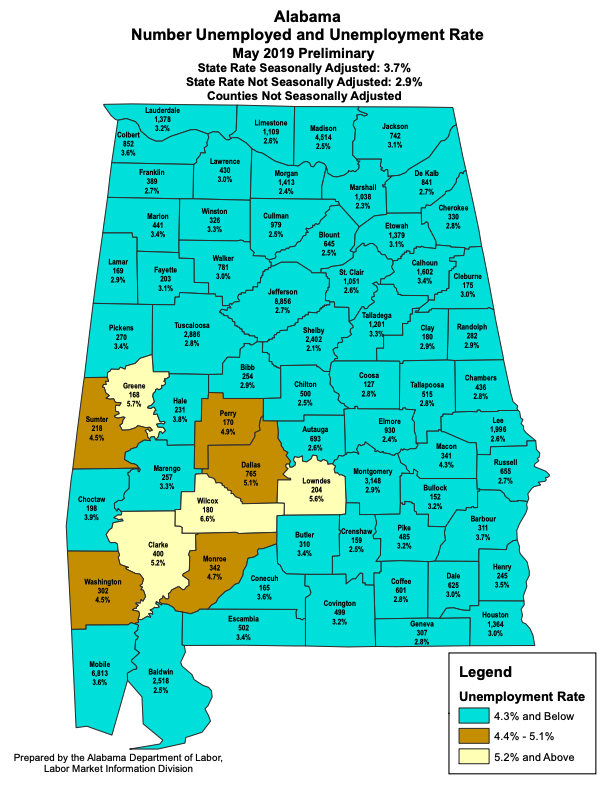 An economist attributed last month's record economic figures to multiple industries.
"It's not just one sector of the economy," said Ahmad Ijaz, an economist at the University of Alabama Center of Business and Economic Research.
Ijaz said several industries, including automobile, food manufacturing and education, have contributed to the rise in the economy.
May's seasonally-adjusted unemployment rate was 3.7 percent, according to the Labor Department, down from 3.8 percent in April and from 4.1 percent in May 2018. An estimated 2.15 million people were working in Alabama in May, an increase of more than 40,000 from the same month the year before.
"Once again, Alabama's job growth has surpassed the nation's," Labor Secretary Fitzgerald Washington was quoted as saying in a news release. "Our economy is supporting more jobs than ever before, and Alabama's employers are continuing to hire."
The release said all 67 counties had lower unemployment rates in May than they did in the month prior and May 2018.
Don Hopper, executive director at Calhoun County Economic Development Council, said much of the growth in local jobs is from industries that are already here.
"Our existing industries have continued to look for people," Hopper said.
According to the Department of Labor figures, about 1,000 more people were employed in Calhoun County in May than were this time last year. Meanwhile, 300 fewer people are unemployed, meaning 600 new people entered the labor force.
Hopper said Anniston Army Depot, the county's largest employer, has "increased numbers significantly," and from what he knows, it will continue to do so in the future.
However, Anniston has the third-highest unemployment among the state's largest cities, at 4.1 percent according to the release.
St. Clair County's rate dropped half a percentage point, from 3.1 percent to 2.6 percent. Talladega County saw a similar decrease from 3.9 percent to 3.3 percent.
The state's release said May also set records for the size of the total workforce and the number of jobs in the state.
Gov. Kay Ivey was quoted in the news release as saying state officials will continue their efforts to decrease unemployment.
"It remains our goal to ensure every Alabamian who wants a job can get a job," Ivey was quoted as saying.
Ijaz said that the economy looks good for at least the short-term future.
"If we see the economy going down, it won't be this year," Ijaz said.