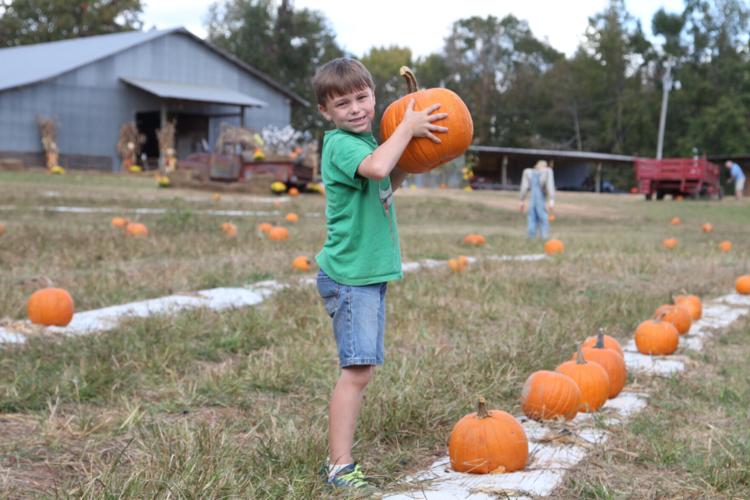 The COVID-19 pandemic has caused many entertainment venues and typical family activities to be canceled this year. and Alabama's agritourism industry is no exception. But as students and parents continue to be stuck inside their homes for school and work, farmers are optimistic for this year's fall season.
"People are going to be hesitant to think about where they should go, but I can't think of a more safe, wholesome and educational opportunity than going out to an agritourism operation in the state," Hunter McBrayer told ADN.
McBrayer is the director of the Alabama Farmers Federation's Bee and Honey and Greenhouse, Nursery and Sod Division and is involved with promoting Alabama's agritourism industry.
The Centers for Disease Control and Prevention and state guidance say conducting activities outside is a safer option than indoor venues, and agritourism businesses are hoping to turn that into an advantage during this year's pumpkin and apple picking season.
McBrayer said many farms have faced a challenging past few months because of a decrease in school field trips, since many schools have moved to virtual learning and excursions have been canceled.
McBrayer said one farm he talked to recently said it would typically have around 3,500 kids booked for this time of year but is now down to 100 homeschooled children booked for trips.
Not only do businesses have to worry about the decrease in school field trips but trying to rework their normal attractions is another challenge.
"A lot of things they do require that close contact, from putting people on hayrides, to putting people in wagons to take them across the fields, to face painting and candy apples," McBrayer said. "Everything that goes into an agritourism business requires things that right now aren't exactly in line with the guidelines the state and CDC puts out."
But McBrayer said many farms are optimistic for the fall season as more parents and especially kids will want to get out of the house and do a fun activity that allows for proper social distancing.
"They're going to learn about farming, they're going to spend time with their family and they're going to be able to be in a place where they can get as far away from people as they want to be," McBrayer said
The owners of Scott's Orchard in Hazel Green told ADN they've seen a spike in people coming to their farm to pick their own peaches and sunflowers this summer.
"We've probably increased our business by one and a half times," said Will Scott, a fifth-generation farmer at the orchard.
Scott's Orchard will have apples available for picking starting Labor Day, and Scott said he expects to see business continue to do well into the fall months.
"People want to get out of the house and they think that this is an activity they can easily distance themselves with outside in the fresh air," Scott said.
McBrayer said there are around 30 agritourism operations and farms in Alabama of varying size; they can bring in millions of dollars in tax revenue for the state.
The Alabama Farmers Federation is creating agritourism guidelines that they plan to send out to farms in the next week that will provide useful resources and ways to boost their businesses in the fall months. The guidelines will include recommendations for entertainment venues and tourist attractions on how to safely hold events within the CDC health safety guidelines.