Alabama's unemployment rate dropped to 7.5 percent in June, with Calhoun County's unemployment rate falling to 9.4 percent, according to numbers released Friday morning by the Alabama Department of Labor.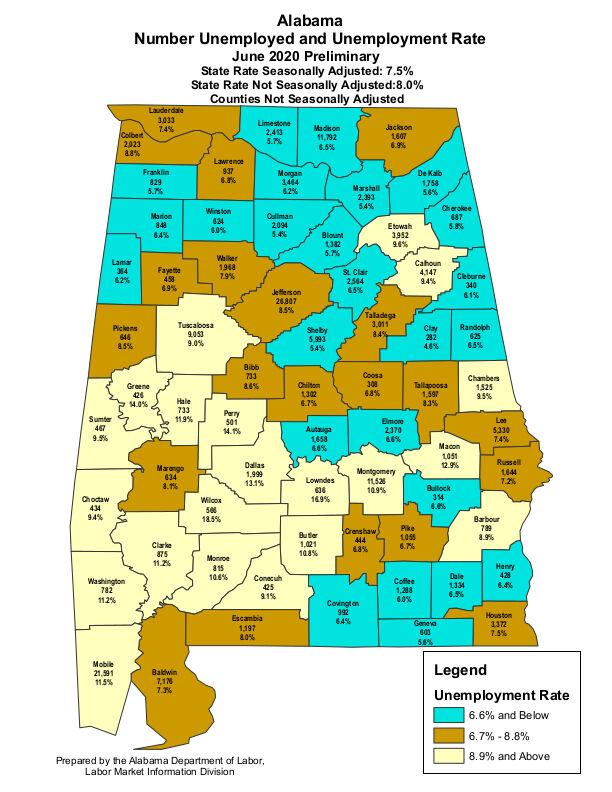 Unemployment in the state and the county had been about two percentage points higher in May, as businesses began to reopen after a state stay-home order intended to slow the spread of coronavirus. 
If the numbers reflect an economic bounce-back, they also show how far the state has to go to recoup what it lost to the virus. Unemployment statewide was at 2.9 percent in June of last year. 
"We continue to make gains in our unemployment rate but remain above the record low rates we were experiencing prior to this pandemic," Labor Secretary Fitzgerald Washington was quoted as saying in a press release.
It's unclear how many jobs were actually added to Alabama's economy over the month. Labor officials have two ways of counting jobs — a survey of households and a survey of employers — and they sometimes produce conflicting numbers. One set of numbers released Friday shows a slight decline in the total number of employed workers in the state, from May to June. 
Labor officials, in their Friday release, appeared to be using the other count, reporting 42,000 new jobs in the state. Those numbers show the biggest increases coming in the "leisure and hospitality" sector that includes restaurants; in department stores; and in auto manufacturing, which added a reported 10,000 jobs over the month. Numbers for the Anniston metro area followed that same pattern, with about 1,300 jobs added in various sectors. 
The area still has 4,100 fewer jobs than it did in June of 2019.