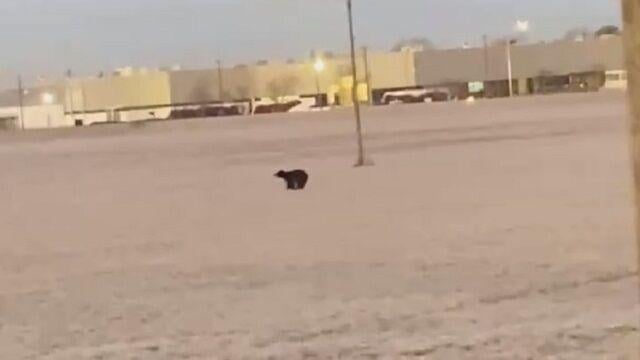 Oxford resident Tamara Kidd knew her trip to the gym early this morning would be challenging, but she didn't expect it to be un-bearable.
Driving south on Alabama Highway 21 on her way back from Planet Fitness, she spotted what she thought was a dog running across an open field near the entrance to Anniston Municipal Airport.
"I said, 'Dang that's a big ole dog,'" she said in a phone interview with Alabama NewsCenter. "Then I said, 'That is not a dog.'"
Kidd said she couldn't believe her eyes, as she pulled out her phone to get a one-minute video before the bear disappeared into a patch of trees. By noon, the video had been shared on Facebook almost 2,000 times.
Kidd said her initial reaction was surprise, then concern.
"My thought was, let me get home and shut down my garage," she said. "It's so weird to see that. I thought my eyes were deceiving me. It startled me after I realized it was a bear."
She said she called her husband, Brian, whose adventurous spirit questioned why his wife didn't try to get a closer look. Instead, she followed up with a phone call to Oxford Police.
Chief Bill Partridge said the protocol is to call Alabama Wildlife if the police department makes contact with a bear. Officers went out to look for the bear this morning but never found it.
"When you butt up against Talladega National Forest, you're gonna see those type of things," the chief said. His advice to any residents who encounter a bear: "If they see one, call us. Don't approach them, and don't try to feed them."
Marianne Hudson, a conservation outreach specialist with Alabama Wildlife and Freshwater Fisheries Division in Montgomery, agreed with those suggestions and added a couple more.
"Don't leave any pet food outside. Don't have trash cans or stinky trash left out for days. Take the trash out the morning of pickup," she said. "Don't approach a bear. Make sure it sees you. Wave your arms, clap your hands, and make sure it has an escape route. Shoo it away like you would a stray dog."
She encouraged residents to report bear sightings through the Wildlife website, outdooralabama.com. "We try to monitor their movement throughout the state, where they're being seen and the types of habitats they're using," Hudson said. "It's not unusual to see black bears anywhere in the state of Alabama."
Kidd said she lives less than a mile from where she saw the bear this morning, and her concern for anyone who lives nearby left her with two questions for the bear:
"Where did you come from? And where are you going?"
Alabama NewsCenter was developed by Alabama Power.