The crowd stretched nearly unbroken from 13th to 9th streets, lining the sidewalks of Anniston's Noble Street on Saturday for what organizers and officials say was the city's biggest and best-attended Christmas parade in years.
Hundreds came for high school marching bands, sequin-clad dancers, tricked-out cars, candy — and of course, Mr. and Mrs. Claus. The snowy-haired couple brought up the procession's end, riding atop an Anniston Fire Department ladder truck.
"I've lived here a long time, and I don't think we've ever had that many," Neeli Faulkner, a city employee and one member of the committee who organized the parade, said after its end Saturday.
Perhaps it was the weather, Faulkner said. With a high of 74, the day was unseasonably warm.
It may have been the time change — the parade started at 3 p.m. this year, rather than after dark.
Or it could've been the size of the parade.
There were more than 100 entries this year, including Anniston High School's marching band and cheerleaders, as well as groups from four Calhoun County schools — proof that the parade is not just for Anniston.
"We've got schools here today who've never been in the parade, who've never been on Noble," Anniston Mayor Vaughn Stewart said, standing next to City Councilwoman Millie Harris outside a 900-block Noble Street restaurant.
Anniston Christmas Parade 2015
Walter Wellborn High School's band returned to the parade after seven years away, Stewart said.
As they marched by to the tune of Jingle Bells, Rita Mink thought about optimism and how the heart of her city might be lurching back to life.
"I think the mayor is doing an excellent job," Mink, who's lived in Anniston since she was 9 years old and for whom the parade is a tradition, said. "We've never had a Christmas Village before."
Less than a block away, outside the old About Time Antiques building where that village had been built by Anniston Main Street program volunteers, Glenn Hurd echoed Mink's feelings as he watched the parade.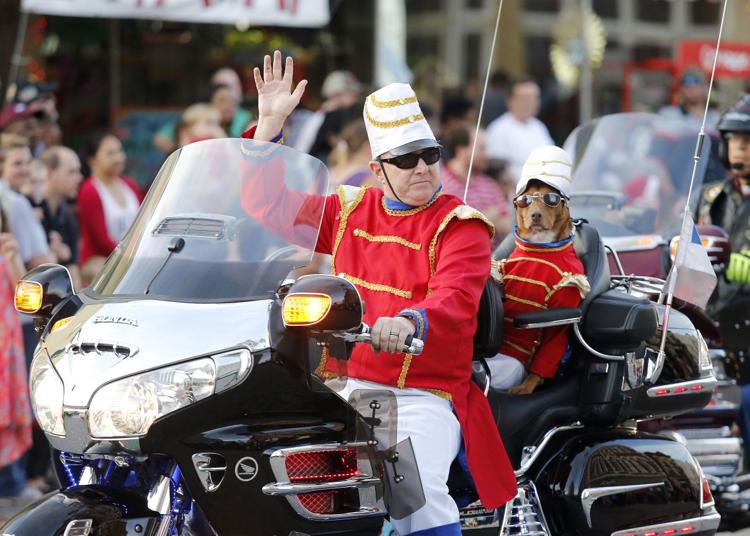 "This is wonderful," said Hurd, an Anniston resident for nearly 50 years. "Anniston is turning around, coming back — especially downtown."
His wife and daughter were inside, signing copies of a children's book they wrote about their dogs, Cleo and Olive.
Almost 25 other local vendors had set up shop in the building, and people milled around the tables, or drank hot chocolate from a village cafe. Artists, part of a new arts group in Anniston, exhibited their works.
Wellborn mother Tabitha Bishop said her three children loved the village. Inside the village, Santa waited in the center of the village, flanked by elves.
All the extra traffic from both the village and the parade seemed to have an impact on Noble Street's merchants, with one restaurant's general manager saying business was great.
"For the first year, it's totally exceeded my expectations," said Brandon Butler, general manager at Rack & Roll Billiards.