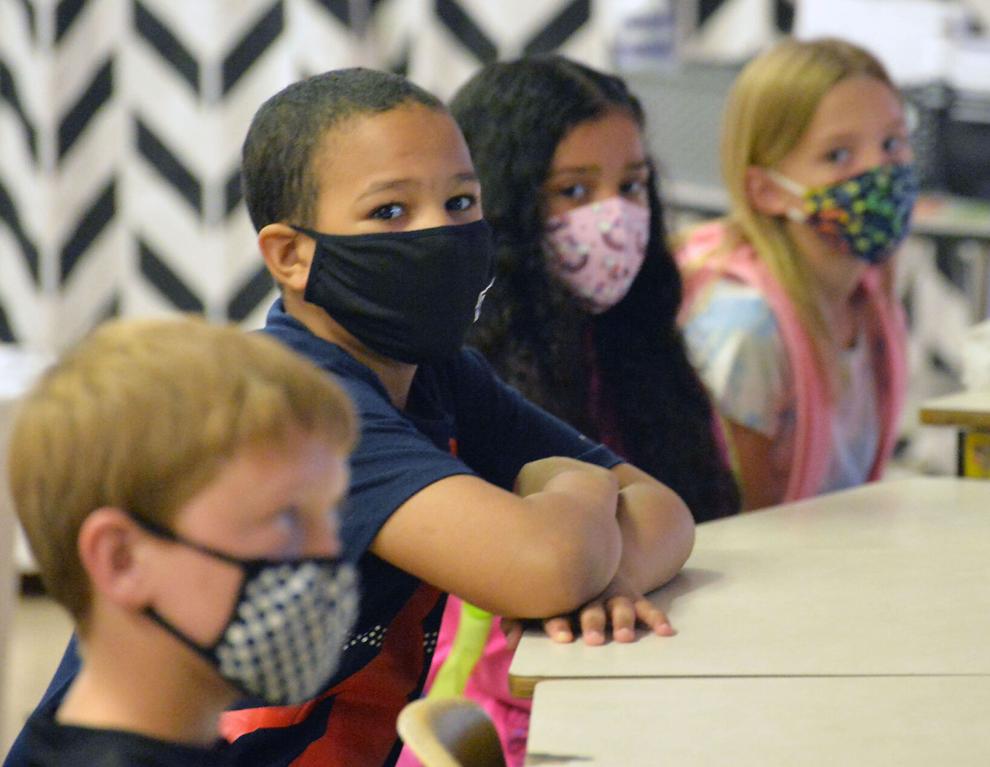 Students in Anniston's K-12 schools will wear masks when they return to school Aug. 9, but school leaders are planning to have most of the student body back in the classroom. 
That's the plan, at least, barring any change — for better or worse — in the spread of COVID-19.
"We're going to start the year out with masks on, and we'll see how it's going to go," said Ray Hill, superintendent of Anniston City Schools. 
For most local school systems, the start of school is little more than two weeks away. State school officials haven't so far issued a statewide mandate for masks or social distancing, leaving the decision up to local school boards. Still, there's growing concern about a resurgence of the virus in America's least-vaccinated state. 
As of Friday, according to the Alabama Department of Public Health, 727 people were hospitalized with COVID-19. That's compared to 179 on July 3. The number of new cases is up sharply compared to the beginning of the month. 
Most public health officials attribute the rise in new cases to Alabama's low vaccination rate and the increased spread of the highly contagious Delta variant. 
Nearly two thirds of people in Alabama have had not one single dose of the vaccine, ADPH numbers show. In Calhoun County, that number is right at 67 percent. Health care workers in Calhoun County have been administering several hundred doses per week, but the unvaccinated in the county number 60,000 or more. 
The strain of vaccine resistance is beginning to show among some public officials. Gov. Kay Ivey, in a press conference Thursday, expressed exasperation with people who still refuse to get a shot. 
"Folks are supposed to have common sense," she said, according to reports in al.com and other news outlets. "It's time to start blaming the unvaccinated folks, not the regular folks."
Kids only rarely develop severe cases of COVID, though health officials have expressed concern that outbreaks in schools could lead to greater spread of the virus in the community. The vaccines are currently not cleared for use by anyone age 12 or under, leaving most elementary students without a chance to be immunized. 
According to ADPH numbers, only about 5 percent of the population 17 and under have been vaccinated — a number that suggests vaccination rates among high school students are likely very low.
Hill, the Anniston superintendent, said school administrators don't know how many students at the city's high school have been vaccinated. State law, he noted, doesn't permit the school system to require vaccines, and the system doesn't ask.
Not every local school system has followed Anniston's lead in requiring masks. In an email to The Anniston Star, Piedmont superintendent Mike Hayes said the Piedmont school system "plans on starting school with traditional face-to-face instruction for all students."
 Rules posted on the school system's website show that masks will be optional in the coming school year, although the school system also has options for "blended" and "remote" classes if needed.
Cleburne County Superintendent Chad Young also said school in the Cleburne County system would be in-person five days per week. Last year students attended school for four in-person days and one virtual day each week. 
"We may have some of the protocols from last year just to see how things are going, and hopefully as the year goes we can maybe do a little bit more and let the students experience what a normal school year is like," Young said. 
Students will not be required to wear masks at school, mainly because the governor has not issued a mask mandate.
"We're not requiring masks but we're not going to tell them they can't. They're recommended, and I understand people's sentiments if they want to wear a mask," Young said.
Angela Morgan, an area representative for the Alabama Education Association, said most of the schools she works with are planning to return to in-person class.
During the last school year, teachers sometimes pushed back against reopening plans that they saw as unsafe — but Morgan said most teachers welcome the idea of a return to class this year. 
"Everybody is excited to get back," she said.
Many of the teachers who had COVID-related concerns in the last school year have since retired, she said.