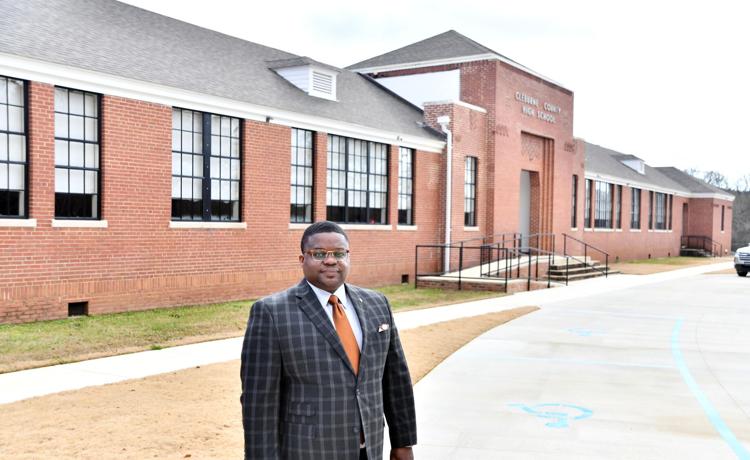 HEFLIN — Carillon Oaks Heflin, a facility for independent living, assisted living and memory care, will open its doors for residents Jan. 19.
It's housed in the old historic Cleburne County High School building on Willoughby Street. Built in 1936 and used until the last class graduated in 1984, the building was bought by the Casey family to save it from demolition and has been a church, an antiques store, auction house, a consulting business and other ventures. The old red brick high school was placed on the National Register of Historic Places in 2018.
The Casey family along with Tanya Maloney, Heflin's economic developer, had been working for years to get the building ready for something new. 
In 2018, developers Lathan & Coleman LLC bought the building and invested $12 million to convert the old school into a 39-bed assisted/independent living facility and a 16-bed facility for residents with failing memory, dementia and similar conditions. A groundbreaking ceremony was held in September 2018.
The 16-bed unit is called the memory care cottage and is a separate, newly built building, according to Jimmie Thompson III, Carillon Oaks executive director. 
Originally Carillon Oaks was slated to open last year, Thompson said.
"COVID-19, the pandemic, caused a serious delay. It caused a six- to eight-month delay," Thompson said on Tuesday.
Photo Gallery: Carillon Oaks Heflin
Carillon Oaks, an independent/living, assisted living and memory care facility in Heflin which will open on Jan. 19. The old Cleburne County high school was renovated and repurposed for the facility. The memory care facility is a new building. 
New center means 40 new jobs
Thompson said interest in the facility has increased as the opening date approaches.
Thompson has said he's been giving lots of tours and telephone interviews to prospective residents and their families. Rooms start at $2,500 per month, according to Thompson. The facility will employ 40-50 employees.
Thompson said the number of residents already signed up was on track with what he had anticipated, despite the pandemic. On Jan. 19, eight to 10 residents will move in, according to Thompson.
"We actually have a resident who went to school here, graduated in the '50s and she's coming to live here," Thompson said.
Due to COVID-19, families will move in the residents' furniture on a staggered schedule, so that on the 19th when the residents arrive, all they have to do is walk in accompanied by a loved one, Thompson said.
"The next couple of weeks are going to be busy for us," Thompson said.
Preserving the building's history
The look and feel of the old school are intact down to the original old hardwood floors and transoms over each door. The existing rooms and spaces have all been repurposed to accommodate the residents' needs.
In one of the hallways hang large photos of some of the graduating classes from the high school. The earliest graduating class photo is from 1940.
Maloney was all smiles that the facility will open in two weeks.
"This project was not just about the 40 jobs and $12 million investment. It was about us finding a way to take care of our own as they grow older and keeping them close to home," Maloney said on Tuesday.
Thompson said visitors are just beside themselves when they tour the facility.
"We've had former students come, and they've just been blown away and they're grateful," he said.
Thompson said they come in and say, "Thank you for saving our high school, and one day I'm going to come back and live here."