"Mr. D! What are you doing here in the neighborhood?" The shouts ring out as Darren Douthitt steps out of his car and kids recognize the school administrator.
"I'm looking for Johnny. Can you tell me where he lives?"
"Sure, I'll take you Mr. Douthitt!"
Darren Douthitt, superintendent of Anniston City Schools, is making house calls. It's his way of tackling one of the perennial problems facing public education: a lack of parental involvement.
"My philosophy is, there's a way to get 100 percent parental involvement," said Douthitt. "If you need to see 10 parents, and you've asked to see them in your office, or at the school, and you don't get them, then you just get your keys, find their address – and go see them."
It's a technique he learned during one of his first jobs after college. He was working with Linda Price on a dropout prevention program for the city of Anniston. The two of them got in the car and visited every parent of every child they were trying to enroll in the program.
"She taught me that lesson of how to make something happen with a parent," Douthitt said. "You don't sit back and wait on the parents."
In his 16 years in school administration, Douthitt has made house calls in Birmingham, Montgomery, Talladega, Butler County. He's never encountered any problems.
"You can go anywhere, as long as you go in with respect and dignity," he said.
He certainly doesn't expect any problems in Anniston.
"I'll knock on the door, say 'I'm here about your son,' and guess what – they know me. From when I was principal at Anniston High School, or teaching at Anniston High School, or 'You taught my sister,' or 'You taught my brother.' They all know me here. That doesn't make the job easier. But it does help," he said.
"If you are superintendent or principal or teacher, public property is what you are. If you're not in the community, if you're not willing to make a house call here and there, something's wrong. That's really how you have impact.
"If the principal had ever graced my door at my momma's home to say something's wrong at the school … woooooo," Douthitt smiled and shook his head, before snapping back to attention. "If the superintendent, though, came to the house … "
Darren Douthitt grew up in Ohatchee, about a mile from the high school. He was the next-to-last of 10 children, one of only three boys.
Douthitt's father had multiple sclerosis, and died with Darren was 4. His stepfather, Johnny "Popcorn" Scales, kept food on the table. His momma, Jennie, believed in the power of education. Douthitt never missed a day of school, and all the children were expected to make good grades.
"Every six weeks, when the report cards came, everybody had to line up and have a report card there for Momma to check. Of course, if the grades weren't satisfactory, you had to get a whipping," Douthitt remembered.
"That's what made me an honor student."
So he never got a whipping?
"Oh, I did … but not for grades!"
In the summer, Douthitt and a brother would spend time at their grandparents' farm in the Peeks Hill community. The boys were put to weeding the corn, picking the apples, feeding the chickens, hoeing the garden. "I am thankful for those experiences," he said, "although I thought it was torture back then."
Douthitt's two brothers now live in Indianapolis. His sisters are all still in Alabama. One, Annette Sturkie, is a teacher in the Anniston school system.
Another sister is the mother of local football standout T.J. Heath, now playing for the Cleveland Browns.
Douthitt's oldest sister still lives out at the old farm at Peeks Hill. There used to be more family living there, until 2011, when the April 27 tornado came through. Most of the homes were destroyed. Ruby Douthitt, Darren's aunt, was killed. Her funeral was the last time the family was all together.
Douthitt's momma is 79, still living in Ohatchee. Her daughters are already planning for her 80th birthday party in February.
When Douthitt was in eighth grade, his teachers started telling him he should go to college. "I guess I had impressed them with my ability to get my work done," he said. "I wasn't near the smartest kid in school – not even close. But I worked hard, and I had an appreciation for making good grades."
But Douthitt was skeptical. He didn't know anyone who had gone to college. "No one could tell me what college was about."
His brothers and sisters – "who are much smarter and more intelligent than I am" – all got jobs after high school. They could afford cars. This idea appealed to a teenaged boy.
But Douthitt's teachers wouldn't let him off the hook. "They said to me, 'You can't take this ability you have off to some factory where they're going to pay you much less than you're worth. You've got to go to college!"
Douthitt had the test scores to get into college, but not the money.
His teachers brought him information on local scholarships.
"I got two applications. I filled them out, and I received both those scholarships," Douthitt said. "That's how I got to Jacksonville State.
"I wonder sometimes, what if I had received an application for a scholarship to the University of Alabama – which would have been a true dream. What if I had received an application for a scholarship to Harvard? . . . I'm thankful, but I do wonder."
Douthitt started at JSU as a computer science major. He had been fascinated with computers since the days he had to go to the laundromat with his mother and she let him go to the nearby Kmart to play in the computer aisle.
But then one day at college, sitting in a classroom, trying to get a COBOL program to loop like it was supposed to, he looked out the window. It was a sunny day. Other students were out on the quad, throwing a Frisbee.
Douthitt changed his major to English. "I had this idea that maybe I could teach. Maybe I'd honor my teachers by becoming a teacher," he remembered. "I'd had this thought about being a coach all along, because my coaches had a huge influence on me. They kept me out of trouble. They taught me it doesn't matter how big you are, if you outwork everybody else, you can make it happen."
He graduated from JSU in 1988. He was a first-generation college graduate. "I got real lucky."
After college graduation, Douthitt couldn't find a job. Sunny King Ford wouldn't hire him. The Anniston Star wouldn't hire him. He didn't want to leave home to look for work.
So he went to work with his stepfather at Union Foundry. People would ask what a college graduate was doing working at the foundry; he'd say it was just temporary.
A year later, he went back to JSU for teacher certification, then took a job in the university recreation department. "It wasn't a lot of money. It wasn't Union Foundry money. But I could feed myself," Douthitt said. "I knew that if I just stayed with it, I could get a teaching job and be all right."
Douthitt taught English and language arts at Anniston High School for five years, before leaving to take a job as a junior-high principal in Pell City.
"I really loved Anniston High School. I probably shed a tear after I packed up and left. But administration was something I had a strong interest in," Douthitt said.
He returned to Anniston High School in 2001, to replace a principal who was being ushered out.
"There was a lot of conflict, a lot of turmoil," Douthitt said. "In my case, I didn't worry about it. I jumped right in, and I loved every minute of it."
Two years later, under new superintendent Sammy Felton, Douthitt's contract was not renewed.
"That was a tough time, now. That made me question a lot of things about administration, about the dark side of decision-making, the politics of it. I've always believed that if you work hard and you give a job your all, you should be able to decide for yourself whether you stay or go."
Now he's back for a third round. Some people said he must be crazy to take the job as superintendent. Anniston High School's graduation rate is the lowest in the county. The system is considering closing some elementary schools because of decreasing enrollment.
At a county athletic tournament in the spring, shortly after Douthitt was hired, a stranger walked up to him with tears in her eyes and asked, "Why would you ever want this job?"
"I love the place," he answered.
"She triggered in me that idea, 'Why not me? Send me. I'll go.'"
There are two true things about Darren Douthitt, according to Anniston mayor Vaughn Stewart.
Whether Douthitt is meeting with state Sen. Del Marsh or appearing at a barbecue at Cooper Homes, he will:
2. Give out his cell phone number.
"I don't care what audience is in front of him, he's giving them his cell number," Stewart said.
"A few folks may scratch their heads and say he's way too accessible – that he's not going to be able to get any work done. But he feels he has to start that way and build his foundation, and then when he has to make tough decisions, he will have the community behind him."
The mayor meets regularly with the superintendent, and appreciates that Douthitt is open to new ideas. "He knows that the school system could benefit from input from all segments of the community. The same is true of City Hall; bureaucracies by nature close the doors – and the windows. They don't want anybody outside to come in and participate. Darren is just the opposite," Stewart said.
"I tell him that he could really be the turnaround superintendent that this system needs.
"I remind the council that we must rally around him. I tell the business community the same thing. He needs us. We must rally around him. And we must be patient. He's not a magician."
"Some people make comments as though intellect is sprinkled upon people according to demographics. I don't like that. I hate that."
Judging by his Twitter feed (@ACS_super), Darren Douthitt can either move at the speed of light, or he has an identical twin.
"He went to every graduation – all the fifth-grade graduations, the kindergarten graduations, the middle school graduation, the high school graduation. Everything – band concerts, choir concerts.
"I don't know where he finds the time to do the things he does. But it's energizing to work with someone like that," said Laura Phillips, who was recently hired as the director of curriculum for Anniston City Schools, after spending 12 years in administration at the Donoho School, a private college preparatory school.
Phillips and Douthitt go back almost 20 years. She used to teach across the hall from him at Anniston High School. "I knew then he was going places," Phillips said. "He always had the children's best interests at heart. He's very driven. Whatever he dedicates himself to, he is going to do.
"If he knows what he's doing is the right thing, it doesn't bother him what people are saying. He's going to do it because it's the right thing to do."
Do you want to know the most fun that Darren Douthitt can have?
He loves it so much, he had it written into his contract.
One day a week, the former basketball coach gets back on the court. "Officiating gives me exercise and peace of mind, because when I'm calling, I don't think of anything except what I'm doing on the court," he said. "I feel so good after calling."
Even with all those people yelling at him?
"Oh yes. Any time you make any call on the basketball court, 50 percent of the people are going to be for it, 50 percent of the people against it," he said. "They paid their money, they can holler as loud as they want.
"I don't usually pay any attention to it. It's just part of the game. If they're not hollering about a call, I think something's wrong."
+1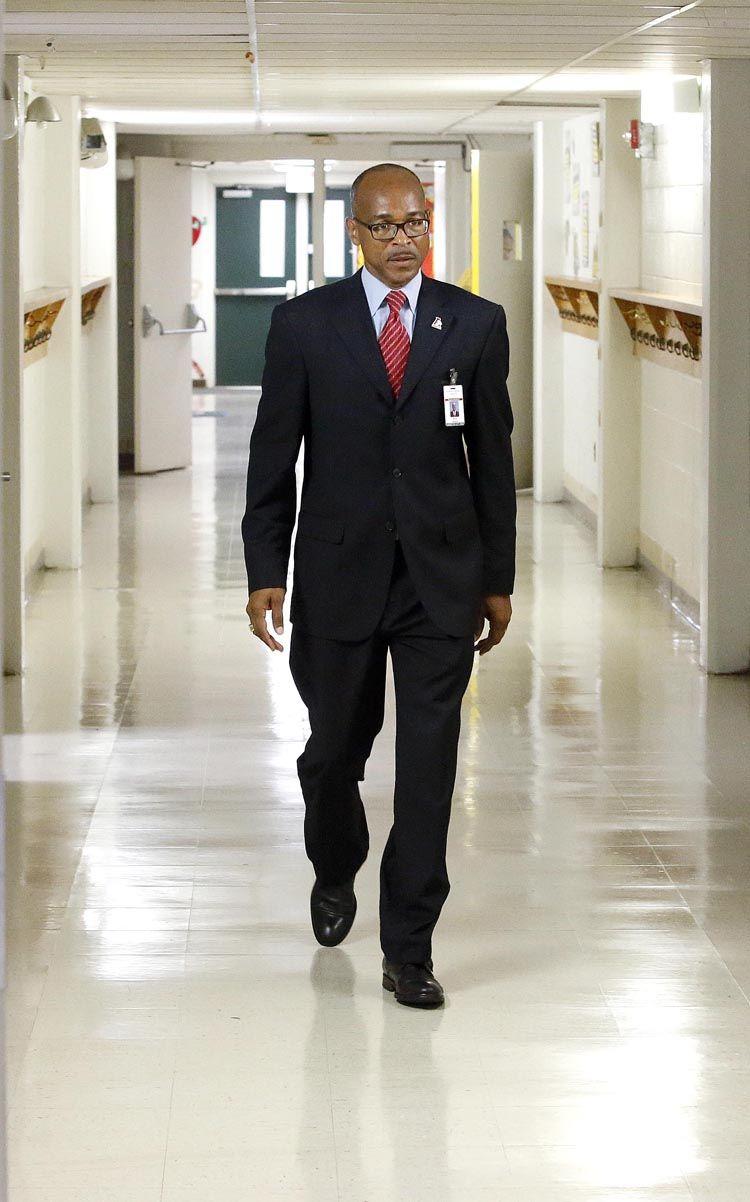 Of all the places Douthitt has worked, the only district where he considered the schools to be properly funded was Lee County, home to Auburn.
Douthitt was assistant superintendent from 2008-10. "Lee County is a place where I took all the phone calls related to whatever might happen with 10,000 kids. Sometimes my phone wouldn't ring for two or three weeks at a time," Douthitt said.
"I could easily have stayed in Lee County and retired there. … But something in me says, seek the challenge. That's who I am."
So here's the challenge at Anniston City Schools:
"Based on some of the things I've heard – and some people get truly outrageous with some of the things they say – I feel like people consider us the 'bottom dwellers.'
"Our job is to take that place we have on the totem pole – which is almost off the totem pole – and, day by day, work our way up.
"We have to work hard on changing the perception. So test scores HAVE to go up. Our people MUST do their jobs. They MUST recommit to education. Our students MUST be disciplined; there are no other options. Our parents MUST be involved.
"We can no longer walk around with our chests out and claim to be athletic giants in Calhoun County. That's all right, but it's not enough for me.
"When people see they're playing Anniston in football or basketball, they start to get nervous. We need to strike that same fear in the academic arena."
Douthitt wants people to consider seriously what is at stake here. "Some people make comments as though intellect is sprinkled upon people according to demographics. I don't like that. I hate that.
"These kids, no matter where they are from, the intellectual capacity they were born with is theirs. It's just a matter of them being motivated, and the proper resources being laid before them.  
"Anybody who's been in any of our schools – and I'd like for people to go in, so I can show them – they'll find some very, very talented kids. I've been thoroughly impressed since I've been here."
Not too long after Douthitt started the job in February, he ran into an old friend at the hardware store, who said he was taking on an impossible task. "People should be careful what they say, because the fact is, when you're a superintendent, you're responsible for children. If people are talking about the job and people are saying it's impossible – to me, you're speaking to the ability of the children. What's impossible about anything related to children?
"You don't know who you're talking to when you tell me it can't be done. When you look at my life, it's a story of what can be done."