Officials with a company identified in state court filings as a supplier of a drugs used in executions said Thursday that, according to their records, the manufacturer did not sell the drug to Alabama.
"We have no evidence of a direct purchase of midazolam from the state of Alabama, and records we have received from wholesalers indicate no shipments of Akorn midazolam product to the state of Alabama," wrote Dewey Steadman, director of investor relations for Illinois-based drug manufacturer Akorn, in an email to The Star on Thursday.
State court filings this week suggested that Akorn is the manufacturer of midazolam the state plans to use in lethal injections, and referred to Akorn's drug manual twice as "the manufacturer's package insert." The drug was used in botched executions last year in Oklahoma, Arizona and Ohio.
Steadman said Thursday that the company "strongly objects" to the use of its products in executions. He said the company won't sell its products directly to prison systems, and will restrict the sale of its products to distributors who "use their best efforts" to keep these products out of prisons.
It was the first time Akorn has commented on the controls it uses to keep its drugs from being used in executions. For nearly a year, death penalty opponents have asked Akorn to put such controls in place, but the company remained largely silent on the issue until Thursday.
Steadman wrote that the wording used in the state's filing "is a disclosure attached to all labeling pulled directly from our website and is not present in printed labeling shipped with our products. If the state was trying to make an argument based on the label, any company's midazolam label could serve as an exhibit as they all are the same."
Company records show no sales of the drug midazolam to Alabama, Steadman said, speaking by phone Thursday.
"That's not 100 percent guaranteed, but that's from the records that we've received from our wholesalers," Steadman said.
Steadman added Akorn's share of the market of that drug was 1 percent in the first quarter of 2014.
Steadman also wrote that at least eight other companies make midazolam. One of those, a U.S. company, suspended all drug manufacturing in 2013. Still two other U.S. company Steadman named have denounced the use of its drugs in executions, and have taken steps to limit that use. Another drug maker listed, based in Germany, no longer ships drugs used by prisons in executions.
Another company on Steadman's list is banned by the FDA from importing the drug into the U.S. from its Mumbai facility, and a London-based company in 2013 said it would begin restrictions on those sales as well.  
Joy Patterson, a spokeswoman for the attorney general's office, said Thursday there would be no comment from the office to questions about which company supplies Alabama with the drug.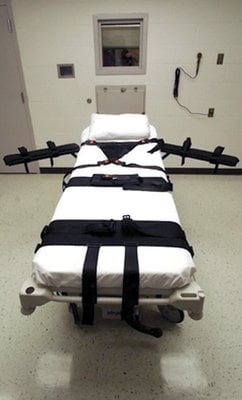 Alabama held its last execution in 2013. Numerous legal challenges from inmates claim that new drugs used in lethal injections could cause unnecessary pain and violate the Constitution's ban on cruel and unusual punishment.
European drug makers have largely stopped selling the lethal drugs to U.S. prisons, and Alabama switched to using pentobarbital as the first drug in a three-drug protocol. Under pressure from death-penalty opponents, drug makers curbed sales of pentobarbital for use in executions, causing many states to switch to new combinations of drugs. Alabama plans to use midazolam as a substitute.
In 2014 a state representative presented an Alabama House committee with a bill that would make the identity of death penalty drug suppliers secret. The lawmaker said he wanted to protect drugmakers from "blowback" from death penalty opponents. He proposed the bill at the request of corrections officials, and acknowledged that the identity of drug manufacturers isn't currently protected by law. Alabama law states that "every citizen has a right to inspect or take a copy of any writing of this state… except as otherwise provided by statute."
Still, prison officials at the time rejected requests by The Anniston Star and other newspapers for information on the state's death penalty protocol, saying it was not released as a matter of department policy.
Asked why Akorn remained silent after pressure both in the U.S. and internationally from death penalty opponents asking the company to set safeguards against the drug's use by prison systems, Steadman said it came down to staffing. The company at the time wasn't large enough to employ people able to communicate with the media, he said. He was hired in November.
Akorn did not respond to calls from the British newspaper The Guardian in July 2014 after midazolam was used in a botched execution in Oklahoma. The newspaper claimed at the time that Akorn appeared to have no controls regulating sale of the drug to wholesalers who could then sell to prison systems.
"People respond to pressure," said Esther Brown, director of Project Hope to Abolish the Death Penalty, an Alabama group that advocates for the end of capital punishment.
"Often people maybe haven't thought things through. That they are responsible. That there's no such thing as an innocent bystander," Brown said.
Brown applauded Akorn's newly announced policy, and said as more companies set such guidelines, others will be forced to as well.
Steadman said Akorn's safeguards were already in place informally before they were announced Thursday.  
"It's something that the company has always believed, but had never formalized," Steadman said. "Now is as good a time as any."