More students are sitting in Anniston school classrooms this year than last, bucking a decade of declining enrollment.
According to figures from the Anniston city school system, enrollment increased by 340 students during the first five days of of the new school year compared to the first five days of the last school year. The growth ends at least 10 years of steady decline in public school enrollment in the city. While the increase won't alter the system's plan to consolidate the schools due to the many years of low enrollment, it signifies a positive shift in perceptions of the system that can help it continue to grow, city and school officials say.
The figures show there was an average of 2,071 students enrolled over the first five days of Anniston's school year, which began Aug. 11. Growth in the system's enrollment was spread throughout all seven of its schools.
The last time the school system had so many students enrolled was in 2010, with 2,292 students.
The Anniston school system has been in a downward spiral of declining enrollment for years — from 2,653 students enrolled in 2003 to 2,028 students in 2012, according to figures from the Alabama Department of Education.
To handle the enrollment increase, the Anniston Board of Education had to hire eight new teachers this year.
"We hired teachers to take care of oversized classrooms, which is a good problem to have," said Superintendent Darren Douthitt.
While the city has seen declining student populations the last 10 years, the state overall has experienced slow but gradual enrollment growth.
"The state has been relatively stable in enrollment on a statewide basis for a while," said Tom Spencer, senior research associate with the Public Affairs Research Council of Alabama, a nonpartisan group that advocates for improvement in state and local government.
According to state figures, there were 735,105 students enrolled in Alabama schools in 1996. In 2013, enrollment had only grown to 736,789 students.
"We haven't had a lot of in-migration in population growth," Spencer said of the state. "Within systems and specific areas though there have been very large shifts ... Oxford has gotten a lot of students while Anniston has lost a lot."
+1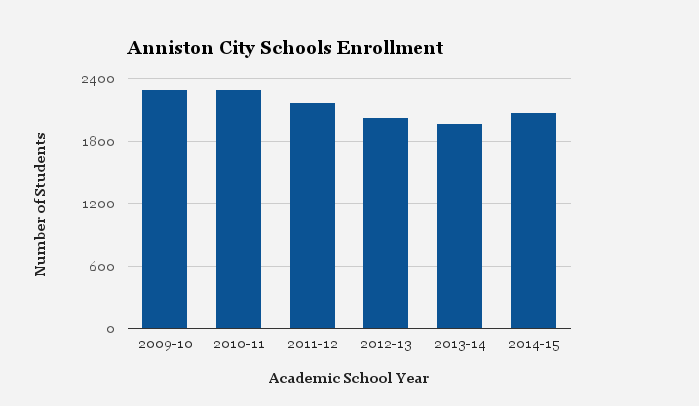 Douthitt said he wasn't sure exactly why enrollment increased, but suspected it was due to more positive perceptions about the school system. While overall population in Anniston has declined in the last decade, accounting for much of the decline in enrollment, the system has also had relatively low graduation rates in recent years.
"Kids are coming in from private schools — kids who were going out of district," Douthitt said of the enrollment increase. "I think it's just that people have more confidence in us based on changes we've made in the last few months ... changes in the culture here that people are feeling."
The Anniston Board of Education hired Douthitt in February after the previous superintendent retired.
Board member Mary Klinefelter said she felt a change in the culture and perceptions of the school system and the city have contributed to the growth in enrollment this year.
"The whole idea of a new city administration and perceptions of One City One Vision and all of us working together, I think that has helped, sure," Klinefelter said, referring to the Anniston City Council's city marketing campaign. "And in general people are just supporting us more."
Mayor Vaughn Stewart said he believed the enrollment growth was due mainly to Douthitt's efforts.
"He's had a hands-on approach ... I've seen him speak to neighborhood groups on student attendance and heard he even makes house calls," Stewart said. "He's really rolled up his sleeves and made attendance a priority."
However, though Anniston schools are growing in enrollment, it's not enough to change plans to reduce the number of campuses, Douthitt said.
"It will not impact consolidation plans," Douthitt said.
The board started working last year on ways to consolidate the system to reduce costs due to declining enrollment. The board's current plan is to close Cobb Elementary and Constantine Elementary and spread their students among the remaining schools in 2015 at the earliest. Last month, the board learned it still had to wait on the go-ahead from the U.S. Justice Department before it could move ahead with consolidation.
"We're still playing the waiting game," Douthitt said. "But I'm optimistic the Justice Department will say we can move forward."
| | | | | | | |
| --- | --- | --- | --- | --- | --- | --- |
|   | 2014-2015 | 2013-2014 | 2012-2013 | 2011-2012 | 2010-2011 | 2009-2010 |
| Anniston City Schools | 2071 | 1966 | 2028 | 2170 | 2292 | 2291 |
| Anniston High School | 533 | 536 | 531 | 565 | 630 | 597 |
| Anniston Middle School | 393 | 432 | 462 | 496 | 460 | 515 |
| Cobb Elementary School | 138 | 117 | 146 | 158 | 171 | 198 |
| Constantine Elementary School | 224 | 182 | 166 | 166 | 194 | 176 |
| Golden Springs Elementary School | 207 | 194 | 187 | 193 | 221 | 217 |
| Randolph Park Elementary School | 249 | 241 | 237 | 233 | 270 | 280 |
| Tenth Street Elementary School | 327 | 294 | 299 | 359 | 346 | 308 |