Dozens of hardworking people surrounded the Christine Avenue building that many years ago held Girl Scout offices but now holds a group known as the Legacy Club. To improve the run-down structure, some worked with tools in hand, while others dug in the dirt and a few others carried bags of mulch.
Inside, dozens more painted walls while they blasted pop music and talked.
"We had a whole church session," said Brooklyn Reyes, a Legacy Club member and rising Anniston High School senior.
Vikki Floyd, who heads the Legacy Club —  which provides mentoring and educational programs for local youth — said more than 100 volunteers had come and gone from the site since renovations started Saturday morning. She struggled to find the words to say how happy it made her.
"I feel like I've been on one of those shows on TV where they renovate your house," Floyd said. "The whole atmosphere and spirit has been just beautiful today."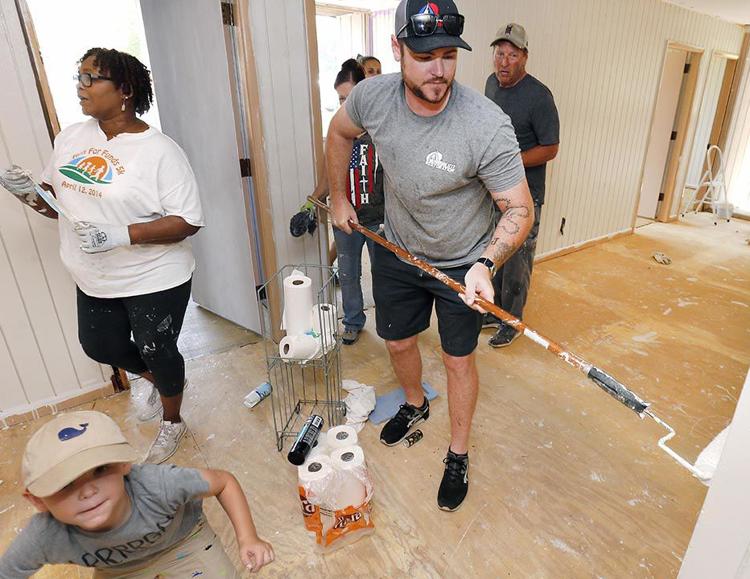 Floyd said renovations have been underway at the Legacy Club since the middle of the week, but she expected the bulk of the work would be done Saturday. She said volunteers from area churches, businesses and nonprofits were landscaping, painting, replacing the building's roof and floor and doing electrical and plumbing work.
"I can't even put it into words, the generosity," Floyd said. "Everybody said yes."
The event, which she called "Legacy Transformation Day," came more than two weeks after the club had hosted a "unity day," in response to the May 25 death of George Floyd.
It was there she met Kent Mattox, the pastor of Word Alive International Outreach, a church in Oxford. When the two met, Floyd said, he asked her how he could help.
"In that moment, I wanted a roof on the building," Floyd said. "My thought process was, if we could get a roof, we could stop all the leaking."
Floyd said the building, which straddles a stormwater creek, had already fallen into disrepair when the club bought it in 2017, meaning they could only use one side.
That next Sunday, Mattox said, he announced that he had volunteered his congregation for the project and Floyd spoke to them about the Legacy Club's mission.
From there, Mattox said, they used social media and made phone calls to recruit more volunteers. He said he was thankful to be able to help the club and its youth.
"We've seen the fruit in the students," Mattox said. "Not only are the students empowered, they're going to college and coming back to the city."
Scott and Kelly Deardurff, Word Alive members who had done electrical work at the site throughout the week, said they knew nothing of the Legacy Club before two weeks ago, but they volunteered anyway.
"It just seemed like a worthwhile cause," Scott Deardurff said.
He marveled at how much progress the volunteers had made since they'd started.
"It's amazing, the transformation," he said. "You can see a difference, even from this morning."
Robin Covington, another church member, said Saturday was his first day there and he'd spent much of it landscaping. 
"She's doing great work, so we're just here to help," Covington said of Floyd.
Brooklyn Reyes said she was happy to be out after quarantining during the COVID-19 pandemic and seeing familiar faces. 
"It's really just about giving back to the community and being with friends that feel like family," she said.
Briana Loveberry, an alumni member and Gadsden State Community College freshman, said it didn't feel like work as she painted alongside Reyes.
"It's nice being next to your old club members and just talking," Loveberry said.