Katrina Dorsey grew up in the west Anniston community.
She doesn't recognize it anymore.
"I walk around here every day and I see the blight and homes that were abandoned," Dorsey said. "I know we can do better … we should want to make it a place people want to move back to."
Dorsey and more than 50 other people showed their support for the community by marching Saturday morning in a Stop the Violence Parade in west Anniston. The parade, organized mainly by Ervin Funeral Chapel in Anniston, was held to encourage the community to unite and to bring awareness to prevent violence and crime in the area.
The parade stretched a mile along west 15th Street, from Gurnee Avenue to Crawford Avenue. The parade featured participants from several churches, the Easy Riders Motorcycle Club and was led by the Anniston High School drum section. At the end of the parade, at the corner of Crawford Avenue, was an open air market.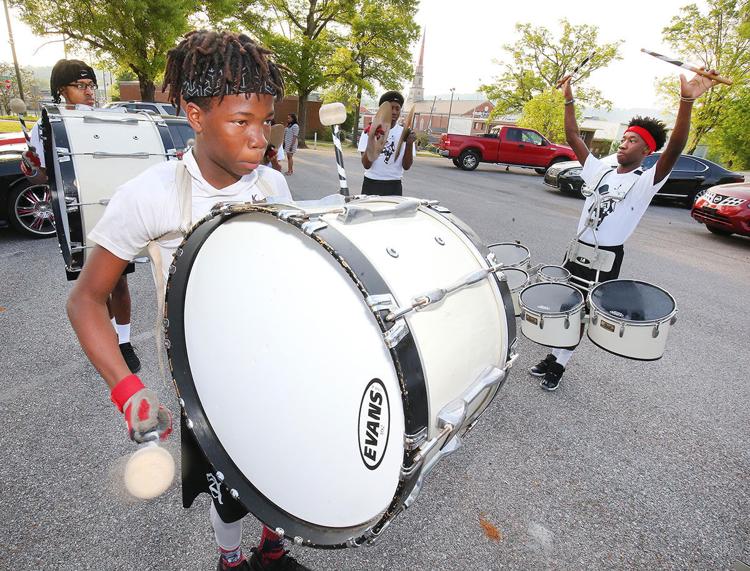 "We're trying to restore some pride in the community, showcase some vendors and have time to come together and say that we still love our community," said Pastor Carlas Woodard of First United Presbyterian Church, who helped organize the parade. "We just wanted to have a united front for one day."
Dorsey said she thought the parade was a great idea.
"This is a great way to show people you support the city," Dorsey said as she marched on 15th Street.
As Latosha Allen was marching, she said she grew up in west Anniston, still has family there, and does what she can to support the community.
"I went to 17th Street Baptist Church and I used to run around these streets," Allen said, "I live in Eastaboga now, but my family does a lot of community service here … we make sure we're still active here."
Pastor L.G. Hampton of the St. Peter's Ministry Apostolic Church in Anniston said she brought about six church members to participate in the parade.
"I love it and hope we continue to do it because there's so much potential in Anniston," Hampton said of the parade. "I think that Anniston is full of great people and I love that we're coming together as a community."