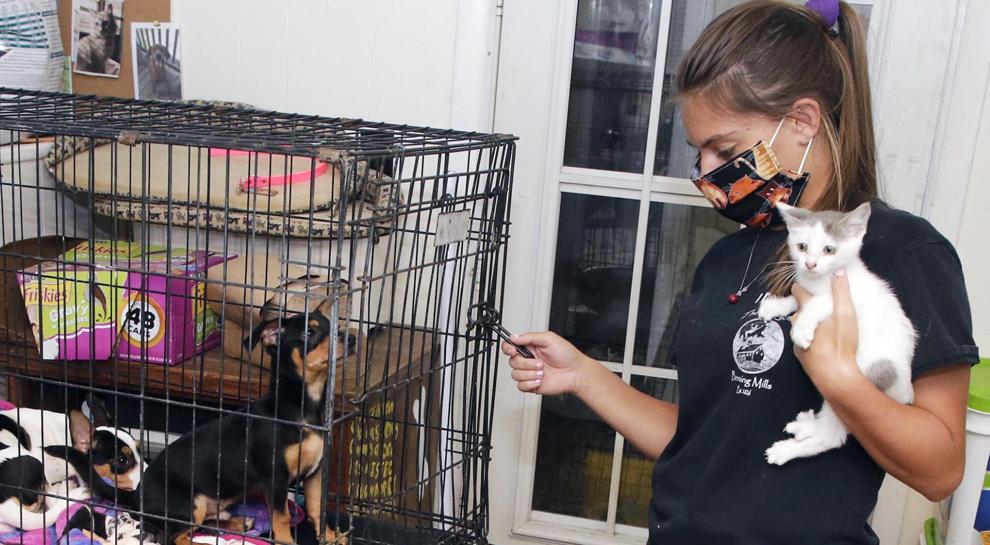 One of the few bright spots in this seemingly never-ending pandemic was when a growing number of Alabama families —  spending more time at home together than ever before —  invested their love and money into creating a forever home for a discarded furry friend.
In short, pet adoptions were on the uptick last year and into the early part of this year.
But as it turns out, there is no such thing as forever homes for some down-on-their-luck dogs and cats.
As more men and women returned to their workplace and away from the comforts of a Zoom chat from home, they found that they could not care for their new pets like they had envisioned. Others simply can't afford to feed their pets as they could before COVID-19.
For these reasons and more, area humane shelters are again overflowing in some cases.
Heather Wilson, director and treasurer for the League for Animal Welfare in Anniston, proudly proclaims that her facility is the only "no-kill" shelter in Calhoun County.
But she can only house so many refugees.
"In a normal month, we might house anywhere from 30-to-40 cats and about 25 dogs," Wilson said. "As of Wednesday, we had 117 cats and 57 dogs. Our three outside kennels are completely full. The cost to care for so many animals is almost unbearable. We have employees and board members spending money out of their own pockets to help feed these dogs and cats."
Wilson said the League for Animal Welfare is funded strictly through community donations.
"We're a nonprofit organization," she said. "So, we're constantly having to come up with fundraisers in an effort to get enough money to pay for food and supplies. It's been difficult."
Wilson said she, her fellow staffers, and volunteer workers, have noticed the increase in animals received steadily climbing each of the last three months.
"And we're not the only ones. There are many other shelters experiencing the same problems we are," she said. "It's not just people returning their adopted pets; it's also the number of strays brought to us that is on the increase."
Wilson said she can't stress enough how frustrating it is to see how great a need there is to care for these animals, but how limited their resources are to address those needs and how little space is left to make any additions.
"The community's been great in supporting us over the years. Hopefully, things will turn around soon.  Otherwise, we will be forced to not accept any additional returns (intake freeze), which could lead to a great influx of euthanizations in our area."
Those persons who would like to donate to the cause may send checks to the League for Animal Welfare, 2726 Bynum Leatherwood Road, Anniston, Ala., 36201.
The Pell City Animal Control Center provides care and housing for homeless animals in the city and much of St. Clair County.
Shannon Van Scoy, Pell City Animal Control Center director, said there were limited intakes last year due to COVID.
This year, things are much different.
"I think we got a little complacent," Van Scoy said. "We didn't have a high population in the shelter here last year, but last month we had over 400 animals brought in and another 200 live releases through adoption and pet rescue. People are seeing more animals running loose this year, particularly feral cats, and are bringing them here."
Van Scoy said adopting pet owners do their best to keep their animals in the household. 
"But we have had at least a handful brought back. I can't say whether that was because of COVID, a lack of income, or the kids going back to school soon, but it places a heavier burden on us in terms of feeding and caring for the animals. We have 29 adoptable kennels and 28 stray-holding kennels. We provide the animals with medical attention when needed and will keep all our dogs and cats the state-required seven-day minimum before sending them out for adoption or to another rescue unit."
Van Scoy added that Encore Enrichment Center for Shelter Dogs in Anniston helps provide basic training services and food for dogs.
"They have been a huge blessing to all the shelters they work with. There is a lot we couldn't accomplish without them."
Those wishing to make a donation to the Pell City Animal Control Center may do so by mailing to 1071 Airport Road, Pell City, Ala., 35128.
Connie Willette, staffer with the Sylacauga Animal Shelter in Talladega County, said she has not seen an overabundance of returned pets. 
"There have been a lot of stray surrenders," she said. "And we try to find owners for as many of them as possible. On occasion, we will hear from a pet owner who has to surrender his adopted dog or cat for whatever reason."
This month, Willette said 27 dogs had been turned into the agency, plus 16 cats over a five-day period.
"That's unusually high," she said. "We took in 2,500 dogs and cats last year. This year, we're already on a pace to top that number."
Willette said the elimination of jobs in some instances during the pandemic has contributed to the problem.
"A lot of people just can't afford to keep their pets when that happens," she said. "Some folks have to move out of the area to find work and can't take their cats or dogs with them."
Willette said her shelter can always use help in providing for food.
"Thankfully, we're not in dire need of help just yet, but when we are, we get help from the people of Talladega County," she said. "We also work with a rescue group — Feral Dogs of Avondale Mills — which gives us some assistance when needed."
Those wishing to make a donation to the Sylacauga Animal Shelter may do so by mailing to 41 Shelter Lane, Sylacauga, Ala., 35151.
Tree Davidson, development director for the Shelby County Humane Society, oversees about 30 employees and more than 200 volunteers.
"For different reasons (loss of work and moving to name a couple), people have been surrendering their animals of late," Davidson said. "And because of that, we're definitely full here at the shelter."
Davidson explained that the agency does all it can to help adoptive parents keep their pets. 
"We have a pets for life program and a retention specialist that people can talk to when they have a problem. We also help out with the purchase of food, medical assistance for the pet or anything that would help them keep their pet."
Davidson said more kittens have been brought into the center this summer than in recent years.
"There were two days in which we took in 30 each. That's a lot to deal with. We then pay to have our dogs and cats vaccinated, spayed and neutered before we put them up for adoption. And some need medical attention. This all costs money. Dog and cat food alone costs us close to $25,000 a year. It will probably be higher this year."
Davidson added that some pets from her center are adopted from residents of northern states like New York, New Jersey and Massachusetts. 
"Wherever we can find a home," she said. "As of today, we have about 350 animals on site, up from about 275 in a normal month, and another 220 in foster care programs. We also have some wonderful donors. We raised $50,000 in a little over a week when we were hit with a Parvovirus outbreak. All that money was private donations. We take care of these dogs and cats as though they are our own pets."
Those wishing to make a donation to the Sylacauga Animal Shelter may do so by mailing to 381 McDow Rd., Columbiana, Ala., 35051.