Janet Tyson Prosser said Friday morning that the black tire marks outside her Anniston shop on U.S. 431 are all the evidence she needs that more should be done to make the highway safer.
"I'm the one who calls 911," Prosser said. "I've called them several times after accidents here."
Moments after that conversation with a reporter, a Weaver man was killed when his car was struck by a tractor trailer headed south on U.S. 431, steps from Prosser's shop, Tyson's Fine Wines and Things.  
Jimmy Goodwin, 74, of Weaver died when his Toyota Prius was struck by the truck.
Goodwin's was just the latest in a series of deaths, injuries and close calls in recent months on what some think has become the Anniston area's most dangerous stretch of pavement — which has been transformed over the last 15 years from a crossing of country roads into a high-speed, high-traffic highway. City officials and residents alike, Prosser among them, think something should be done to make U.S. 431's intersections with Coleman, Choccolocco and Henry roads safer. But just how to do that is a puzzle not easily solved, state officials say.
"I sit here and pray every day. 'Please don't let there be an accident today,'" Prosser said.
Line of cars
The opening of the state-owned eastern bypass, re-designated U.S. 431, in December 2015 led to a surge in traffic at the Henry Road and Coleman Road intersections, with drivers heading north and south from north Anniston and Oxford, and from all the smaller surrounding bedroom communities.  
Plans were drafted for an eastern bypass around downtown Anniston in the late 1980s, and included the widening of Golden Springs Road into four lanes. Nearly a decade later in 1996, the Alabama Department of Transportation held a meeting in Anniston to discuss those plans.
Star archives show some living near Golden Springs balked at the idea of widening the sleepy road, while others called it "progress." The road was widened and reopened in 2003. It would be another 12 years before the rest of the bypass would open, linking the Golden Springs area via a new four-lane, divided highway across the scenic hills of the former Fort McClellan to the existing U.S. 431 north of downtown.
 City officials said soon after the completed parkway opened that it was clear changes need to be made. The Alabama Department of Transportation completed a traffic study, and at a June 2016 meeting city officials announced that ALDOT had concluded that no traffic signal was needed at the Henry Road intersection.
In March Anniston's City Council agreed to ALDOT's request to raise the speed limit along U.S. 431 from 50 mph to 65 mph from Saks south until the top of a hill, just before its descent to the Henry Road intersection.
City officials said before the speed limit was raised that ALDOT based the agency's recommendations to do so on a speed study done along that section of the parkway, and that the change was to match the actual speed most motorists drive there with the speed limit — the intent being to reduce the number of accidents, not increase it.
David Brown, a professor at the Center for Advanced Public Safety at the University of Alabama, in a phone interview Friday, said the average daily traffic count of a roadway is the most critical factor in predicting the frequency of crashes.
"Double the number of cars out there and you double the chances of any one of them running into another or their running off the road and hitting something," Brown said.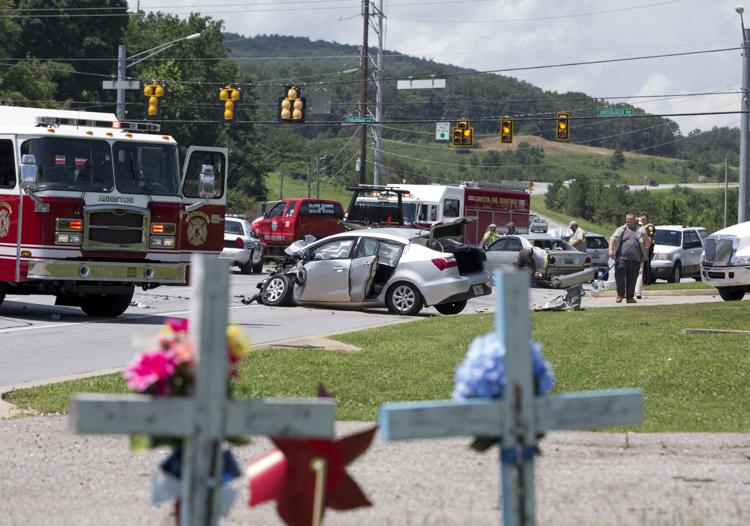 Bob Dean, Anniston's public works director, said by phone Wednesday that the city early this year asked ALDOT to continue to research ways to increase safety along the state-owned bypass.
ALDOT has installed a turning lane off of U.S. 431 onto Henry Road, and added flashing signs atop the hill and farther down that warn drivers of the steep incline and reduction of speed to 50 mph and a radar sign that warns drivers of their speed.
Dean said that other possible fixes ALDOT may be considering are more lighting and signage, and an additional emergency runoff lane for tractor trailers.  
DeJarvis Leonard, region engineer for ALDOT's East Central Region, said by phone Friday before the latest crash that the agency was studying the matter, but that he was unaware of the details. Leonard referred questions to Shannon Jones, district manager for ALDOT.
Jones said by phone Friday after the accident that engineers were considering "anything and everything" to increase safety on the southern end of the bypass.
"We're studying the entire section of that roadway," Jones said.
Jones said he couldn't say when the studies would be complete and any other changes expected, but that he may better know that in a couple of weeks.
"There's been things done, but we're still trying to figure out the total solution," Jones said.
In a press release Friday evening Anniston officials announced city department heads on Monday would meet with ALDOT officials, trucking industry leaders and other external agencies to address the safety concerns.
The release states that a recommendation from ALDOT earlier this year to increase the speed limit on U.S. 431 near the Coleman Road intersection was not approved by council members "due to safety concerns."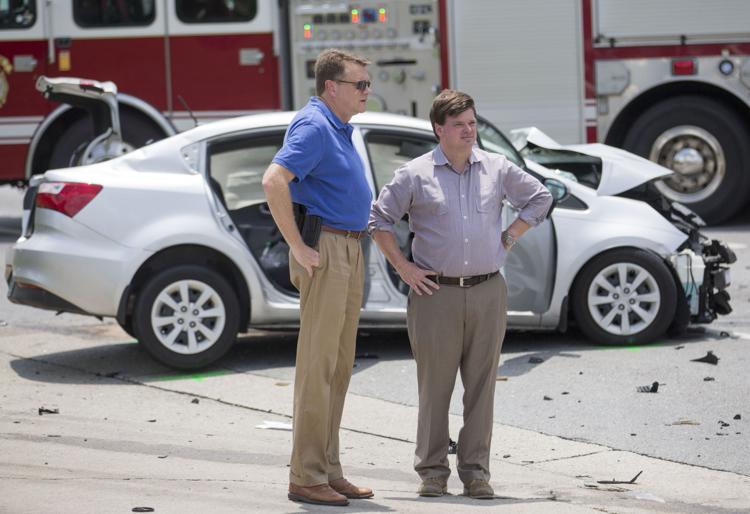 Speeding toward disaster
For Anniston police Sgt. Michael Webb, whose officers patrol the busy road, it's the speed that worries him.
"Whenever I have guys out there working traffic, it is not unusual at all to hear them say they've stopped people doing 80 and 90 miles an hour there," Webb said, speaking Friday morning before the accident. "They're treating it like an interstate."
Webb said he plans to use a recently awarded grant from the Alabama Department of Economic and Community Affairs to pay for increased patrols along that stretch of the parkway.
"We will be very visible in that area, and everybody needs to know that," Webb said. Anyone caught breaking traffic laws will be ticketed, he said.
Webb said he understands why some are calling for a traffic signal at the bypass's intersection with Henry Road, but doing so could cause more accidents, not less, as tractor trailer trucks attempt to slow and stop earlier on the downward grade of the bypass.
One more death
Prosser on Friday had spent about 15 minutes talking with a reporter about the intersection's dangers for this story. Fifteen minutes later, she was standing with her daughter in her parking lot just after noon getting something from her car when she saw the tractor trailer truck headed south down the highway.
"My first instinct is always to turn and see, is he going to run the light?" Prosser said in a later interview. "The light was red and we were both screaming 'the light's red! The lights red!'"
Prosser said it didn't appear to her that the truck's driver was braking, nor did she hear him sound his horn before his rig struck Goodwin's Prius, which was turning left onto U.S. 431 from Coleman Road. The truck then careened across the lane and struck several cars that were headed north and stopped at the light. Several injured people were taken to Anniston RMC for treatment.
Anniston police said Friday that the crash would remain under investigation throughout the weekend, and that no more information would be available until Monday.
Prosser said that for years she's asked for more to be done, and that the extra signs put up by ALDOT warning drivers to slow down are great, but that "nobody's reading them."
"And cars are just as guilty as the 18-wheelers," Prosser said. Everyone needs to slow down and pay attention, she said.