During a press conference at which the Birmingham company IK9, along with the 1st Foundation, donated a narcotics dog to the St. Clair County Sheriff's office, "Madonna" showed special enthusiasm for her new home. 
She went off script and started jumping up onto her new owner in a display of companionship and loyalty. Receiving those K9 kisses was St. Clair Sheriff's Deputy Evan Kavli, as the press conference continued Wednesday morning at the Anniston IK9 facility.
IK9 trains detection dogs for military and law enforcement and provides service and emotional support dogs to those in need.
Kavli said Madonna, a white Lab, is going to be part of the family now that they have spent some time together to bond.
"She's going to go home with me every night, every morning, whenever our shift ends she'll go home with me and we'll spend our off time together. So far she's met all my kids and my wife and they all get along tremendously," said Kavli.
 St. Clair County Sheriff Billy Murray said Madonna will be a tremendous addition to the sheriff's office. 
"We're going to be able to do a lot of things in our schools, in our correctional facilities, I have two jails, and of course on the road with enforcement and interdiction," said Murray.
Murray said St. Clair County has a growing population of 90,000, but with that growth "pockets of problems" have evolved.
"We have a threefold problem issue as most communities do: It's illegal drugs, the abuse of prescription drugs and then of course the crimes that those drugs cause — but the dog will be a tool that we're happy to have," the sheriff said.
Danny Turner, IK9 director of operations and Heflin police officer, said Madonna is trained in narcotics detection.
"Most of your street-level narcotics on an everyday basis, that is what this dog is trained for is to be able to find, locate and alert the handler to the presence of those narcotics," said Turner.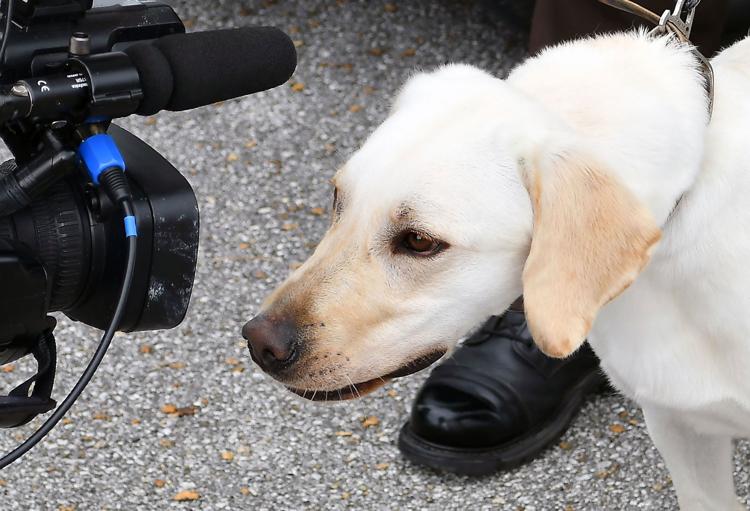 Landon Ash, CEO of Xtreme Concepts, said his company partnered with 1st Foundation to donate trained K9s to law enforcement agencies.
"There are a lot of departments that really need dogs on the I-20 corridor that don't have the funding to actually be able to procure a dog for themselves," said Ash.
Ash said that the local law enforcement agencies that "protect our families" get first pick of the dogs.