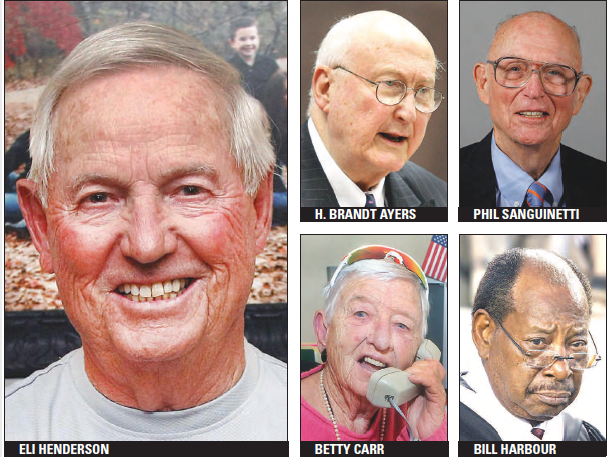 The pandemic claims some, but time claims all. 
COVID-19 took its toll on Calhoun County in 2020, with more than 140 killed by a virus that, this time last year, was completely unknown to most people in the county. The effect was most pronounced on people past retirement age — and it was a reminder of just how fragile life is, even in a non-pandemic year. 
Calhoun County lost quite a few local leaders this year — some to the coronavirus, many to other ailments. Here's a look at a few of those who died in 2020:
Former Sheriff Larry Amerson modernized much of rural law enforcement in Calhoun County. As director of the Enhanced 911 system in the 1980s, he was responsible for naming most of Calhoun County's rural roads. Before that, addresses were by rural mail route and box number.
In a 22-year stint as sheriff, Amerson computerized many of the operations of the sheriff's office, among other innovations, and became a voice for sheriffs nationwide as president of the National Sheriff's Association. He died of cancer Dec. 3 at age 67.
Former Anniston Star publisher H. Brandt "Brandy" Ayers was known as one of the few white Southern newspaper editors who took a pro-integration stance during the turbulent 1960s. Ayers was an organizer of the Committee for Unified Leadership, a bi-racial group that challenged local practices of segregation. For decades afterward, he was known as one of the most progressive voices on Alabama's editorial pages until he stepped down as chairman of Consolidated Publishing in 2018. He died May 3. He was 85.
Rabbi Irving Bloom was a 21-year-old rabbinical student when he first came to Anniston, sent, like many other students, to lead services at congregations too small to have their own rabbi. Over the next seven decades, he never quite stayed but never quite left, serving as a part-time rabbi at Temple Beth El during different periods until his retirement two years ago at age 86. He was 89 when he died Jan. 29.
Lindie Brown, originally from Bessemer, moved to Anniston in 1983 and immediately became one of the leaders in tha Calhoun County Chamber of Commerce, working among other things to set up Leadership Calhoun County, a program that familiarizes business leaders with the workings of local government. She died Sept. 25.
Betty Carr of Anniston was the mentor to some of Alabama's best-known political leaders. As youth director at the YMCA in Anniston, she was in charge of preparing kids to go to Montgomery to participate in a YMCA mock Legislature. Her students were so successful in competitions at that event that the YMCA later reorganized its state districts to give other teams a shot at victory. In later life she was known to many local residents as the greeter at Classic on Noble, the Anniston restaurant. The City Council renamed a street for her earlier this year, shortly before her death April 23 at age 95.
Barbara Curry-Story broke the color line as the first Black student at Jacksonville State University in 1965. Born in Ohatchee, she moved to New York City as a young adult, then returned, fleeing an abusive marriage, with a 2-year-old child in tow. To save money, she lived with her parents and borrowed her mother's Chevy for the commute to school. Her degree was in education, but she went on to a long career at Alabama Power. She died Oct. 20 at age 78.
Bill Harbour was the only member of the Freedom Riders who actually hailed from Calhoun County. Born in Piedmont, Harbour went off to college in Nashville and began working with other local college students to challenge segregation in movie theaters there. That led to his involvement with the Freedom Rides, an across-the-South ride meant to challenge segregation on interstate buses.
Harbour wasn't on the buses that were attacked by white protesters in Anniston in May 1961, but he was arrested in Mississippi and spent weeks as the cellmate of fellow Freedom Rider John Lewis. In later life, he worked as a federal employee and became active in the effort to set up a Freedom Riders National Monument in Anniston. He was 78 when he died Aug. 27.
Eli Henderson was a master of the kind of retail politics that wins small-town elections. He served 18 years on the Calhoun County Commission, left after winning an election as county circuit clerk, then returned to the commission after the 2018 election. Known for shaking hands and remembering names, he was literally on a first-name basis with many voters, running with campaign posters that read simply, "Eli." Henderson died of COVID-19 on Aug. 7 at age 83.
Vic Henley, the Oxford-born comedian, built a career on gently ribbing Southerners about their habits. Henley moved from Alabama to Phoenix as a young man on the promise of a job that never materialized. After winning $100 in an amateur comedy contest, he began pursuing a career in standup. With jokes that often bounced off the same Southern territory as Jeff Foxworthy's — Henley co-wrote the book "Games Rednecks Play" with Foxworthy — Henley became a regular on the small screen, appearing on the "Tonight Show" and as a VH1 on-screen personality and landing his own Comedy Central special. Henley died in New York City on April 6 at age 57.
Jim Klinefelter led Calhoun County's Democratic Party through the difficult transition it faced after the civil rights movement. Once the heart of a segregationist power structure, the party by the 1970s was seeing its first Black officials elected to office. Klinefelter, a California-born lawyer who settled in Anniston in the 1950s, chaired the local party at the time. Decades later, he served on Anniston's city school board. He died in October in Pell City at the age of 94.
Kelly Price ran Calhoun County's first DUI school, one of the area's first attempts to seriously address the addiction issues that underlie many crimes. He was well known in the local area as an anti-drug advocate, speaking to students in local schools and leading groups such as the Agency for Substance Abuse Prevention. Born in Texas, he married an Anniston woman he met while studying at Morehouse College. He had planned to become a doctor, but later decided that public health was his calling. After decades in Anniston he returned to Orange, Texas, to be with his aging father, and died there in early December. He was 71. 
Nan Roy was one of the founders of the Arc of Calhoun and Cleburne Counties, and was known for her work for an array of other local nonprofits. When she and other parents set up the Arc in the 1960s, organizations of its type — an advocacy group for people with intellectual disabilities — were rare in the area. Described by her family members as a woman with a knack for getting others involved, she became a leader in other local groups, including the United Way. She died on Mother's Day, May 10. She was 89.
Phil Sanguinetti was among the "tribal elders" of Alabama journalism, as described by one of his colleagues. Born in Virginia, he came to Anniston as an engineer for Monsanto, and in 1950 married the former Elise Ayers, novelist and daughter of then-Anniston Star publisher Col. Harry M. Ayers. In 1962, he went to work for The Star as the paper's national advertising manager. Rising through the executive ranks, he served as president of Consolidated Publishing, which owns The Star and its sister papers, for 47 years. He celebrated his 100th birthday shortly before his death on July 9.
Anniston pediatrician Dr. Gerald Woodruff led the effort to vaccinate Calhoun County's children against polio in the early 1960s. A native of the Model City, he went to medical school at Tulane, followed by a stint in Korea as an Army doctor in 1953. After the war he practiced pediatric medicine in Anniston for nearly 50 years, and headed the polio vaccination program begun by the Calhoun Medical Society, which led to thousands of local residents lining up for the vaccine on "Stop Polio Sunday" on Oct. 20, 1963. Woodruff died at his home July 30 at age 92.