On Dec. 6, 2018, hours after 37-year-old Amanda Nicole Kirby was found dead of a gunshot wound in the middle of Winchester Road in Anniston, police spotted Robert Lee Jenkins Jr. walking down Brighton Avenue.
There was blood on his boots, according to an investigator's affidavit. Police said Jenkins told them he was driving a car with Kirby and another person as passengers. Jenkins said the other passenger shot Kirby with a 9 mm pistol, according to court documents, while Jenkins claimed he was carrying a .38-caliber pistol at the time.
A grand jury stopped short of indicting Jenkins on a homicide charge. Another man, Marcus Deontay Pinson, awaits trial for murder in the same incident, and has pleaded not guilty.
But a federal judge in August sent Jenkins to federal prison for 10 years — because of the .38 pistol he was carrying. As a felon, convicted in the past on robbery, assault and drug charges, he was violating federal firearms laws.
Anniston police cite Jenkins' conviction as just one of dozens of cases federal prosecutors have brought in the past two years against Anniston residents, part of a federal guns-and-drugs crackdown that local police credit for a sharp drop in local crime between 2018 and 2019.
"A lot of those guys are not here anymore so they're not here to shoot," said police Chief Shane Denham. "One guy and one gun can be responsible for those aggravated assaults. You lock up 10, 15, 20 ... nothing can happen except that number has got to come down."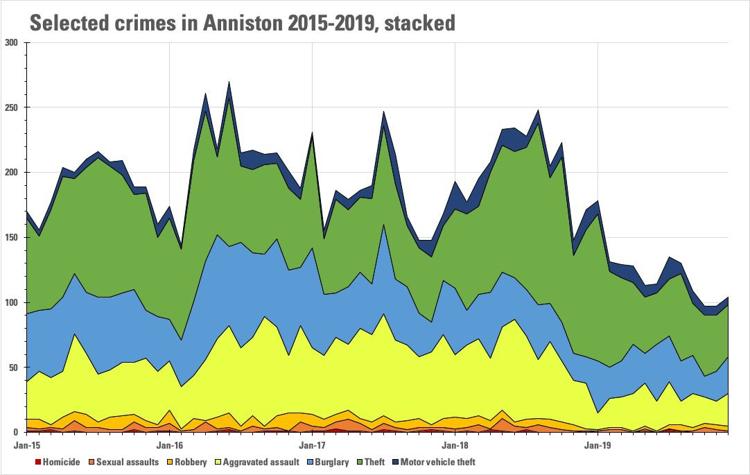 Denham's numbers show a 40 percent decline in reported crimes between 2018 and 2019. Homicides went down, from seven in 2018 to four last year. Sexual assault declined from 43 reports to 17. There were 68 robberies in 2018, compared to 31 last year. 
Drops this steep almost never happen. 
"If, all of a sudden, you're reporting less, there's likely a change in how you're reporting things," said Jeff Asher, New Orleans-based crime analyst who freelances for organizations such as the New York Times and fivethirtyeight.com.
Denham in an interview last week was adamant that the Police Department hasn't "cooked the books," as he put it, but he said the department isn't counting some crime reports that would have gone into the total crime count in previous years. 
"We're just doing a little better job of making sure what is reported is an actual crime," Denham said. "I do think we had some reported in years past that probably shouldn't have been, but that's not an astronomical number," 
He cited the example of motor vehicle theft. Criminals do actually steal strangers' cars, but some vehicle theft reports are actually property disputes that spun out of control. 
"A lot of those are not vehicle thefts. It depends on how you look at it," Denham said. "If a wife reports that her husband stole her car or her child stole her car, is that a vehicle theft?"
Denham's numbers show a sharp drop in sexual assault in 2019, from 43 reports in 2018 to 17 reports last year. He said the city is no longer counting reports that turn out to be "unfounded" on further investigation. 
"We started several years ago looking at how we're reporting, and if we report it, we want to make sure it's an actual crime," Denham said. "Everything that is reported to us as a crime is not a crime. People lie to us all the time."
'The big stuff ... way down'
Despite changes in how some crimes are counted, there's evidence that there is a real and significant drop in crime in Anniston. 
There were four homicides in the city in 2019. That's compared to seven in 2018 and 14 in the prior year. Aggravated assault declined, from 639 reports in 2018 to 282. Denham said there's no significant change in how assault is counted. 
And neighboring Oxford has seen a drop in crime as well. 
Oxford police Chief Bill Partridge said Thursday he hadn't totaled his overall crime numbers for 2019, but feels that the rate in his city has significantly decreased.
"Based on the big stuff, it's way down," Partridge said.
Oxford has long posted lower crime numbers than Anniston. According to Partridge, Oxford police have reported to the FBI each year only crimes that they could verify actually happened.
"It's something we've always done," Partridge said. "You'd be surprised at the number of reports that have been falsified."
Both Denham and Partridge said they believe the main cause of their crime drop is an increased focus by federal law enforcement agencies — and federal prosecutors — in targeting repeat offenders. 
 "When you take the worst offenders out of the community, it has to have an impact on your crime numbers," said Jay Town, U.S. attorney for the Northern District of Alabama. 
Then and now, Town described the people targeted by the program as "alpha criminals." He said U.S. Marshals and agents of the Bureau of Alcohol, Tobacco, Firearms and Explosives work with local police to target those criminals. 
For years, Anniston police would respond to shootings or assaults and find that the victims often didn't want to cooperate with police — an indication, police say, that they're either afraid their attacker will return or afraid of being seen as an informant.
Capt. Allen George, head of the local judicial circuit's Major Crimes Task Force, said that while victims in those crimes may not be willing to talk, others in the community — sick of high crime — sometimes are. He said police might ask those community members to simply keep an eye out for people with past convictions who police suspect of involvement in crimes. 
"One of us may get a phone call, 'Hey so-and-so's got a gun. They all just got into a blue car at this location and they've all got guns,'" George said.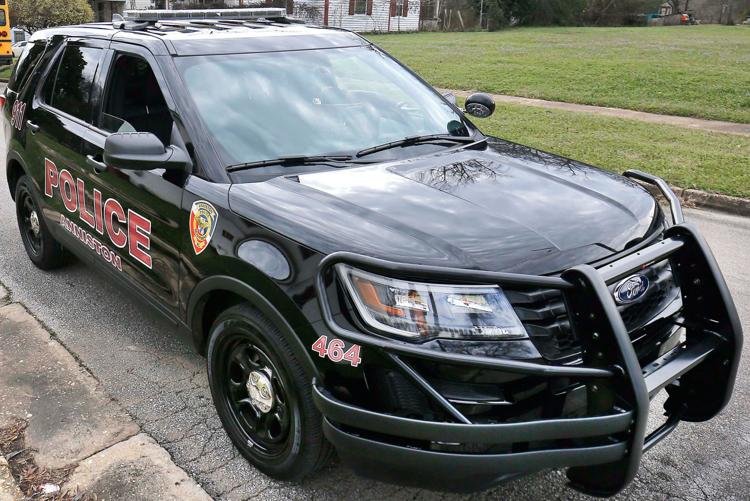 That sort of call can lead to a conviction on federal weapons charges, because federal law prohibits felons from possessing guns. Anniston police say they've even spotted past felons posting photos of themselves with guns on social media. It's enough evidence, they say, for ATF and local police to step in. 
George and Denham say that with federal help, they've also arrested a number of repeat criminals on drug charges, or brought them in as fugitives, wanted in other states. 
Prosecution by Towns' office — in federal rather than state court — plays a key role. Denham said the federal system can move cases to trial within months, compared to years sometimes in state cases. Defendants go to federal prison instead of overcrowded state prisons. 
"We can disrupt the cycle by sending them into the federal system where there's not the sanctuary of parole," Town said. 
Allen said they've seen about 45 federal indictments in the past two years, with 26 cases pending. Police were tight-lipped about which cases actually emerged from the new federal-local cooperation, but Allen did cite the case of Robert Lee Jenkins, the man caught with the gun in Saks. 
Town's "alpha criminals" approach is, of course, predicated on the idea that the people taken off the streets on gun charges would have committed other crimes in the future. It's a proposition that's difficult to prove. 
But Town says there's another element to these prosecutions: people see criminal defendants going away and not coming back. 
"The community sees it," Town said. "When they see criminals going away for a long period, it increases their trust in law enforcement." 
People become more likely to report the crimes they do see, Town said. And Anniston police say the gun crackdown has local offenders thinking twice before walking around armed. 
"Within a few months, word on the street was you didn't want to get caught with a gun in Anniston because you're going to do federal time if you have a violent past," George said.