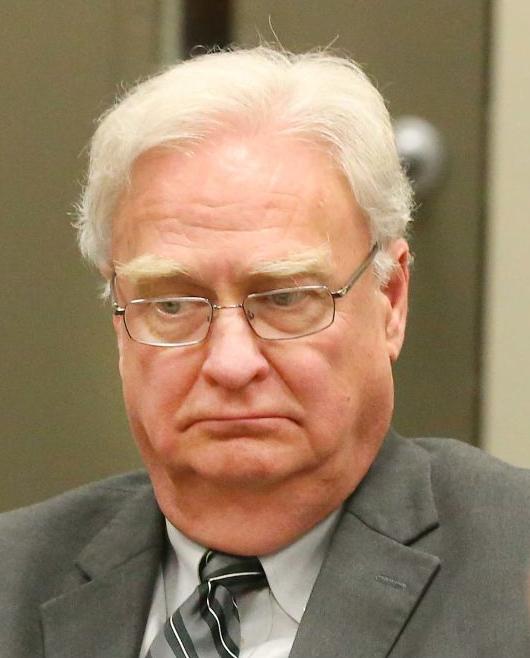 The Anniston City Council on Tuesday accepted City Manager Jay Johnson's resignation, ending a rocky 16-month tenure.
The council's acceptance came in a specially called meeting, from which Councilman Ben Little was absent. Councilman David Reddick arrived just before a closed-door executive session in which members discussed Johnson's departure as a matter "likely to be litigated."
Johnson appeared for what might have been the first time in the council chambers without his suit and jacket, seated in the back row of the audience. After the council returned from a 25-minute executive session, members voted unanimously to accept Johnson's resignation.
Reddick, a frequent detractor of Johnson, smiled as he rocked in his seat at the dais during council discussion.
"Don't he owe me an apology?" Reddick asked. "I want it on the record I didn't get my apology."
Johnson said by phone after the meeting that Reddick and Little played a major role in his decision to resign.
"Over the last several weeks and the last week — 10 days in particular — have been extremely difficult," Johnson said. "Councilman Little and Councilman Reddick have continually, daily, called me a racist, called me a liar, just continually."
Johnson said he learned about two weeks ago that the two council members had refused to meet with outside attorneys, hired by the city to investigate the complaint.
Because they are elected officials, Johnson said, there isn't any way to force them to participate.
Johnson said he had received soon after, in writing, advice from Little to sue the city.
"As a city manager, I did not want to sue my employer, to sue the City Council," Johnson said.
Johnson said that moment, during his public interview for the city manager job, has been with him since.
"It's an unbelievable comment to make," Johnson said. "Nowhere else have I encountered this kind of racial hostility on even basic services."
During the meeting, Draper thanked Johnson for his service, as did Councilwoman Millie Harris.
"I want to say how very unfortunate this incident really is," Harris said. "It's a very, very sad day."
Councilman Jay Jenkins, meanwhile, chose not to speak.
Immediately after accepting the resignation, the council appointed Parks and Recreation Director Steven Folks interim city manager, at an annual salary of $130,000 per year, another unanimous vote.
Reddick seconded Folks' appointment before Draper could finish reading the measure aloud.
After the meeting, Draper said by phone that he wished Johnson well.
"In my view, he's a good man," Draper said.
He said Johnson had only tendered his resignation a few days ago. Folks was his first choice to step in.
"He's absolutely the right man for the job," Draper said.
The council will wait to find a new, full-time city manager, Draper said, with no specific timeline on the start of that search.