Going homes
Housing authority still planning for Cooper replacement as demolition continues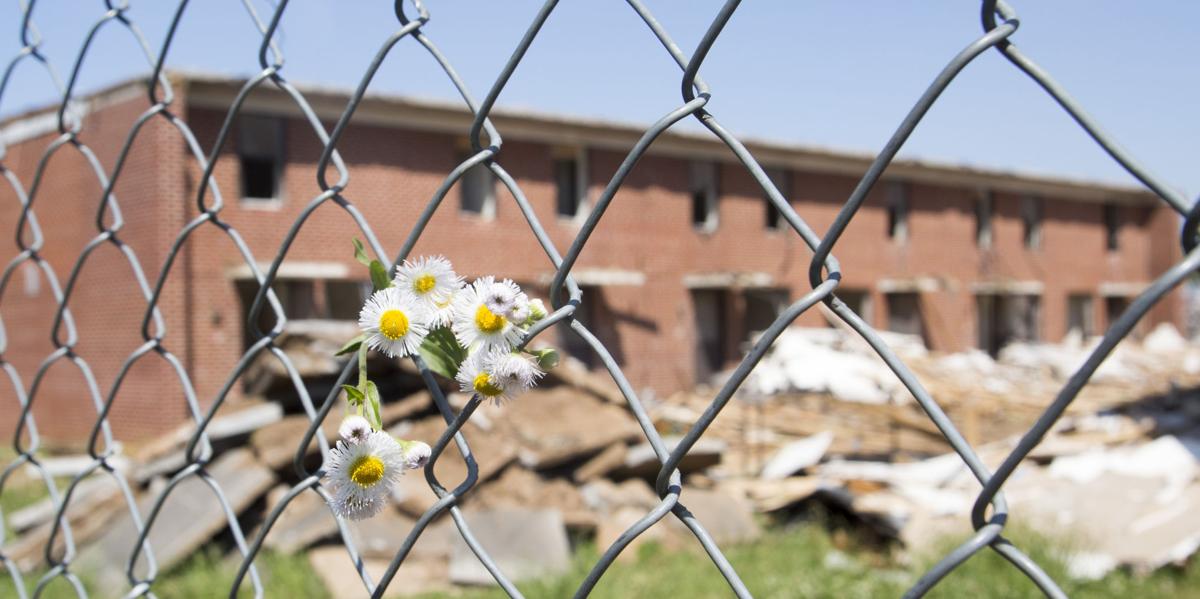 Behind a chain link fence on 15th Street, workers in hardhats and a big yellow excavator are turning Cooper Homes, the 102-unit public housing complex, into piles of brick and tangles of rebar.
A few blocks away, the new Cooper Homes lies on Sonny McMahand's conference table. Proposals from five developers, each hoping they'll be chosen to build the successor to Cooper, await review in his office. They arrived Wednesday evening; by Thursday morning, McMahand had yet to open them.
"The train has left the station," said McMahand, executive director of the Anniston Housing Authority. "We are moving forward."
This week marks one month since the housing authority began tearing down Cooper Homes, the complex that for 66 years was home to struggling families, low-income seniors and people with disabilities. It's one of the oldest complexes built by the Housing Authority, which was set up by the city during the Great Depression to build low-cost housing.
McMahand hopes to replace the old barracks-style housing of Cooper with renovated versions of abandoned houses and new construction to fill empty lots in the neighborhood around the former housing project. There could be apartments or rental townhouses targeted to a mix of incomes, homes that low-income residents could buy, housing for seniors and possibly housing for veterans.
The Housing Authority's nonprofit arm is already staking claim to that vision: in the past month, signs have sprung up in dozens of western Anniston lots, declaring them to be property of the Housing Development Corporation.
Yet many of the details of the plan – including the cost – have yet to be worked out, and construction might not begin for a couple of years.
"The outside date is 2020," said McMahand.
The housing authority's vision for the area isn't entirely new. For decades, larger cities have been tearing down single-site housing projects and replacing them with more dispersed properties, less distinguishable from the rest of the surrounding neighborhood.
Cooper may be a good example of why the concentrated-housing model fell out of favor. When the complex was built in 1952, 15th Street was in essence the black downtown of a segregated Anniston. Black-owned shops lined the streets: residents in the surrounding neighborhood got by without a lot of help from their government, though many homes didn't have indoor plumbing. A government survey from the time found that most of the city – nearly two-thirds of white residents and almost all black Annistonians – lived in substandard housing.
Six decades and a military base closure later, businesses on 15th Street are few, much of the county shops in Oxford and unoccupied houses are a common sight on Anniston's west side. But Cooper, before it closed, was still home to about 500 people – people who were much farther from jobs sites and stores than their 1952 counterparts.
McMahand believes that a less-dense campus at the current Cooper site, combined with new housing to fill in empty lots, will help make the west side of town a more desirable place to live – and give public housing residents a better chance of getting ahead.
"It's a nice, quiet neighborhood," said Marqueshia Carter, as she helped her 4-year-old son Isaac assemble Legos on the porch of her Walnut Street home on Thursday. She rents half of a duplex that the Housing Authority bought and renovated in recent years. There's nothing to distinguish the duplex from the other houses on the street.
McMahand's plan is to replace nearly half of Cooper's 102 housing units with houses like this.
So far there are only three, plus one house the Housing Authority has bought but not yet renovated.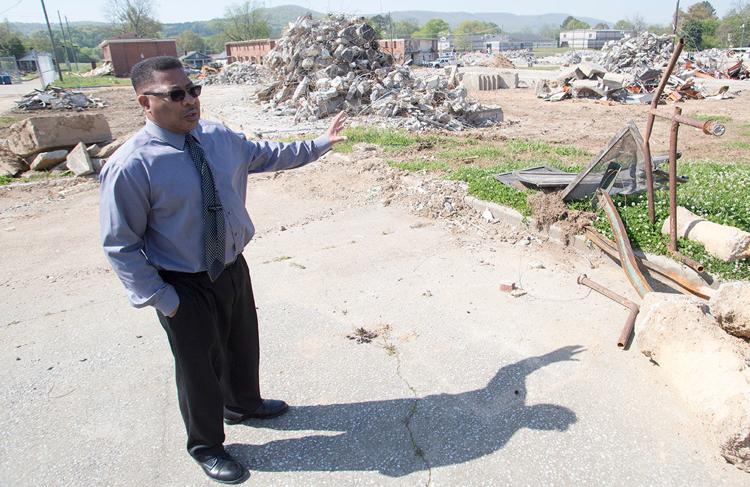 The five applications on McMahand's desk are from developers who hope to take advantage of the Low-Income Housing Tax Credit, which grants developers a dollar-for-dollar tax credit if they build affordable housing. Older complexes like Cooper were built by federal agencies; the tax credit is designed to attract private businesses to do that work instead.
Even with the tax credit, local governments often wind up kicking in some funding toward a new project. In a request for proposals on its website, the Housing Authority says it has funds set aside for the Cooper replacement.
McMahand on Friday declined to say how much is set aside, saying the information wouldn't help in negotiations with developers.
"We really don't like putting that out there right now," he said.
Just how much help will come from other governments is a bit of a question mark. The Trump administration earlier this year proposed sizable cuts to Housing and Urban Development funding, though Congress blunted or rejected Trump's proposed cuts to most programs.
According to Robert Silverman, an urban planning professor at the University of Buffalo who studies public housing, the Low Income Housing Tax Credit actually saw a slight increase in the 2018 budget, though other new corporate tax cuts could make low-income housing construction less attractive to builders.
"It is a program with fairly broad based support, and the largest source of funds to build affordable housing," Silverman wrote in an email to The Star.
McMahand said the city may be called on to help with funding. City Planner Toby Bennington and Mayor Jack Draper said no one's sought funding from the city yet.
"We have a pretty constrained budget, but that just underscores the need for development like this that could help increase our tax base," Draper said.
Silverman, the urban planning professor, said it's not unusual for a housing authority to close a facility before new units are underway. Because demolition funds often come at the same time as building funds, he said, officials will sometimes board up a housing project and let it stand idle while planning the next step. The demolition in Anniston, he said, would at least clear the land for new units.
"Doing demolition actually speeds the process up a bit," he wrote.
The private-building approach means local officials won't have a price tag – or detailed picture of what the Cooper Homes site will look like – until a developer is selected and submits a proposal. McMahand said a developer will be selected by September.
McMahand expects to have no more than 56 units of housing on the old Cooper site – and he said the Housing Authority is committed to replacing all 102 units, though the final number will be determined by what developers believe the market will bear.
The former residents of Cooper Homes have moved to the city's other housing projects, or have been granted rental assistance to help them find homes elsewhere in the city. McMahand said there's no time limit on that assistance.
Public housing in Anniston is typically full, with a waiting list, but McMahand said the number of people on the list is actually down in recent months. He said he wasn't sure why, though it could have to do with the age of the housing stock the city now has. Glen Addie Homes, where many of the Cooper Homes residents relocated, was built in 1940.
"They're not as modern as they need to be," he said. "They need to be renovated."
Capitol & statewide reporter Tim Lockette: 256-294-4193. On Twitter @TLockette_Star.