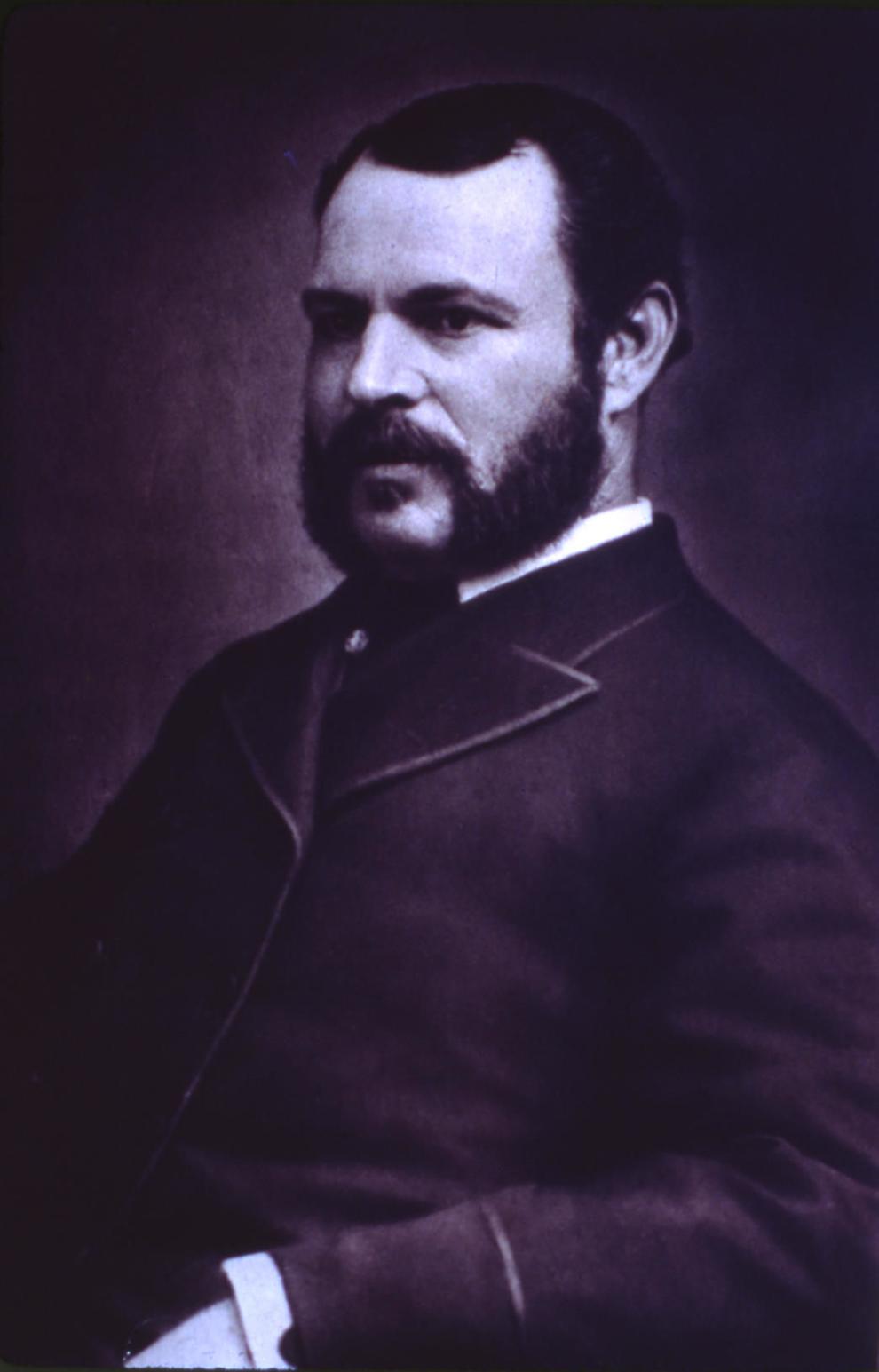 Samuel Noble, the English-born industrialist who built cannons for the Confederacy before building Anniston, was a scrapbooker. Who knew?
He clipped newspaper stories about iron-making. He saved clippings about railroads. He cut out snippets on tariffs and the failures of English industries and the price and annual yields of steel — mind-numbingly boring topics over which Anniston's founder obsessed. 
He saved stories about Woodstock Iron Co., the industrial rock on which early Anniston depended. He clipped stories about Anniston's birth, growth and promise. He preserved clippings about Anniston's incorporation, its legislative charter and its fight with landowner C. J. Cooper, who angrily tried — and failed — to prevent Anniston from including his land near 17th Street within the city limits.
Sam Noble's scrapbook
Peek inside a scrapbook kept by Anniston founder Samuel Noble, who died in 1888, that is today in the Alabama Room at the Public Library of Anniston-Calhoun County. 
Historian and author Grace Hooten Gates, for one. Gates, who died in 2003, used Noble's Woodstock Iron Co. scrapbook as one of the main primary-document sources for her well-known book, "The Model City of the New South," that details the city's earliest years.
Today, the Woodstock scrapbook rests in the rare manuscript section of the Public Library of Anniston-Calhoun County. It's not on public display. Its condition is somewhere between terrible and not good. 
The front cover is detached. So, too, is the spine's cover. Its weight is similar to that of the pre-cell phone Atlanta Yellow Pages. It's roughly 13 inches tall and nine inches across. Its clippings are neat, though yellowed; all glued, none taped or stapled. Only a handful have been underlined or marked by a human hand. Half of its pages are empty, never used, and blotched by mold or some other discoloration.
Gates considered the Woodstock scrapbook, which she said was rescued from a fire sometime after Noble's death in August 1888, "the most valuable find in the local library" regarding her research on Anniston's beginnings. 
"Noble pasted the clippings in a large scrapbook titled 'Woodstock Iron Company,'" Gates wrote. "The clippings cover the period from February 1873 to 1883. Some of the sources and exact dates are not shown, but the continuity of the clippings makes it possible to approximate the dates."
That continuity also serves as a window into the mind of the man who believed in the post-war notion of a newly industrialized South bolstered by Northern investors. The scrapbook paints Anniston's founder as a man consumed by an interest in iron ore, geology, railroads (for transporting goods), labor strikes and competitors. 
The scrapbook's first newspaper clipping is dated Feb. 15, 1875, from an (unnamed) Tribune: "Iron Mills and Subsidies: The Present and Future of Iron." He included an entire edition of the Bulletin of the American Iron and Steel Association from December 1876. Two clippings are handwritten tabulations, one of the distance between Montgomery and Washington, D.C., on various railroads, and another on railroad statistics comparing the United States and England.
Noble was, in essence, a businessman schooled in heavy manufacturing and iron ore. He apparently thought of little else. He even saved several clippings about spiegeleisen, a ferromanganese alloy of iron and manganese used in steelmaking that he touted at the Philadelphia Centennial Exhibition in 1876. U.S. industrialists were eager to ramp up production of spiegeleisen to limit imports of European iron and steel. Gates wrote that Eugene Smith, then the Alabama state geologist, "claimed that the first spiegeleisen made in the United States came from the Woodstock furnace."
What Noble's scrapbook isn't is a cover-to-cover ode to Anniston or Woodstock. Anniston, in fact, isn't mentioned in any of its clippings until a page 12 article, "Ironmaking in the South — Hot Blast Charcoal Stacks," from Feb. 15, 1875, that meticulously describes the size and output of the Woodstock facility. Noble's company, the clipping says, made 18 tons of iron per day.
Noble clipped a report on Calhoun County's public schools for 1877; the county's school population that year was 4,120 white children and 1,401 black children.
Noble saved a long account of a lynching in Jacksonville in January 1879, myriad election returns and the death of Union Gen. Daniel Tyler, the Connecticut aristocrat who bankrolled the Anniston experiment and whose sons became Noble's colleagues. Noble drove through Anniston in a type of open carriage called a phaeton that was pulled by imported ponies, so it's no surprise that he also clipped a lengthy article about how to buy a horse. "If the tail lifts hard and stiff it is usually an evidence of a strong back and quarters," it said. 
The scrapbook's last clipping was short, just one six-sentence paragraph written sometime after Noble's death.
"But few men have received as many tributes of respect as the late Samuel Noble," it began. "... He has served as a model, and his life's work will not be lost upon the younger men who are now coming forward."