Donoho's head mountain biking coach, Burton Benkwith, was cheering on his team — and his son — as they whirred by on their bikes Sunday morning at the Melee at McClellan mountain bike race.
The race was the second one of the season for the Alabama High School Mountain Bike Association, which is part of the National Interscholastic Cycling Association (NICA). 
Benkwith's son, K.B., won last week's race at Noccolula Falls in Gadsden and Sunday morning he was in the lead on his blue frame bike as he passed his dad who offered encouraging words.
Benkwith said this is the sixth year for competitive mountain biking at Donoho and on Sunday eight cyclists represented the east Anniston school. 
"This is amazing, just look, you have 3,000 people that came here just for this, this is incredible, and what it's done for kids like K.B. that don't play team sports and that wasn't their thing, this has been phenomenal," Benkwith said as he cheered on other cyclists on the bike trail.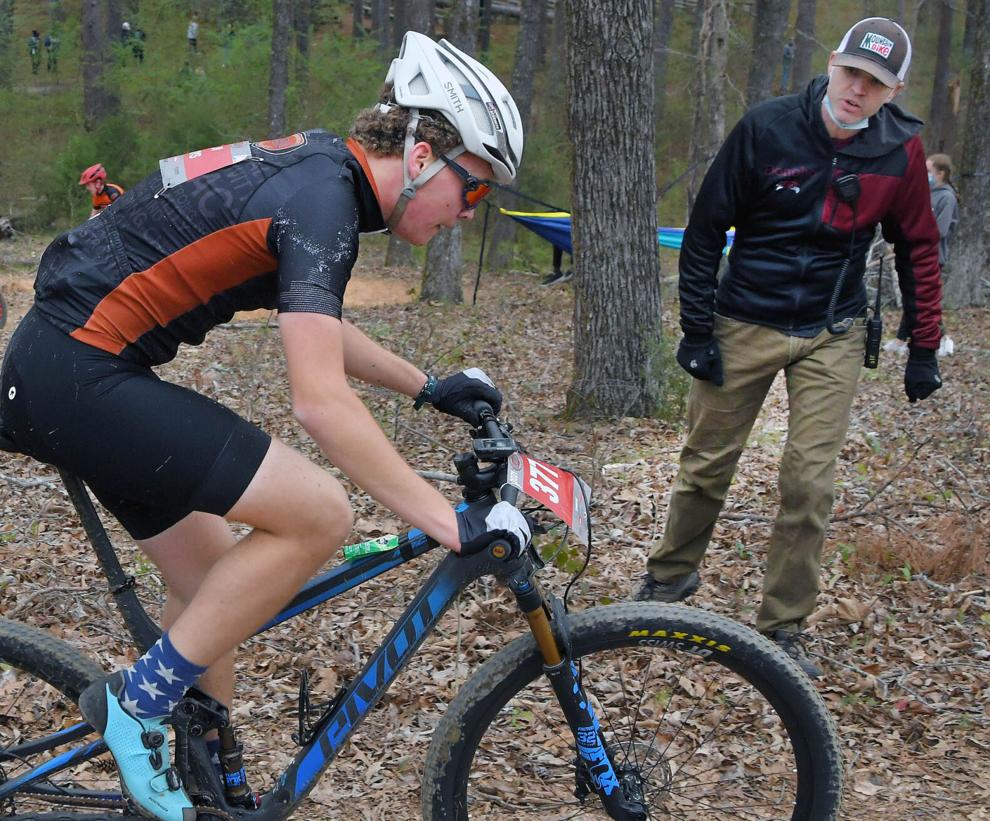 The cyclists were descending a path consisting of a series of switchbacks as supporters cheered them on. 
Echoing through the hillside were the unmistakable sounds of vuvuzelas and other musical instruments. Erro Wilson, a mountain bike coach from Florence, played a tuba as his two companions, one on a trombone and the other tooting a vuvuzela — famous from World Cup games — played a number of mixed notes as the cyclists flew by.
Mike Poe, a mountain bike coach from Jacksonville High School, was in the woods cheering on the bikers as well. He said there were probably 30 teams from Alabama participating in Sunday's race. 
Grade level and age determined how many laps a cyclist would pedal on the five-mile loop.
"The most advanced are racing four laps, which will be about 20 miles," said Poe.
Local teams competing on Sunday included Jacksonville High, Donoho School, Oxford High and Cheaha Mountain Bike Composite Team. 
Poe said the race was held last year right before COVID but like many large events the season fell victim to the pandemic. 
"We had to cancel the season," Poe said.
 Poe said the mountain bike trail was built specifically for high school mountain bike races by the McClellan Development Authority, this being the fourth year the trail has been in use.
Poe said the Jacksonville High team consists of 14 kids along with six volunteer coaches. 
Avery Strover, 14, from Pensacola, was hoping for a strong finish in her category but was enthusiastic about being at the large-scale event nevertheless.  
"I think it's really fun and the environment is really fun, there's a lot of good people here so it's really fun," said Strover. 
Strover's season was cut short like all other cyclists due to COVID.
"Last year I would have had a really good year because it was the first year I actually liked podiumed and stuff, but that got canceled" she said.
This year Strover said she has "podiumed" by pedaling to a 4th and 5th-place finish.  
"So I'm up there I guess, I'm pretty confident about this race," Strover said. 
Roger Sawyer was helping at the Jacksonville High tent with a variety of tasks. His son, Miles, 12, a seventh-grader was preparing to start his race. 
Sawyer said it's his son's second year to cycle competitively with the school's team. 
"He absolutely loves it. He does football in the fall but he does mountain biking in the spring. It's got to where he really enjoys it — the comradery for the kids is really good, they seem to have a good time with each other," said Sawyer. 
"I'm just his parent, that's what we do, we hang out and watch the race, we cheer each other on, it's not just about our son," said Sawyer. "It's about everybody on the team, because how the team does is how many points we get and that's where we rank, and so you make sure everybody's in good shape."
"It's not a single-person sport, it's a team sport," he said.