Zinn Park was filled Saturday as thousands of people gathered for Anniston Heritage Day, the city's annual Juneteenth observance. 
With the heat and humidity abated somewhat compared to recent days, the park was filled with life as kids slid on a huge inflatable slide while others rode on a carnival ride or a motorized train that rumbled through the park. There were plenty of vendors and food trucks along with a variety of musical acts that brought people to their feet to dance and rejoice.
Timothy Brown of Anniston said the Juneteenth holiday means a lot to him.
"It's a representation of my people and people that look like me being able to come together in fellowship, come together in good heartedness, share resources between each other and just enjoy each other's company," Brown said.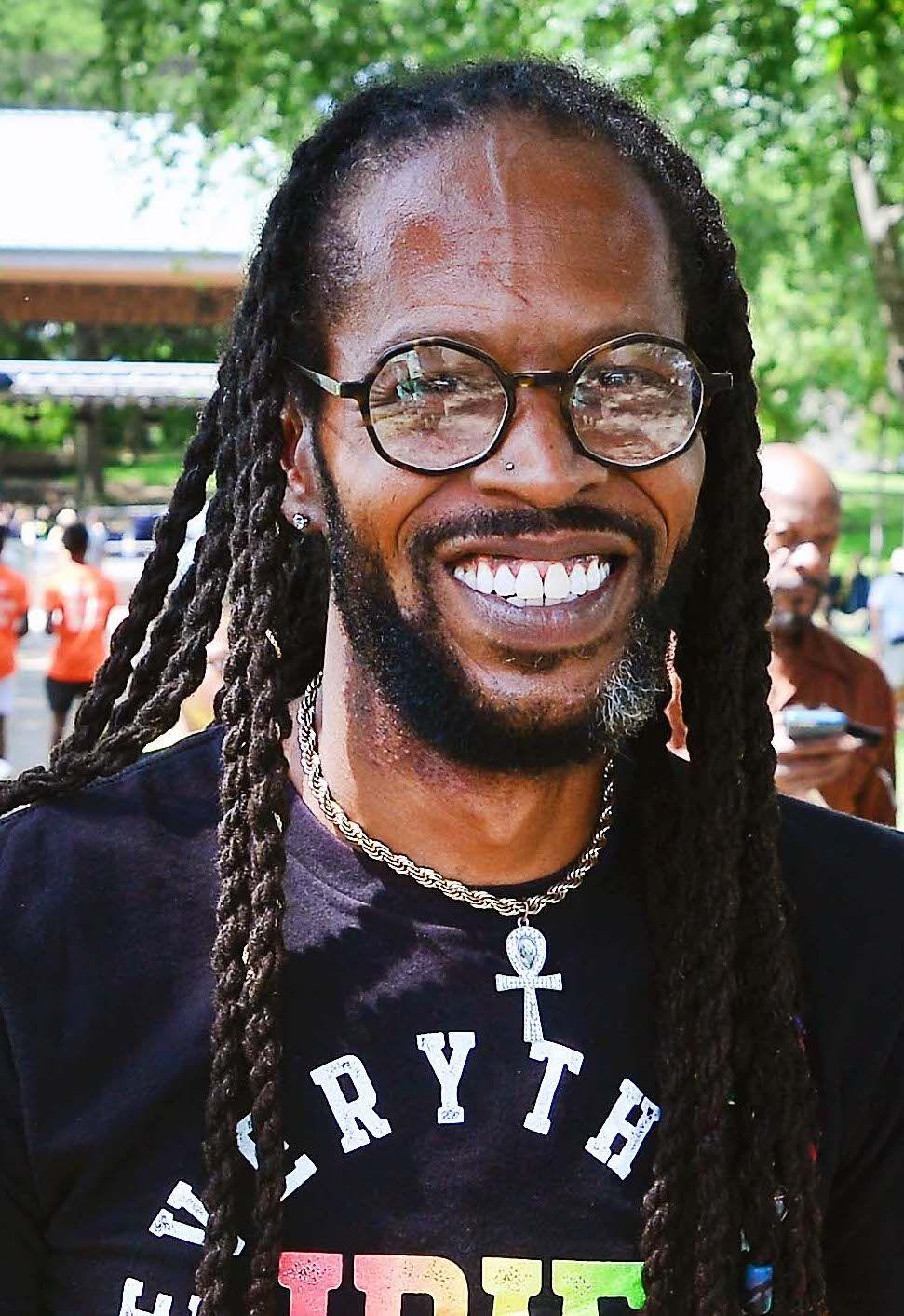 Juneteenth was officially made a national holiday last year by President Biden.
"I've always celebrated it and I was happy when they made it a national holiday," Brown said. 
The festival commemorates the estimated time that the last American slaves in Texas heard of the Emancipation Proclamation. The document President Lincoln issued in September 1862 took effect Jan. 1, 1863. It declared that all slaves living in states that were in rebellion against the United States at that time were free. Generally, it applied to 11 Confederate states warring against the Union. 
The news did not reach Texas until June 1865 — somewhere around June 18 or 19, but no one is sure of the exact date. Thus was coined the term "Juneteenth."
Deborah Dill and her friend Jayda Bettes sat behind a table under a canopy to bring awareness to people who've been incarcerated. 
The pair hopes to organize a rally to get the attention of the parole board to help free their loved ones and others from prison. 
Dill said that Juneteenth means freedom.
"Freedom not just for the black race but for all races, that we are free and we stand for justice, justice for the world and for the people," Dill said.  
Dill looked around at the crowd and said everyone was having a good time. 
"They're socializing, there's no violence … it's a good environment," she said. 
Bettes had a theory of why it took so long for the Emancipation Proclamation to reach all enslaved people.
"I think the reason it took so long is because the South wasn't really ready to let go, that's why we went to war, that's why they had the Civil War because they didn't want to let go of their free labor," Bettes said.
Bettes, like other festival goers, was complimentary of the humanity present at the festival.
"I think that this is beautiful, anytime people can come together, no matter what race, no matter what religion they can come together and celebrate freedom with us, that's an awesome thing," Bettes said.
Anniston City Councilwoman Ciara Smith said the Juneteenth holiday to her means a celebration of culture, life, love and freedom but more importantly being Black. 
"Black all by itself is a luxury and I'm just excited to be here celebrating with my people and enjoying the festivities as we should," she said.
Anniston City Manager Steven Folks said the weather was beautiful for the festival.  
 "I know there was some possibility saying the weather may be bad but look at the weather, look at how God's blessing us and we're going to have a great day today," Folks said.
Folks looked around at the festival as both blacks and whites were enjoying the day. 
"This is a unified city, we do things like this Heritage Day, we're not just talking about black history we're talking about American history, and that's all of us, coming together on one accord and God being in the midst, that's what it's all about," Folks said.
William Patterson of Anniston said he came to the festival to support his city, his family, his community and the police and fire departments.
 "God made this day for us as a city, as a community, we're doing our best to stay focused and stay on top, and that's what we're doing," Patterson said.