A judge Monday set a hearing for Wednesday in former Anniston City Councilman Seyram Selase's lawsuit against Councilman Ben Little, which alleges absentee ballot fraud in last October's runoff election — a case that bears striking similarities to one decided last month in Wetumpka.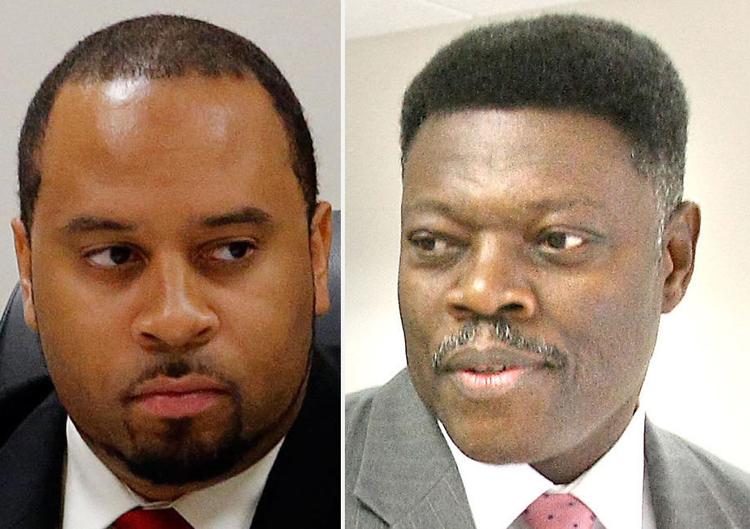 John Rochester, a retired Clay County circuit judge, in his Monday order wrote that the hearing would take place Wednesday at 1 p.m. to discuss a motion "filed under seal" by Little's attorney on Sept. 8. Court records filed under seal aren't typically made available for public view. Rochester is trying the case because all of Calhoun County's judges recused themselves.
Selase on Oct. 17 filed the suit against Little, who beat the incumbent Selase in the Oct. 4 runoff for the City Council's Ward 3 seat by 10 votes.
Attempts to reach George Monk, Selase's attorney, and Donald Stewart, who represents  Little, on Tuesday were also unsuccessful.
Rochester on Aug. 27 ordered that a hearing, set at Stewart's request that the court toss out Selase's suit, be postponed for approximately two weeks.
Monk on Aug. 25 asked the court to postpone the hearing to give him time to depose a witness who Monk said recanted previous testimony.
Monk told the court that he received information from the witness that only three of 14 absentee ballots bearing her signature as a witness were actually witnessed by the woman.  She was seeking immunity for any potential criminal conduct from the matter, Monk told the court.
Monk on Aug. 25 also told the court that there were myriad voting abnormalities, including what he said were 11 votes cast by people who do not live in Ward 3, absentee ballots improperly filled out and mailed, and absentee ballots in which the voter did not check a box for any candidate, among other allegations.
Monk on Sept. 8 filed subpoenas for Anniston Councilman David Reddick and 2016 City Council candidate Dr. Angela Fears, directing both to give depositions on Sept. 18 at Monk's office, according to court records.
Stewart on Tuesday filed subpoenas for Fears, former Anniston-Calhoun County NAACP chapter president David Baker, Anniston residents Corliss Goodson and Eric McClellan and Anniston pastor Eugene Leonard Jr. All are to appear at the 1 p.m. hearing Wednesday, according to the subpoenas.  
It is a Class C felony under state law to falsify absentee ballots or encourage others to do so.
Similar election challenge
The Selase-Little case is remarkably similar to one decided last month in Elmore County. That case, over an election for a Wetumpka City Council seat, also hinged on allegations of fraud in absentee balloting.
In the Wetumpka challenge, the judge invalidated eight votes, overturning the election outcome after a year-long legal battle. The election had originally been decided by just three votes.
Elmore County Circuit Court Judge Sibley Reynolds ruled Aug. 23 that eight votes for Percy Gill, winner of the Aug. 23, 2016, Wetumpka City Council District 2 election, were illegally cast. Some of the votes were invalidated because the voters did not sign absentee ballot applications themselves, the judge ruled, or did not sign affidavits accompanying their ballots themselves, according to court records. Others were deemed invalid because witnesses who'd signed that they'd seen voters sign their ballots hadn't actually seen them do so, according to court records. Reynolds threw out those eight votes and ruled that the former councilman, Lewis Washington Sr., won the election.
Montgomery attorney Algert Agricola Jr., who represented Washington, said Tuesday that "we had indication that the votes were cast illegally" by comparing signatures on the absentee ballots and affidavit of absentee voters, which did not match those of the voters. Agricola had those signatures inspected by a handwriting expert, who testified that the signatures were not those of the voters, according to court records.
Agricola has been involved in several other election challenges. In 1994 Agricola led a successful election challenge that saw Perry Hooper Sr. become Alabama's chief justice. The judge in that case determined that some 2,000 absentee ballots cast for incumbent Chief Justice, E.C. "Sonny" Hornsby Jr., were unsigned and unwitnessed. Hooper was declared the winner by 262 votes.
"The integrity of the electoral process is the foundation of a society that professes to guarantee the will of the people in government. If you cannot promote public confidence in the outcome of elections then people aren't going to believe in government at all," Agricola told The Star on Tuesday.  
Attempts to reach Martin Weinberg, Percy Gill's attorney, were unsuccessful Tuesday.
Agricola said state statutes regarding elections make clear that only errors that could result in the change of an election outcome are relevant in election proceedings.
"There's never been an election that's been conducted perfectly, because people conduct elections," Agricola said. "The thing that becomes important is when those mistakes make a difference in the outcome of an election."