Legislative staff are drafting a bill that, if it becomes law, would allow Anniston's Ward 4 — including Golden Springs and much of the east side — to be deannexed from the Model City, state Sen. Del Marsh, R-Anniston, said Tuesday.
Marsh said he asked for a draft bill at the request of Ward 4 residents, but even he isn't sure he'll vote for such a proposal.
"I haven't seen any legislation yet," Marsh said.
Talk of a Ward 4 deannexation has swirled in Anniston's political circles for months. One proposal circulating on Tuesday called for much of southeastern Anniston to be redrawn into Oxford by the Legislature. Such a move would shake up Calhoun County's map, instantly dethroning Anniston as the county's largest city and moving thousands of mostly white, relatively affluent residents out of the majority-black city.
It's an idea strongly opposed by some Anniston City Council members.
"It's the pinnacle of racism," said Councilman Ben Little, who is black. 
'It could really ruin this town'
The county seat for more than a century, Anniston has long been the area's largest city — though it has struggled in recent years. The population swelled to more than 30,000 with military buildups during the 20th century, but the 1999 closure of Fort McClellan contributed to a dwindling population. There are fewer than 22,000 people in town, according to 2018 census estimates. The poverty rate is 29 percent, more than twice the nationwide rate. 
It's not forward for those who love Anniston, warts and all, and blanch at the thought of running away because the solution is difficult and they're tired of the fight.
On Tuesday morning, talk of a Ward 4 secession from the city began to flare up, with local leaders circulating maps of a proposed deannexation area and text of a supposed deannexation bill proposed by advocates of a Ward 4 exodus. 
Councilwoman Millie Harris, who represents Ward 4, was among those who saw that proposed text. Harris said she'd been approached by deannexation advocates — though, like other sources who spoke to The Anniston Star, she declined to give their names. 
"I understand their frustration," Harris said, citing political infighting in the city as one reason her constituents might want to leave the city. Still, Harris said, she likely wouldn't support the deannexation proposal, citing the loss of tax revenue.
"It could really ruin this town," Harris said. "We could go bankrupt. The police and fire pensions could be in jeopardy." 
The draft circulated to Harris, laid out in the same format as an official bill, lays out a plan to deannex not only Ward 4 but some smaller areas north and west of the ward, taking up most of the southeast quadrant of town — a mostly residential area where some of the city's most affluent neighborhoods lie. It includes Golden Springs and the neighborhoods around Anniston Country Club.
Draft Deannexation/Annexation Bill by The Anniston Star on Scribd
That area roughly matches two of Anniston's census tracts, one of which is 68 percent white, the other 75 percent white. Together, the tracts include about 9,600 people, nearly half the city's population. 
The draft also called for Ward 4 to be annexed into neighboring Oxford, a move that would make Oxford the county's largest city by far.
Marsh was quick to point out that the bill making the rounds was almost certainly not an official bill from the Legislative Reference Service, where bills are typically drafted before they're introduced to Legislature. Marsh, the president pro tempore of the Senate, said he would see any such bill before the public did. 
Marsh, like Harris, said he'd been approached by deannexation advocates, and like Harris he declined to give their names. He said he'd directed legislative staff to work on a bill affecting Ward 4, without explicitly mentioning other areas. 
He said he expected to hold public hearings before deciding whether to go forward with the bill. 
Some local leaders said they hadn't seen any proposed bill — but had heard plenty about it.
"I don't have anything to offer on all this talk about deannexation, but it's burning up my phone," said Rep. Barbara Boyd, D-Anniston. She said she didn't want to comment for fear of spreading rumors. 
"Nobody has approached me about it, but I expect it at any time because of the rumors I'm hearing," said Rep. Randy Wood, R-Saks. He said he'd likely bow to the wishes of the ward, supporting deannexation if he's convinced that's what the people of the ward want. 
Mayor Jack Draper, too, said Tuesday that he hadn't seen any proposed bill. He said he'd heard talk of a Ward 4 departure for weeks, and opposed the move.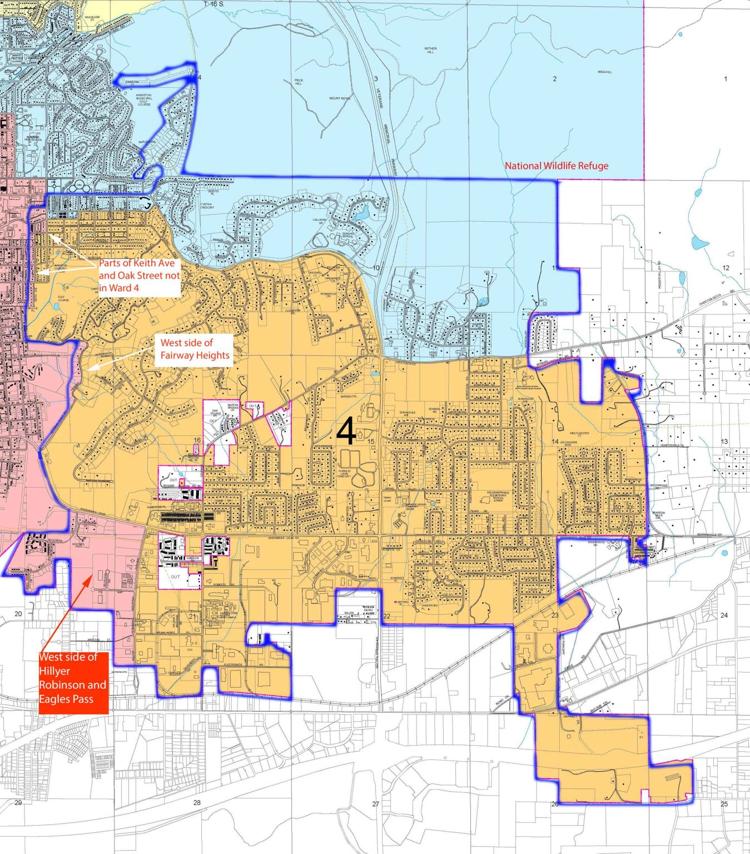 "It would be crippling for the city of Anniston," said Draper, himself a Ward 4 resident. "You're talking about losing a substantial chunk of our city's population as well as revenue."
Little blasted the move as racially divisive and likely to bankrupt the city. He called the proposal's advocates "cowards" for their apparent unwillingness to come forward.
"To me it is just incomprehensible that a state senator would even think about being part of this," Little said. He said he intended to ask for a vote in opposition to deannexation at the next City Council meeting. 
Multiple sources told The Star that deannexation advocates had formed a nonprofit to support the secession move. Records at the Alabama Secretary of State's office and Calhoun County Probate Office show that five people, all with addresses in the proposed deannexation area, last week formed Forward 4 All Inc. The group's purpose, according to the state filing, is "civic advocacy."
Anniston lawyer Charles Turner is listed as the incorporator of the group. Asked whether he drafted the proposed bill wording now making the rounds, Turner declined comment.
"I really can't talk about it," he said.
Thomas Walker and Alison Landers, both named as directors in the Forward 4 All articles of incorporation, also declined to comment Tuesday. Attempts to reach the other incorporators — Rodney Owens and George Gorey — were unsuccessful Tuesday. 
'The first step would be to come talk to us'
Members of the Oxford City Council said by phone Tuesday that they hadn't heard of the proposed bill or been approached to consider annexation. 
"The first step would be come talk to us," said Councilman Mike Henderson. "It would be foolish to deannex and find us not willing to annex." 
Henderson said the council hadn't been consulted, however, and he hadn't heard of any such effort to shuffle city limits, aside from rumor and hearsay that has apparently existed for years without amounting to anything. 
He said the city is already operating at full capacity in terms of infrastructure like police staff, especially in consideration of absorbing nearly 10,000 more residents. 
"I would think they would want some kind of answer first," Henderson said. "It would take a lot of planning and a lot of analysis on our part to determine whether we would do it."
Council members Phil Gardner, Steven Waits and council President Chris Spurlin all said they'd not previously heard of anything like the Forward 4 All bill.
"From my understanding, they come to the city and ask and we go through the process from there," Spurlin said. "They haven't come to us."
"That's news to me as well," Waits said in a voicemail message. 
Mayor Alton Craft said in voicemail message that he also had heard nothing about a plan to redraw a portion of Anniston. Like Henderson, Craft said he had heard rumors of some Anniston areas deannexing, but not localized around any specific part of the city. 
"I just read the bill myself," Craft said, "but I don't know anything about Anniston deannexing and being put directly into Oxford."