Lavonda Moore donned a white baseball cap and T-shirt, both bearing pictures of her uncle, and made the trek from her home in Atlanta to Anniston on Thursday.
Moore was one of several people who stood under the Martin Luther King Jr. Memorial Pavilion in Zinn Park on Thursday evening and spoke in front of dozens of people at an emotionally charged prayer vigil organized by the Calhoun County NAACP.
The vigil was held in memory of 46-year-old George Floyd, who was killed May 25 during an arrest by Minneapolis police. 
Footage from the incident showed then-officer Derek Chauvin pressing his knee onto Floyd's neck, while two officers held Floyd to the ground and another stood by. All four officers have since been charged.
"George Floyd shouldn't be going to a cemetery today," said local NAACP president Glen Ray. "The court said you're innocent until proven guilty. There ain't no reason why that man had his knee on his neck."
Leaders of local law enforcement agencies and local clergy spoke during the vigil.
Capt. Justin Sanford said outgoing police Chief Shane Denham retired earlier that day. Ray said he didn't know who the next chief would be, but he urged that person to do the right thing.
"I can't necessarily say I'm in your shoes," Wade said. "But I'm listening."
Carlton Phillips, pastor of Friendship Missionary Baptist Church in Anniston, said the death of George Floyd was like "a Band-Aid has been ripped off an open wound."
"Now we are bleeding," Phillips said. "But the blessing is that we have a god who is close to the brokenhearted, a god who understands exactly what we're going through."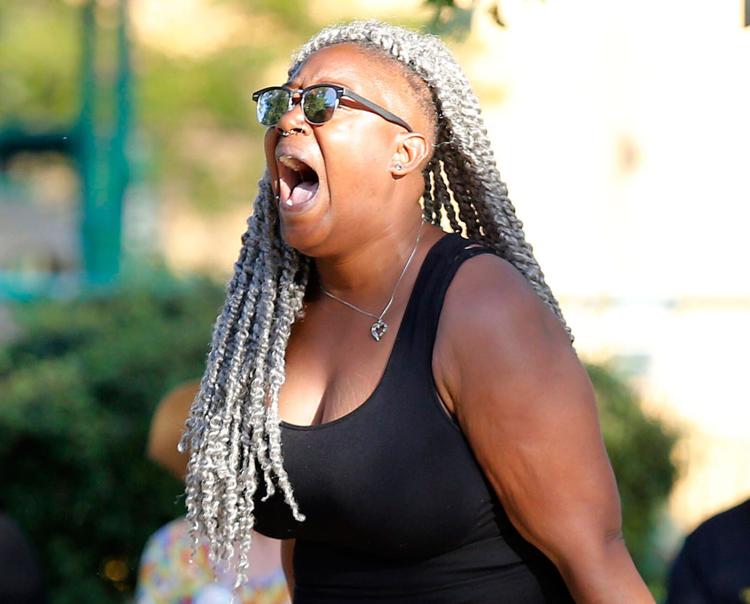 The vigil ended after Lesa Lace of Oxford took the stage and criticized the vigil calling it a "joke" and a "complete slap in the face" to the black community. She called for police to fight an oppressive system.
"The system is rotten from the inside," Lace said. "Yes, there are good cops, but that doesn't mean a damn thing when they're working for a system that's meant to oppress everyone, especially black people."
Ray and Lace began arguing before she left the area. A white pastor took the stage after her, and asked law enforcement officers to step forward so he could pray over them. Nobody came forward.
Lace came back with a group of people carrying signs, and they sat in the chairs and chanted "black lives matter" as Ray spoke onstage.
Delia Simmons said after the vigil she was "pissed" that Ray tried to silence Lace.
"You don't shut a person up when they're out here doing what's right," she said. 
Moore said the similarities between Floyd's death and her uncle's haven't escaped her. The past four years without him have been painful, she said. 
Moore, a Hobson City native, said she and her family have experienced racism numerous times at the hands of local police, but it wouldn't stop her from speaking out.
"Just like George Floyd has got everyone yelling his name, I'm yelling Deatrice's name," she said.