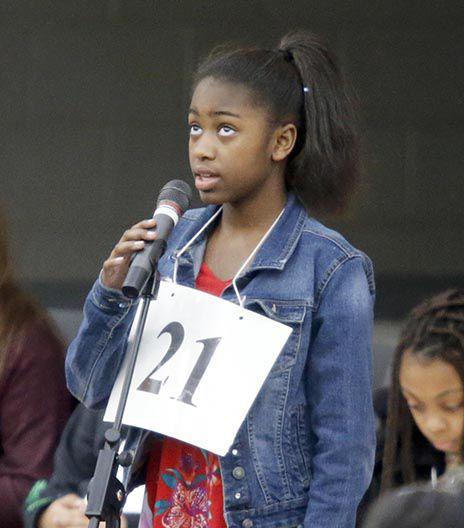 This year, the word "bee" will be spelled E-X-A-M.
The best spellers in Calhoun County's school systems will take an online test to determine the county spelling bee champ, organizer Jeff Moon said Friday.
It's yet another oddity of the pandemic.
"I know a lot of the drama may be gone from watching the spelling bee," said Moon, a sixth-grade teacher at Kitty Stone Elementary in Jacksonville. "But unfortunately that's how this whole year has been."
Every spring semester, the countywide spelling bee settles the question of who will go on to the statewide bee — and possibly to the national spelling competition sponsored by the media company Scripps.
This year, like so many things, the competition is going virtual. With COVID-19 spreading at a near-record pace, some school systems are still holding classes online and haven't been able to host their own school-wide bees, Moon said.
If an organizer set up an in-person, county-wide event, Moon said, there's always the chance the spread of the virus could later force a cancellation.
Instead, competitors will take an online test Feb. 5, with spelling words read aloud by the recorded voice of the Scripps national spelling bee announcer. The student with the highest score will be named champion.
There's still a chance for the high-wire drama people expect from a spelling bee, but only if there's a tie in the test score. In that case, the tie-breaker will likely take place in a Zoom meeting.
"We'll have a sudden death spell-off," Moon said.
The countywide bee typically attracts around 35 students, Moon said, although he expects the number to be lower this year. The winner will still get the chance to go to the statewide bee, which Moon said is scheduled for late March and, at least for now, is expected to be in-person.
Moon is now arranging for prizes and a trophy, he said.
"We're trying to keep this as normal as possible," he said. "I would hate for a kid to win a spelling bee and not get everything they deserve just because this is the year they won."
Calhoun County in the past two weeks has seen more than 100 new cases of coronavirus per day, according to the Alabama Department of Public Health. The virus has killed 200 people in the county. Nearly 11,000 people have had the virus since the pandemic began, around 10 percent of the county's population.