Residents during a community meeting on Tuesday told officials that they're concerned about children who play in a west Anniston ditch contaminated with toxins that have plagued Anniston for decades.
At the Carver Community Center on Tuesday members of the PCB Community Advisory Group and attendees discussed their concerns with officials from the Environmental Protection Agency and from Solutia, the company formerly known as Monsanto.
Shirley Carter, a member of the advisory committee, asked whether the EPA could put up a fence along Snow Creek that runs under Alabama 202 to prevent children from playing in the contaminated soil.
Pam Scully, the EPA's manager of PCB remediation in Anniston, said the agency's plan is to remediate that area by requiring Solutia to remove any contaminated soil, and "not to put a fence up."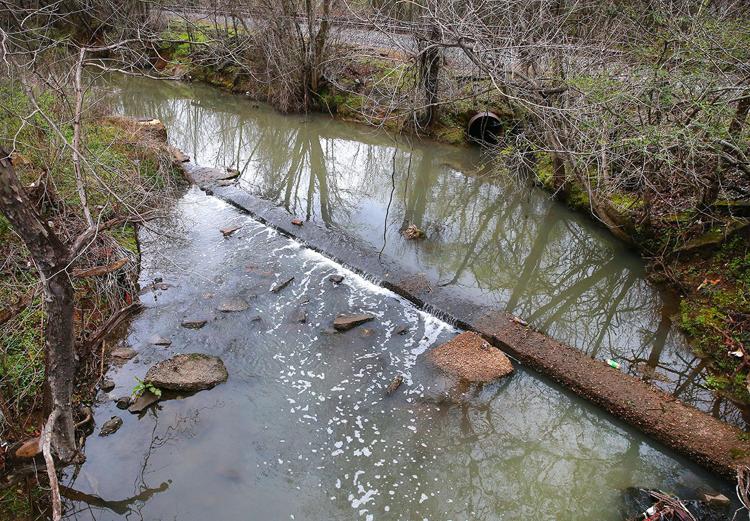 Scully said the agency has determined that there isn't a substantial health risk there, and that the Alabama Department of Public Health hasn't told the agency otherwise.
The PCB Advisory Committee was formed in 2003 by the Environmental Protection Agency, and is made up of local residents who monitor the ongoing court-ordered PCB cleanup,  
The toxic chemicals polychlorinated biphenyls —  known as PCBs — were manufactured from the late 1920s to the early 1970s at the western Anniston Monsanto plant. The chemicals were once used in electrical equipment. Scientists discovered PCBs were linked to numerous health problems, including cancer, and the chemicals were banned in 1979.
David Reddick, chairman of the advisory committee, asked if the city could place signs near the ditch warning of potential dangers.
Scully said the city could, but urged Reddick to get legal advice from the city's attorney before doing so to ensure the sign's wording didn't place the city in legal jeopardy.
"Kids aren't going to read a sign," said David Baker, an Anniston resident and longtime advocate for cleanup of PCBs. "There needs to be a fence up."
Baker said he travels in that area on his way to work and stops regularly to encourage children playing in the ditch to leave.  
The EPA in March proposed a $36.6 million plan to dig up PCB-contaminated soil at sites along Snow Creek.
Once begun, that cleanup won't be the first time PCB-laden soil was cleaned from Snow Creek. In 1985 the Alabama Attorney General's Office told the EPA that soil along the creek was contaminated with the chemicals, and the state later required Monsanto to propose a cleanup plan. Monsanto in 1988 removed about 1,000 tons of PCB-contaminated soil from Snow Creek.
The EPA five years ago completed a much larger cleanup effort in the yards of 719 Anniston homes.
"I'm worried about those kids," Baker said.
PCB CONTAMINATION TIMELINE