Anniston city officials in separate meetings on Tuesday offered hints of their legal strategy against deannexation of Ward 4, saying the split would likely violate the U.S. Constitution.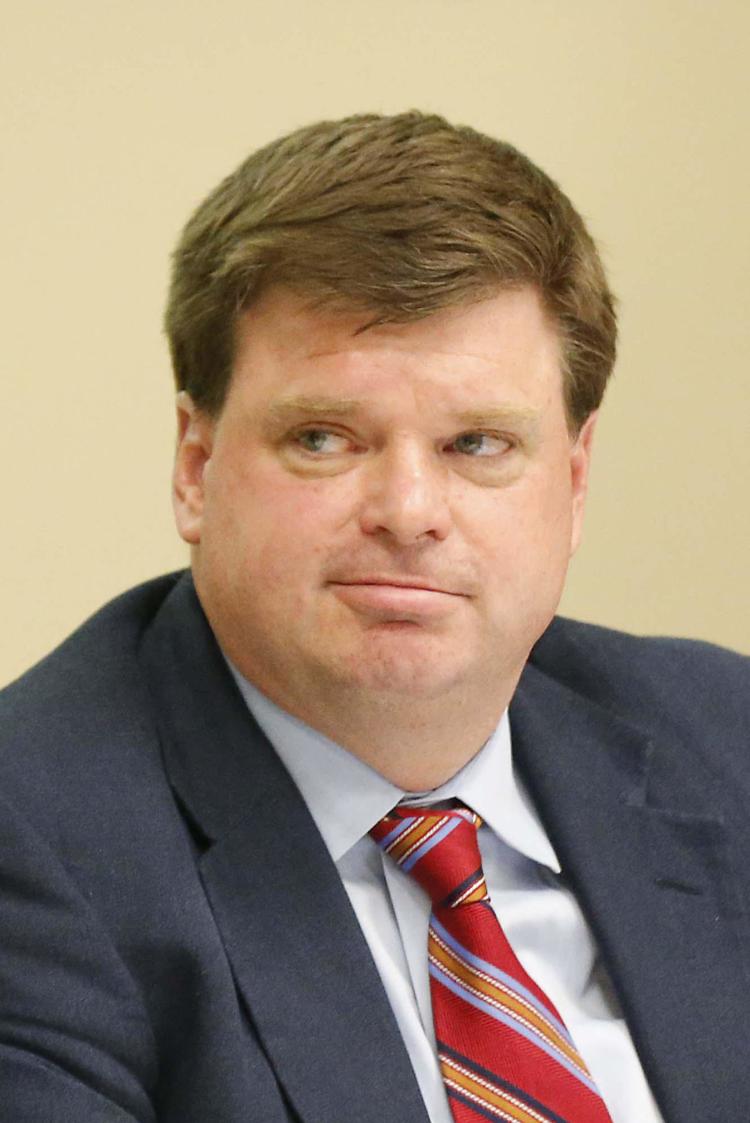 "The Legislature does have the power to redraw a city's boundaries, but that power is not limitless," Mayor Jack Draper said in a speech a noon luncheon of the Rotary Club at the Anniston Country Club.
Draper used the Rotary speech to lay out the basics of the Ward 4 deannexation movement that has dominated local political talk in recent months. 
In July, a group of residents in the southeast Anniston council ward began circulating a draft bill that, if passed, would have pulled Ward 4 and some surrounding areas out of the city. State Sen. Del Marsh, R-Anniston, said he had legislative staff studying the proposal, though he didn't say he supported the proposed bill. 
City Council members have denounced the secession proposal, saying it would split the city in half and bankrupt the city's police and firefighter pension plan. The council voted to give the city manager authority to hire an outside lawyer to take legal action against the proposal if needed, though Draper said Tuesday that no one has yet been hired to do that work.
Even so, Draper on Tuesday laid out what's likely to be the core of any legal case against annexation. The Alabama Constitution gives the Legislature broad power to redraw city lines, he said, but the U.S. Constitution prohibits state laws "impairing the obligation of contracts." 
Draper said a state-mandated deannexation would interfere with the city's ability to pay its debt on various bonds over the years. He said that in past court cases —  including one in Tuskegee and another in Mobile — courts have struck down boundary changes that would have left a city's creditors unpaid. 
"I've looked at that question," said Charles Turner, a leader of Forward 4 All, in a telephone interview after the speech. Turner wasn't at the Rotary meeting. 
Turner said Draper was right: If a deannexation left the city's bonded debt unpaid, courts would strike it down. He said any annexation plan would have to include some sort of obligation for Ward 4 to help pay city debt.
"My understanding is that as long as the debt travels with us, we can leave the city," Turner said.
The Rotary audience seemed skeptical of the deannexation plan.
"Why leave the city? You should stay and work on fixing the problems," said Tony Diaz, one of the members of the audience. 
Some audience members asked whether there was a secret funding source behind Forward 4 All. Draper said he couldn't answer those questions. Turner, in comments after the meeting, said the nonprofit has raised only about $3,000 and spent only about half of that. He said much of the money was from the pockets of the founding members. 
"We've also raised some money from a GoFundMe," he said. 
Hours later, at a public meeting on deannexation at Norwood Hodges Community Center, two city councilmen urged faster action on a legal case against the proposed Ward 4 split. 
"Any time a country tries to take away a portion of another country's territory, that means war," said Ward 3 Councilman Ben Little. "We are fighting a war from within our own boundaries."
Little and Ward 2 Councilman David Reddick convened the meeting in Golden Springs, the heart of Ward 4— an unusual move, given that council members typically hold public meetings only in their own wards. 
Draper and Ward 4 Councilwoman Millie Harris intend to attend a coming public meeting on deannexation sometime in December, the mayor said Monday. They didn't attend the Tuesday night meeting, and the crowd was sparse, with only eight people in attendance. 
"I care about this city. I want it to survive," said Ward 4 resident Levetta Davis, one of the people in the audience. 
Anniston resident Glen Ray was also in the audience. A member of Forward 4 All, Ray seemed to speak of a need for unity, not a split.
"Let's see if we can't move forward in this city, united, as one, Annistonians," Ray said. He left before the meeting ended. 
City attorney Bruce Downey wasn't an organizer of the meeting, but did attend it to observe, he said. When Little called Downey to the microphone to speak, the lawyer outlined a legal argument against deannexation that sounded very similar to the one described by Draper earlier in the day. 
"This would be won or lost in the Alabama Supreme Court if it comes to that," Downey said. He said a constitutional case against deannexation would be expensive to litigate, and would involve the argument that a smaller Anniston could be unable to live up to its contractual obligations. 
Little said he intends to urge the council to move forward in at least selecting a law firm for future litigation against deannexation.
Downey said the city likely wouldn't have anything to litigate until the Legislature acts on a deannexation bill. Passage of such a bill, he said, would damage the city even if Anniston ultimately reversed deannexation in court. 
"If it comes to that, we've already lost," he said.