Of all the old things made new at the Anniston Museums and Gardens this summer, a brass flute is most attention-grabbing — it's also a gun, after all. 
The Berman Museum opens its "Danger, Deception and Disguise" exhibit Sept. 23, its first new permanent gallery since the start of the COVID-19 pandemic. Visitors will see exterior improvements to the entire museum complex, including concourses connecting the museums and a bus lane for simple entry and egress at the Natural History Museum. But the espionage-focused exhibit —  filled with tools of ninjas, spies and assassins collected by the Berman family — is likely to garner the most attention, with its flute that doubles as a .22 caliber firearm holding center stage in the exhibition hall. 
The weapon can be played like a regular flute, at least until the flutist plays a specific note that fires a shot. Museum staff, asked if the flute had ever knocked 'em dead for real, were coy. 
"We have no idea," said Alan Robison, director of the museum complex, grinning. "But I doubt the Bermans would have told you, either." 
Farley and Germaine Berman were both spies in World War II, museum marketing manager Renee Lyons said during a tour Tuesday. The two met and fell in love while investigating each other; Farley worked with American intelligence, while Germaine was a spy with the French resistance, Lyons said. They married and moved to Anniston, Farley's hometown, after the war. The Berman Museum opened in April 1996.
Other undercover weapons owned by the star-crossed spies include a pack of throat lozenges, an automotive gear shift and an umbrella — all capable of firing a fatal bullet, naturally. The exhibit stretches from modern espionage back to ancient eras, showing off poison-tipped arrowheads from Iran and ivory-handled blades from Japan. 
Nonlethal artifacts include stamps used to forge the signatures of Nazi officers — "There's a story that Mr. Berman's son was out sick from school, and Mr. Berman stamped his excuse letter with one of these," Lyons said — and a traveling toiletries case with hidden compartments. 
With schools back in session but students still at risk of COVID exposure, it may be some time before kids pile into school buses for museum field trips. 
But Lyons said the museums now offer guided tours over Zoom, an internet-enabled remote meeting software, that allow students to ask questions and see exhibits while museum guides broadcast from their phones. The Berman Museum had held its first Zoom tour that morning, according to Lyons, and it had gone well. 
"Our key is to share the behind-the-scenes things, the things you wouldn't get even if you were here and walking a self-guided tour," Lyons said. 
Educators can call the museum's education director at 256-237-6766 and arrange a time for a Zoom tour, Lyons said. 
The museum is also addressing some infrastructure issues that have needed attention for some time, Robison said. The break in business when COVID-19 appeared in Alabama — 67 days from March 18 to May 26, Robison recalled — gave staff time to pitch plans for those upgrades.
One of the biggest changes, a bus lane, might save bus drivers some headaches. 
School bus drivers in Calhoun County have long known a solemn rule of the Natural History Museum's parking lot: Buses go in, but they don't come out. Not without some finicky navigation, at least. 
"The turnaround is very tight; it's not intended for buses," Robison said. "They tend to jump the curb or hit the fences, hit the trees or hit the cars. We always knew we needed to do something." 
Museum staff first discussed expanding the parking lot, but leveling more land would have been too expensive. 
The bus lane was suggested by Sain Associates, a Birmingham engineering firm that surveyed for the museum at no cost, Robison said.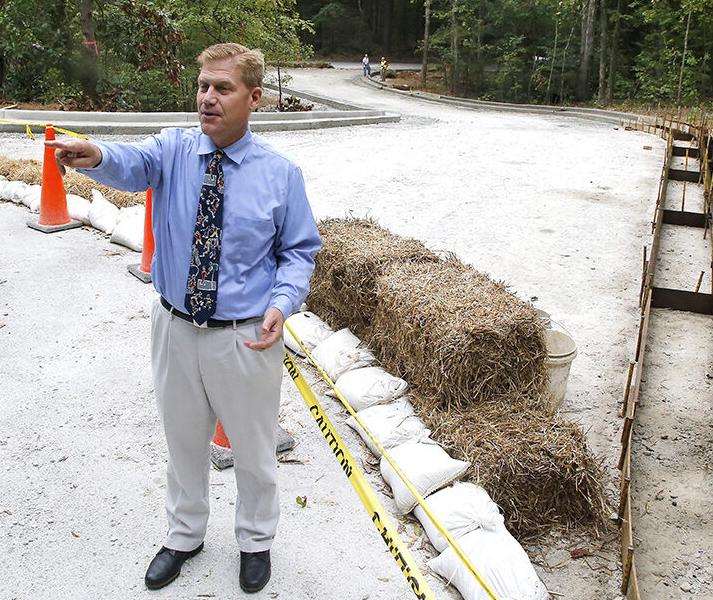 The bus lane curves from the original end of the parking lot back to Museum Drive, allowing buses to swing in through the original entrance, drop passengers and pull straight out of the lot. 
The lane is almost done, save for a final paving, and should be ready before local schools head out for field trips again, Robison said. 
Paths of least resistance
When students do return, it will be easier for them to get around. 
Robison pointed out new sidewalks that now lead from the Museum of Natural History down the hill and across the old wooden foot bridge to the Berman Museum. The walkways will eventually stretch to Longleaf Botanical Gardens, connecting the entire complex from one end to the other. 
"The concept is wherever you park on this campus, you will be able, through a walkway, to go to any of the other areas without having to move your car," Robison said. 
The paved path also goes the other direction from the history museum, leading visitors to a rounded pavilion called the Tree House. The structure's wooden bleachers can hold up to 250 kids, Robison said, who gather to watch educational presentations or enjoy a bonfire at the pavilion's center, beneath its chimney. 
The Tree House had a dirt floor until recently, when Webb Concrete donated materials to pave inside, Robison said. Footprints from deer and birds and others are embedded in the concrete, left by either woodland critters or clever museum staff. 
Having the floor paved allowed the installation of powerful fans that would have otherwise kicked up dirt, Robison said. Bought with money from the Alabama Humanities Foundation, the fans should stave off the sweltering heat of summer — especially for kids who stay during the museum's overnight events. 
"It's a good way to come out and get to be one with nature and roast marshmallows," Robison said.