Long before Doug Jones faced Roy Moore in the U.S. Senate race, he had to face Shirley Carter – an Anniston activist who wanted toxic polychlorinated biphenyls cleared out of her neighborhood.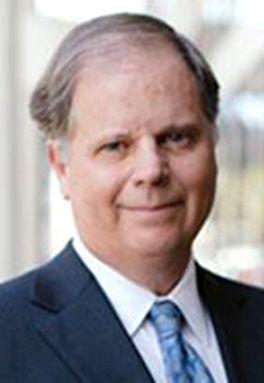 "He used to say to me, 'Shirley, you don't just throw darts, you throw torpedoes,'" Carter said. "But over the years, I must say, he's been fair to us,"
Jones, the Birmingham lawyer who won the Democratic nomination in this year's special Senate election, is just now becoming well-known to voters across the state and the nation. He'll go up against conservative icon and former state Supreme Court chief justice Roy Moore in a Dec. 12 vote to see who serves the remainder of the Senate term begun by Jeff Sessions, who left Congress to become U.S. attorney general.
Before he appeared in campaign ads and television talk shows, though, Jones made regular and quiet appearances in Anniston, where he was the court-appointed authority to oversee the settlement between the chemical company Monsanto and local residents poisoned by PCBs.
For most of the 20th century Monsanto made PCBs, used as an insulator and coolant in electrical components, at its factory near Alabama 202 in western Anniston. The U.S. banned PCB production in the U.S. in 1979, citing connections to cancer, liver problems and birth defects. By that time, though, the chemicals were already widespread in the soil around the plant, and in Snow Creek where Monsanto had directly dumped the chemical.
In 2003, local residents won a $700 million settlement from Monsanto. The Environmental Protection Agency began overseeing a massive, house-by-house dig to clean up properties contaminated with the chemical. For Anniston, it was an epic undertaking, complicated by the fact that other industrial contaminants – lead and heavy metals from other industries – turned up in soil testing, and also had to be cleaned.
Jones, a former federal prosecutor who'd settled into private practice in Birmingham, was tapped as special master in the case, in essence the federal court's representative in handling disputes between residents, Monsanto and the EPA. Because of the scientific complexity of the case, the court also appointed a technical special master, environmental engineer Tom Dahl, to work with Jones.
"Both of them were the eyes and the ears of the court," said Shirley Carter, who is now a member of the Community Advisory Group for the Consent Decree, a panel of local residents who regularly meet with EPA officials to discuss the cleanup.
Attempts to reach Jones last week for comment on his special master role were not successful.
Over the years, the CAG, as it's commonly known, was the site of sometimes heated debates about the pace of the cleanup, which is still ongoing. Members of the group say Jones was often a quiet presence in the room, listening and weighing what was said.
"I've been involved from Day One, and I'd say he's been fair-minded to us," said David Baker, a former CAG member and organizer of the group Community Against Pollution.
In the first few years after the settlement, cleanup officials had to contact hundreds of local residents and get their permission to test their yards for pollutants. Then they often had to return to ask permission to dig up contaminated soil.
Jones was rarely a topic of controversy at the time, but by 2004, some local residents were growing frustrated with the progress of the cleanup. Solutia, the chemical division spun off by Monsanto after the settlement, was in bankruptcy court and local residents complained of missed deadlines on Solutia's payments for the cleanup.
Wayne Carmello-Harper, then director of the CAG, complained that Jones hadn't kept the group up to date on the situation.
"I think it's rude to send a letter and not get a reply," Carmello-Harper told Jones at a 2004 meeting. "It makes us feel that the CAG is not important."
Baker, too, was among those critical of the pace of the cleanup. Thirteen years later, the incident doesn't seem to have affected either man's opinion of Doug Jones.
"He was extremely involved in that process, and he was very diligent," said Carmello-Harper, now an executive at St. Vincent's Hospital.
Carmello-Harper described Jones as a good listener who seemed aware that PCBs were an unavoidable, unwanted problem for the community.
"The whole issue was very personal and very hurtful," he said. "There was certainly a lot of passion about it. I certainly found Doug to be responsive, as well as his team."
"Doug Jones has been standing up for us all this time," Baker said last week. "If there were any types of problems that did come up, I think he's handled them fairly."
Baker contrasted Jones with Roy Moore, who briefly played a role in the PCB issue as chief justice of the state's highest court.
"I remember sitting in the Supreme Court when they were hearing our case, and they ruled against us," he said.
Local residents in 2001 sued Monsanto in hopes of getting the company to pay for health testing for local residents who were likely exposed to PCBs, even if they hadn't shown signs of disease. The court, including Moore as chief justice, rejected the claim.
"As Monsanto correctly notes, Alabama law has long required a manifest, present injury before a plaintiff may recover in tort," read the court's opinion.
The decision was unanimous, and Moore didn't write the opinion. Attempts to reach Moore for comment on the case last week were unsuccessful.
Not long after the dust-up over Solutia's bankruptcy, another controversy emerged in the cleanup. The West Anniston Foundation in 2004 obtained a grant, through the court case, to hire a technical expert to do testing on local sites. The group hired a geologist — and fired him a month later, claiming the he'd missed deadlines for project.
Jones ordered the man re-hired, citing a clause in the  Monsanto settlement  that required a mediation period before a consultant could be let go. At the time it was an emotional issue for the CAG, with one local resident saying "cover up" repeatedly as Jones talked about the decision in a CAG meeting.
The foundation's former director, Charity Richey-Bentley, said last week that she had no complaints about Jones' handling of the situation – even though his decision overturned her decision to fire the consultant. She said Jones was right about the mediation period.
"That was my error, and Doug was not mean about it," she said last week. "He said calmly, 'Now this is what you've got to do at this time, and what you've got to do at that time.'"
Richey-Bentley described Jones as a "very, very bright man" and said he took a hands-on approach to the process, always appearing at CAG meetings or sending a representative.
"I might have gotten a little frustrated with the way things were moving," she said. "Everything was such a process. Every decision had to go through a number of decisionmakers."
Looking back, she sees the pace of the cleanup – which she described as "ginormous" – differently.
"The community had just been ravaged," she said. "But if you stand outside the process and look in, you really get a sense of how much work was done at the time."
Attempts to reach the remediation director for Eastman Chemical, which now owns the former Monsanto plant and pays for the cleanup, were unsuccessful last week.