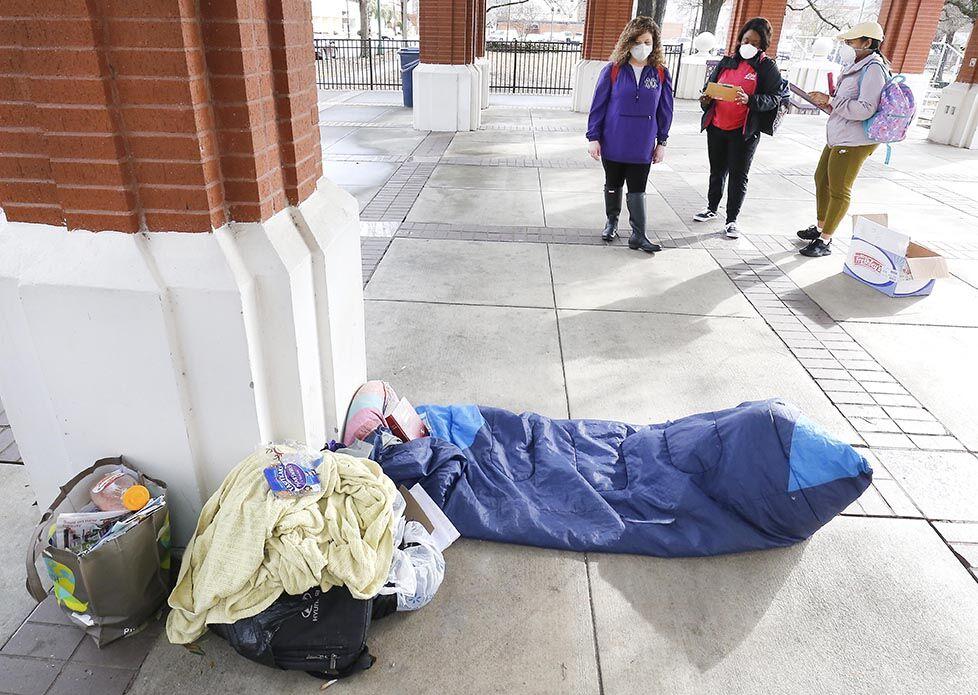 On the floor of an abandoned house near Moore Avenue in Anniston, Lori Floyd found pairs of silvery and rainbow-colored sneakers, discarded food containers and an employee manual from a fast-food restaurant. 
"Somebody's living here, and it looks like they might work for Taco Bell," said Floyd, director of the Right Place, an Anniston nonprofit that works with homeless people.
Floyd and a dozen volunteers hit the streets of Anniston and Oxford Wednesday morning for the area's annual homeless count, a 24-hour push to find homeless people where they are. The count helps determine how much federal funding the local area receives to deal with the homelessness problem.
About 3,200 people in Alabama are homeless on any given night, according to estimates from the U.S. Department of Housing and Urban Development. Counting people without fixed addresses isn't easy, and results of the count are never available the day the count is done. But volunteers say it's likely homeless numbers are up after months of the pandemic.
"There are more calls, more requests for help," Floyd said. As state and federal protections against eviction expire, she said, more people are likely to be without shelter.
Even before the pandemic, Anniston faced what some called a crisis in homelessness. The city lost its last emergency shelter for men in 2019, when the local Salvation Army closed its shelter, citing safety problems that were too expensive to fix.
Those without homes found shelter elsewhere, sometimes in parking decks and sometimes inside — or under — the many houses left empty in the neighborhoods surrounding downtown Anniston.
During last year's homeless count, Floyd found the body of one of her agency's clients, Freddie Day, 64, who had died in a second-story room of an abandoned house just across the street from the Calhoun County Administration Building. Coroner Pat Brown said Day may have changed his first name in the years before he died, but the coroner's office confirmed his identity through a DNA match with a living brother.
Photos: 2021 Anniston Homeless Count
Photos of the 2021 Anniston homeless count.
"My response to that particular day was to call 911," Floyd told a group of volunteers Wednesday morning at the Right Place headquarters. She told the volunteers, many of them Jacksonville State students in social work, to go in pairs and that if they did find a body, to stay in place until police arrive.
Volunteers picked up backpacks and filled them with items from a supply room at the Right Place, where there were tables filled with canned foods, silvery emergency blankets, thin black mittens and toboggan caps.
The plan was to interview homeless people from a pandemic-safe distance — collecting demographic information, mostly — and leave the backpacks with anyone who needed supplies.
It was Jeanette Pitcher's first time doing the count. A retiree, Pitcher moved from Bountiful, Utah, to Oxford two years ago. She said she often saw homeless people in Salt Lake City, but rarely here.
"They're very invisible to me here," she said. "I expect I'll have my eyes opened."
Floyd, though, knew where to look. Where there's a bed sheet covering the door of an abandoned house, there's likely someone inside. Where the front door is boarded, a back door is sometimes open, and inside are blankets and clothes of a homeless person.
On the sidewalk on Moore Avenue during Wednesday's count, Floyd spotted one of her clients. He's 20, and Floyd said his troubles may have begun when he aged out of the foster care system.
The man proudly showed Floyd his new driver's license. Getting identifying papers such as a birth certificate has been a challenge for him. He pointed out where he lives — on the screened porch of an empty house that once belonged to a relative.
He said he never goes into the house, which would lead to a trespassing charge. There's no electricity anyway, he said. He said he's looking for work. He said he deserves better.
"Everybody deserves better," Floyd told him.
Floyd later said the 20-year-old's situation makes her mad. He would have done well, she said, in the shelter Anniston never created.
City officials last year made plans to acquire the former Beckwood Manor nursing home building on Leighton Avenue and turn it into a homeless shelter where people could have individual rooms and access to mental health care and other services they need to get back on their feet.
Opposition from neighbors — who said the City Council never sought their input while forming the plan — put an end to the project.
COVID-19 brought the shelter concept back, in a way. When temperatures dropped below freezing the first time earlier this winter, city officials knew they couldn't offer their usual "warming stations," where people sleep in cots in the city's community centers. Sleeping in barracks-like accommodations would likely spread the virus, city officials said.
The Right Place instead took some of the money set aside for the proposed Leighton Avenue shelter and used it to put homeless people in hotels on below-freezing nights.
Floyd said local agencies also supplied many of the services to the hotel residents that they would have offered at the proposed Beckwood shelter.
The hotel approach works well, Floyd said, but it's not sustainable. The first two weeks of the project, with 22 people in hotels, cost the nonprofit $11,000. 
"We have to use what resources we have, and when they're gone, they're gone," she said.
Floyd said the nonprofit expects to pay for hotel rooms again next week, with nighttime temperatures forecast to dip into the 20s.