Jaliyah Ragland didn't have to borrow inspirational quotes to lend heft to her speech to 110 Anniston High graduating seniors at Lott-Mosby Stadium Thursday.
Ragland was class historian, and history was enough.
"We are the class that was born and conceived in the 9/11 tragedy," Ragland said. "Growing up we grew desensitized to mass school shootings and other unspeakable events."
Ragland spoke also of the death of classmate, Jovannah Williams, in a 2017 car accident and the coronavirus pandemic that closed schools in March. That pandemic had Anniston High's Class of 2020 walking onto the high school's football field on a hot afternoon in June — weeks after the school year had ended — with masks on their faces, their friends and relatives scattered thinly across the stadium like the crowd at a junior high football game.
Photos: 2020 Anniston High School Graduation
Photos of the 2020 Anniston High School graduation at Lott-Mosby Stadium.
Speakers at the event noted the strangeness of the ceremony, and of a school year that ended prematurely. But students seemed to take the pandemic in stride. On and off the graduation stage, a theme of resilience ran through much of what the graduates said.
"There was no prom, no senior fun day, no senior trips and now no traditional graduation," said salutatorian Jaden Miller. "We've had to become flexible and adapt."
Anniston's job market has been hit hard by the pandemic: The city now has one of the highest unemployment rates in the state, at 22 percent. But graduates haven't let a grim economy stop them from making plans.
Kaleb Lewis Jennings said he plans play football for Alabama State. TiQuon Jackson is headed to Alabama A & M. Shenice Carter studied welding at Anniston High — a job that was in high demand before the pandemic — and will go on to Gadsden State to complete her study.
"I already miss being in school," Carter said.
Valedictorian Tahj Jones told the class they'd already defied the odds, overcoming stereotypes about their school and real obstacles to success.
"To be brutally honest, our diploma has come at a different cost than many other graduates," he said. "We have overcome unfathomable circumstances that many of our contemporaries have not had to deal with."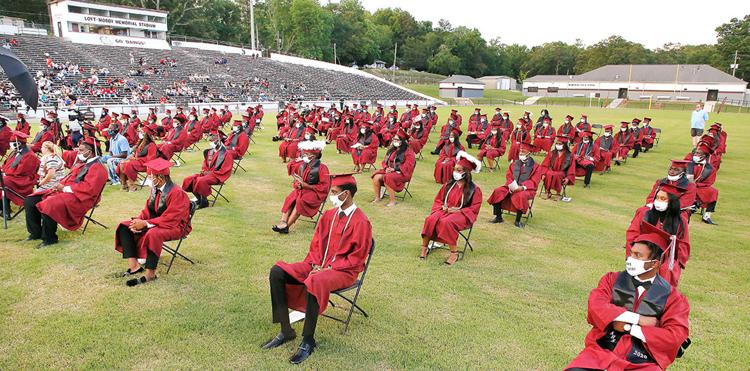 The school district has the highest poverty rate in of any in the county, and Anniston's population is shrinking. Jones made few direct references to that — but he did mention the attempt last year by some Anniston residents to take mostly white Ward 4 out of the city, proposal that many in the city found racially divisive.
"Our city will not get any better until we stop the animosity," Jones said, a line that drew applause from the crowd.
Principal Charles Gregory told students they'd already proven they're up to life's challenges, and were ready to go out into the world.
"It's poor English but good preaching: You ain't seen nothing yet," he said.