Anniston City Councilman David Reddick continued his pattern of verbal confrontation with City Manager Jay Johnson in public meetings as the council discussed downtown property Tuesday evening.
City planner Toby Bennington explained to the council that a $5,200 hotel feasibility study, which the council was already planning to vote on, would help the city market the site to hoteliers. The study, which would be aimed at no particular hotel brand, would be paired with incentives previously offered to J2, though those incentives might be tweaked later, he said.
Reddick asked Bennington if anyone had expressed interest in the site since J2 lost the property. Bennington said he thought there was interest from other brands, but offered no specifics. Reddick continued to push the question — at one point sparking a response from Mayor Jack Draper, who asked, "Do you have someone specific in mind?" — while Johnson repeatedly stated that no developers had approached him.
Councilman Ben Little entered the conversation to say that, in a meeting after litigation over the site ended, an attorney had said Johnson should "get in touch with so and so and so."
At that point, Johnson recalled an individual who he said was not a hotel developer.
"She was interested in financing, but if I remember correctly, she did not have hotel experience," Johnson said.
After the council meeting, neither Reddick nor Little could identify the woman.
Johnson said that he had not contacted the alleged financier, but had checked into her credentials. Reddick took note of Johnson's report and asked the city manager, who is the chief executive of city operations — if he "just unilaterally decided not to" contact her to invite a development opportunity.
"As basically the person responsible for the financial prosperity of this city, someone who is tied, based off of, you're saying you chose to not follow a potential lead," Reddick said — as Johnson protested, "No, no, no" — "which is a financial decision for the city. You made a decision without consulting this council."
Then the mayor stepped in and said, "He's saying no, David."
Johnson said he had been in contact with no developers since litigation over the site ended. "We've been down a road already we need to get right," he said, and explained that the city needed a feasibility study before it began negotiating with developers.
"After that I will gladly submit it to that woman," Johnson said. "The last thing I wanted to do is start down that road without proper documentation."
Reddick then shifted gears and said that Johnson should have emailed the woman to let her know as a professional courtesy he couldn't negotiate with her, something he and Little echoed throughout the council's official meeting later in the evening —  though they failed to explain what purpose, if any, such an email would serve.
Reddick claimed during the work session that he "just heard something through the grapevine."
Replied Johnson, "It's an interesting grapevine, because there were only four or five people in that room."
Reddick turned to Johnson and said, "Is that a smirk, sir?" and repeated the question once.
Johnson said, "If the question is 'Did I call her?' no, I did not."
Reddick then said, "Which could potentially be a felony if a charge is filed on it. If the lady filed a charge, because you have a fiduciary duty. CEOs go to prison for not doing the fiduciary duty of their company."
He offered no clarification for what law, ordinance or precedent would support his claim, and Draper tried once more to calm him.
"You can be mad at me, I'll be as upset as I want to be," Reddick said in response to the mayor's effort. He added he would "continue to ask questions whether you like it or not."
During the meeting, the City Council:
— Recognized athletes from the Special Olympics basketball team and the state champion parks and recreation basketball team for ages 12 and under.
— Approved a retail beer and table wine license for Kapp Mart LLC at 1531 Greenbrier Dear Rd.
— Amended Community Development Block Grant allocations for program year 2014 to pay an additional $30,000 for rehabilitation of 1601 Moore Ave. Councilman Jay Jenkins said the building was appraised for $12,500 and the city would spend $112,000 to renovate the home. Little, Jenkins and Reddick all said they believed the money could have been spent on something better.
— Amended the same grant to give $50,000 to the West Anniston Foundation for the rehabilitation of occupied houses in West Anniston. Council members and Draper commended the foundation for its work in the area.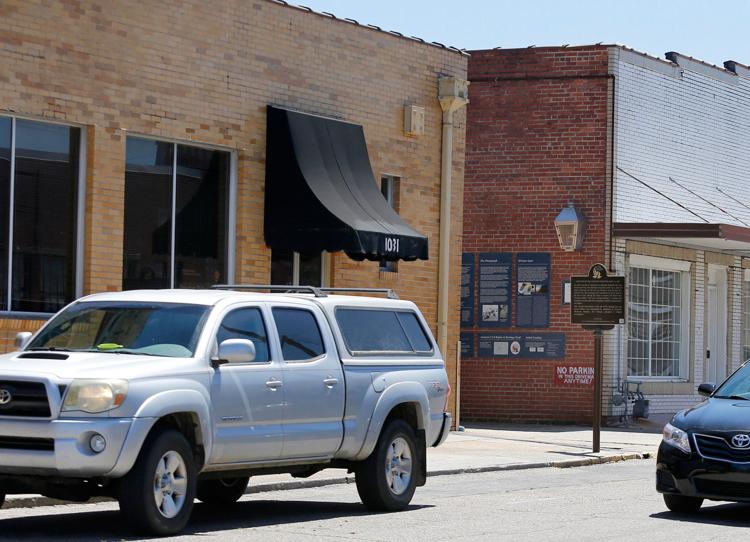 — Authorized an infrastructure and transportation needs assessment study for the Freedom Riders National Monument with Greenville, Ga.-based transit firm J.R. Wilburn and Associates. The study will cost $57,700, though Johnson said that money is paid by a federal grant in connection with the monument. Reddick dwelled on the expense for several minutes and pointedly questioned the amount.
Johnson explained that the study would include assessment of bus motor coach circulation, unloading and parking, routes, side streets, automobile circulation, auto parking adjacent to the site, "hardscape improvements," benches, lighting and landscape improvements to make the site more pleasant.
Jenkins, who has experience as a contractor, explained the price might seem high, but the work and time involved would be extensive, and the project would be worthwhile.
"As an iconic symbol of the civil rights movement, the Freedom Riders Monument stands to position Anniston in a way we are quite frankly unfamiliar with," he said.
— Authorized the hotel feasibility study with Spurrier Consulting for $5,200.