Geography and good fortune made Anniston unique, a proud city of utopian dreams and New South confidence. That's what residents were told and newspapers claimed. City planners advertised Anniston as a healthier place blessed with clean water and mild winters and enough Appalachian breezes to ward off the foulness of summer's heat. Sickness and fever came rarely. The fetidness of urban slums bore no concerns.
Then came 1918, the year of Spanish influenza, the year of fear and death, the last year of Margaret Taylor's life.
She wasn't from Anniston. She was a city girl living with her parents, Angus and Maggie Taylor, and siblings in Birmingham. Angus, a merchant, sold leather goods and served in the Rotary Club. Maggie was a prominent figure in Birmingham's chapter of the women's Liberty Loan Committee. But Maggie's mother hailed from the McCaa family that, then and now, is intertwined in Anniston's genealogical tree.
Through her mother, Margaret Taylor's lineage traces back to Anniston founder Sam Noble, whose daughter Addie married into the McCaa clan. That October, Margaret and her parents arrived in Anniston for a weekend visit.
Days later, they returned to Birmingham and buried her in Elmwood Cemetery on the city's southwest side. A simple stone marks her grave.
On Monday afternoon, Oct. 7, her story made the front page of The Anniston Star.
"Spanish influenza has claimed its first victim in Anniston with the death of Margaret Taylor, 12-year old daughter of Mr. and Mrs. Angus M. Taylor of Birmingham, early yesterday morning.
"The child showed first symptoms Saturday morning by complaining of a sore throat. She died at 7 o'clock Sunday morning."
Influenza, the Black Death and AIDS
That's how the 1918 influenza virus often killed — swiftly, and with little warning. The pandemic bled into 1920, competed with the end of the Great War and transformed aspects of what qualified then as modern medicine. John M. Barry, author of "The Great Influenza: The story of the deadliest pandemic in history," writes that "(A)lthough the influenza pandemic stretched over two years, perhaps two-thirds of the deaths occurred in a period of twenty-four weeks, and more than half of those deaths occurred in even less time, from mid-September to early December 1918. Influenza killed more people in a year than the Black Death of the Middle Ages killed in a century; it killed more people in twenty-four weeks than AIDS has killed in twenty-four years."
No one alive today remembers that pandemic.
But this year's flu — a variety of the H3N2 strain — that's roiling the United States is drawing at least casual comparisons to 1918's 100-year-old killer. Hospital emergency rooms nationwide are flooded with flu and pneumonia patients. In hard-hit California, hospitals have erected tents in ER parking lots to handle the overflow. In Oklahoma and Texas, entire school districts shut their doors last week because so many students were out sick. In Colorado, medical officials say their state has had double the amount of normal flu-related hospitalizations. In Alabama, the state Department of Public Health says 55 of 67 counties have seen above-average flu cases. The Centers for Disease Control and Prevention say 46 states thus far are getting hammered by the flu.
And, in an example of our planet's connectivity, some hospitals are suffering from shortages of IV bags used to hydrate and medicate flu patients because manufacturing plants in Puerto Rico haven't come back online since Hurricane Maria.
Flu season doesn't end until May.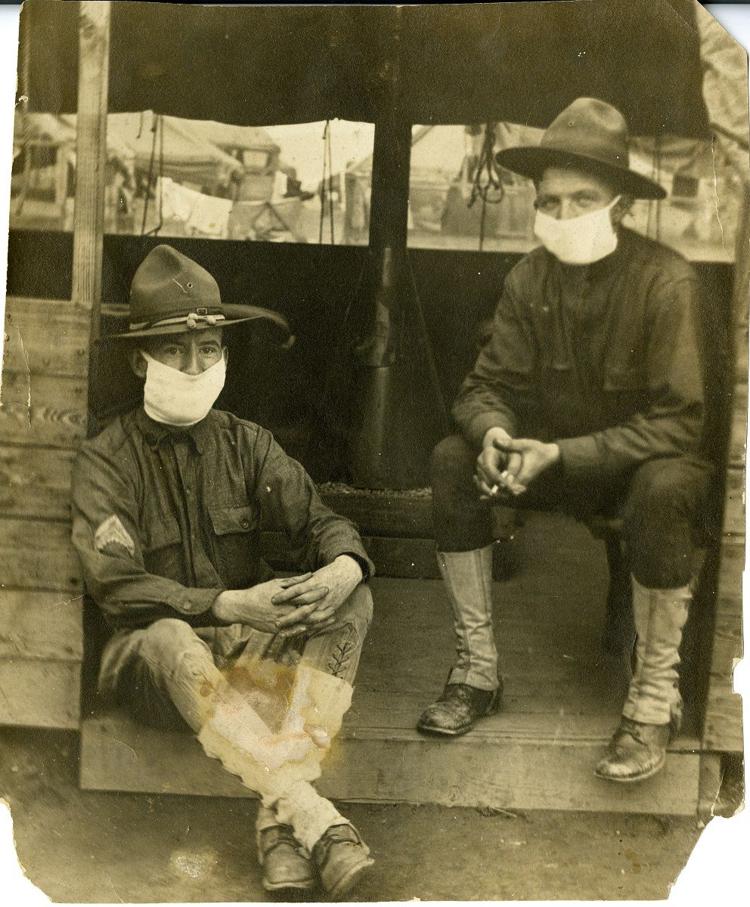 The influenza virus of the 1918-20 global pandemic didn't originate in Spain or with an ill Spaniard. Instead, it earned its name because Washington and U.S. military officials didn't want Americans to link it to European battlefields where millions of American men were dying, either from wounds or sickness. Press censorship in the era of President Woodrow Wilson prevented it. Spain, however, was neutral in the war, and in American newspapers reports of flu among the Spanish weren't forbidden. The name stuck.
Long before Margaret Taylor became Anniston's first Spanish flu victim, wartime realities of the U.S. military made places like Anniston's Camp McClellan breeding grounds for disease. Recruits trained in hastily built camps all across the nation, which tested men's immune systems and the military's ability to cope with contagious outbreaks. Sanitation was as important as ammunition. Meanwhile, Barry writes, medical officers desperate to reduce rates of venereal disease urged soldiers to masturbate instead of visiting prostitutes because that had been the War Department's real health-related fear, not the flu. Training time squandered because a soldier was sidelined with a sexually transmitted disease was "a loss the military would not tolerate." It wasn't until the spring of 1918, near the war's end, that the flu became the undeniable health scare for soldiers and civilians alike.
Throughout the war, scientists worked on vaccines for pneumonia and other ailments, and stateside military camps provided them with scores of men, both sick and healthy, to serve as tests for their formulas. What would become the Spanish flu pandemic can be traced — based on strong but circumstantial evidence — to a severe flu outbreak in Haskell County, Kan., Barry writes. Men there reported to Kansas' Camp Funston in late February and early March; flu cases appeared 48 hours later. Health and military records seem to show that Haskell County's cases of severe flu were transferred by soldiers from military camp to military camp, city to city, state to state. And, soon, to Europe on transport ships in the last year of the war. By early April, a flu outbreak hammered the French coastal city of Brest, and from there it spread eastward with deadly precision.
By the pandemic's end — its second wave was worse than its first — it had killed an estimated 21 million people worldwide. It killed pregnant women and their unborn children and was especially virulent among young, healthy people — a detour from influenza's normal course of targeting the old and the ill. It created a surge in orphaned children in Philadelphia, where nearly 5,000 people died in one October week. It killed hundreds of thousands in Japan, Indonesia, Iran, Brazil, Canada, West Africa, Russia, Sierra Leone and New Zealand, not to mention everywhere in Europe and Asia.
In the United States, average life expectancy during the pandemic fell by more than 10 years.
Anniston waits and prepares
None of this was lost on Anniston, neither at City Hall nor up the pike road at Camp McClellan, where hope remained that Anniston's healthy reputation would prove more than mere propaganda. Despite housing more than 24,000 Army trainees at McClellan that fall, Army medical officers emphatically stated Sept. 21 that "not a single case of Spanish influenza, that dread new malady which is now sweeping over the country, has developed at Camp McClellan." Their optimism, though, was short-lived.
Three days later, on Sept. 24, 11 influenza cases had developed at the camp. Trying to tamp down public fears, medical officers said no cases were severe and instead resembled milder versions from past years. But that same day, Army officials in Washington announced there were 20,211 soldiers suffering from the flu in U.S. military camps, with 2,025 cases being reported the day before.
The following week, Camp McClellan's commanders quarantined the entire base in response to the rise in flu cases. Only soldiers with essential duties were allowed outside of their specific areas. Soldiers couldn't leave post and head into Anniston, which stymied city commerce. All camp business was ordered to be held outdoors in the fresh, fall air. The camp Y.M.C.A. and other recreation areas were shuttered.
By Oct. 6, the U.S. Public Health Department issued its first report on the flu outbreak in Anniston — 97 cases in the city, 508 cases at the camp. "Rapid progress being made to head-off epidemic — Camp McClellan surgeon highly pleased with situation there," The Star reported. Anniston, its theaters and movie houses already closed as a precaution to prevent the virus from spreading among crowds, shut down its schools for the remainder of the week.
Margaret Taylor died that weekend.
And yet, the numbers kept rising. By Oct. 11, health officials counted 90 new cases in Anniston and 13 more elsewhere in Calhoun County. At Camp McClellan, engineers were "oiling" and watering the roads to keep down the dust and hamper the virus' spread. Anniston engineers were considering a similar tactic for city streets. That afternoon, more than 211,000 flu cases were reported nationwide in U.S. Army camps. Even the Calhoun County jail wasn't safe, where six inmates, including one charged with murder, died of the flu in October.
So nightmarish was the pandemic that this counted as good news on Oct. 18: 61 new cases and four additional deaths in Anniston. "Improvement" bloomed at McClellan, too, with only 95 new cases of the flu, 53 new cases of pneumonia and 10 deaths that day. Fifteen had died the day before.
And then, the pandemic slowed. By Nov. 11 — Armistice Day — McClellan commanders had lifted the quarantine and soldiers, now without their telltale white medical masks, were allowed to return to Noble Street to shop, eat and drink. The city and its soldiers were regaining their normalcy, though the virus would return off and on in 1919. "Influenza turns back on Anniston," The Star reported.
The following spring, the Alabama health department released its report from the pandemic's terrible fall — more than 5,000 people in Alabama died from the Spanish flu in the last four months of 1918. Nearly 2,500 of those perished in October alone. That included little Margaret Taylor, Anniston's first of many.