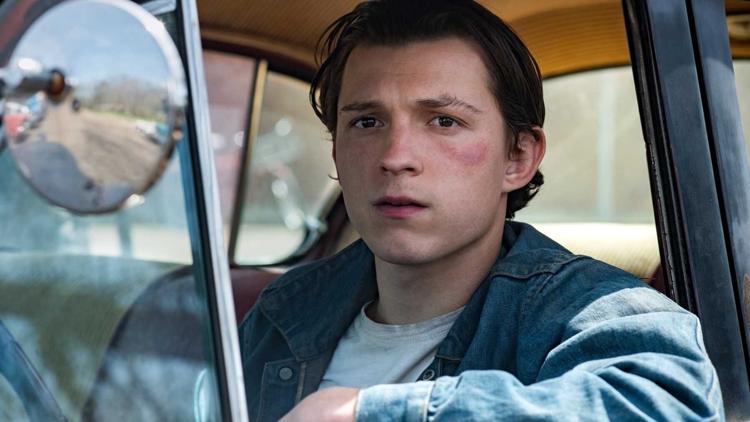 There's no mistaking Noble Street when it appears just four minutes into "The Devil All the Time," even beneath the light Hollywood veneer. 
The movie — filmed last year partly in Anniston and set to release Wednesday on Netflix — would have viewers believe they're looking at Meade, Ohio, a township 40 miles south of Columbus, where star Bill Skarsgård's character, Willard Russell, returns to start a family after serving in World War II. 
Annistonians will recognize their downtown, however, despite Western Auto's reinvention as "Western Toys," or the digital rejiggering that turned the Furniture Outlet facade into an anonymous brick building. Rexall Drugs and The Office kept their faces, though, and the Calhoun County Courthouse clock tower looms over the background.
Traffic paint, too modern for the film's initial 1940s setting, was digitally scraped off the road, but Hollywood left us our street lamps, at least. 
Anniston appears again when Skarsgård heads to the Peerless Saloon and Grill — the "Tecumseh Bar," it's named in the movie — for a drink, though the scene is brief. The Tecumseh plays longer when a sheriff portrayed by Sebastian Stan — Marvel's "Winter Soldier" — mosies in to settle a score.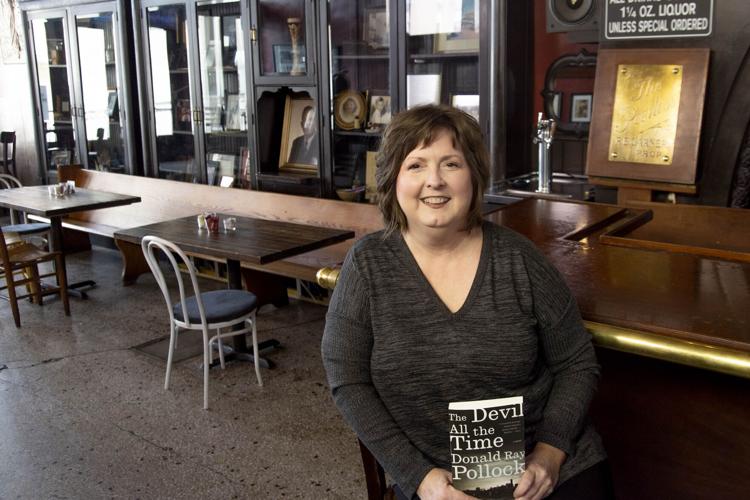 Peerless co-owner Kristy Farmer said the film crew was incredible to work with as they transformed the Peerless into the Tecumseh. And the bar got an update, to boot. 
"They said 'We're going to take the bar apart and put it back together,'" Farmer recalled by phone Thursday, the night before movie review embargoes ended. "I was like, 'This place has not had a renovation in 27 years — do it.'"  
The film crew worked from the Peerless for two weeks, Farmer said, eating inside the restaurant every day, even when they filmed elsewhere. The grill stayed open all but two days, when scenes were shot in the saloon.
On those days, the restaurant side was full of studio equipment, with hair, makeup and costume departments upstairs. Excited fans squirming for a look at Tom Holland — Marvel's current "Spider-Man" — tried to sneak into the building, Farmer said, even looking for ways up to the second floor. 
Farmer didn't mingle with the cast, though, a requirement of the filming contract. She said Holland, Skarsgård, Stan and Riley Keogh, granddaughter of Elvis Presley, had been at the shoot, although only Skarsgård and Stan appear in the bar in the finished film. 
Photos: 'The Devil All the Time' filming in Anniston
Crews film the movie "The Devil All The Time" in Anniston.
Claire Hendrickson, a University of North Alabama student who was a Jacksonville High School senior when "Devil" was filming, landed a part as an extra. She was part of a scene at a school in Georgia.
In the scene, Holland's character, Arvin Russell, waits in his car to pick up his sister while she's chased by bullies. Hendrickson portrayed one of the students leaving the school behind them. 
"As we were walking out, there were the main characters chasing another character out of the building, and in the car was Tom Holland, which was very exciting for me," Hendrickson said, laughing.
She didn't get to meet Holland directly, she said, but she thought he seemed good-natured on set. "He was smoking a cigarette, so it seems like he's taking a little bit more adult of a role." 
Hendrickson has been an extra in a few films, including a featured extra role in the Lifetime movie "A Murder to Remember," portraying a deputy. Previously, she was in a Hallmark Channel movie called "Christmas Wishes and Mistletoe Kisses." She's hoping to be a broadcast journalist after college, but if acting work keeps coming her way, she said, she'll take it. 
"When you're on set it's very surreal," Hendrickson said. "You're there and you're around other people who share the same passion as you and it's just an amazing feeling because you're all there working together to make something that's going to be enjoyed by people." 
Farmer said she and co-owner Wilbur Nolen are looking to add the Peerless' featured role in the film to the restaurant's marketing, maybe with references to the film on the menu. The Peerless will host an event to commemorate the movie's premiere on Wednesday at 6 p.m.; Farmer said there will be some sort of food or drink specials, though she's still deciding what. 
The film shoot had already drawn new customers to the Peerless, she said, and hopefully the film release will bring attention to Anniston, too. 
"That was the best thing ever, just the impact it had on our business and how much talk was around town," Farmer said. "It brought people into the business that had no idea about us, on a state level, and I hope on a national level, too."