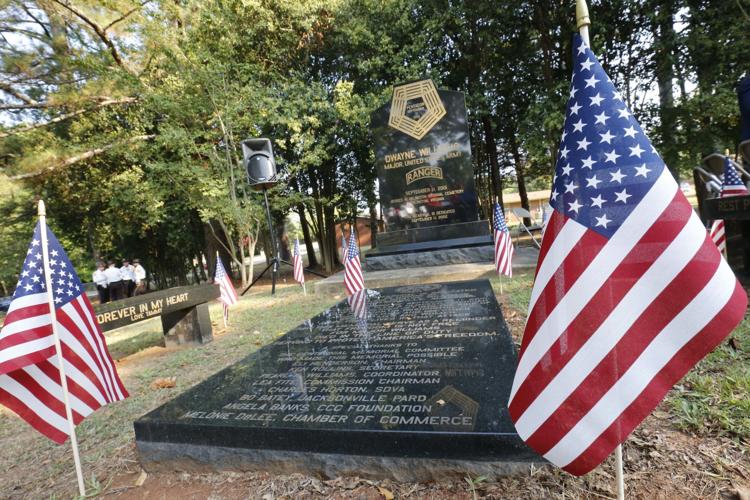 Several local events to commemorate the Sept. 11, 2001, terrorist attacks have been cancelled this year due to the COVID-19 pandemic.
Ken Rollins, who typically organizes the annual 9/11 commemoration ceremony in Anniston's Centennial Memorial Park, said he made the decision to cancel the ceremony about three weeks ago.
Before then, he said, he spent about a month mulling that decision over.
"It was really a blow," Rollins said.
During a normal ceremony, he said, there would be guest speakers and officials would unveil the names of the state's police officers and firefighters who were killed in the line of duty the past year.
This year, Rollins said, he had invited Gov. Kay Ivey to read the names of the fallen officers. He said they will likely unveil the names of the officers during Law Enforcement Week next year.
"I couldn't see bringing her or anyone else out there," he said.
He said many of the people who attend have underlying conditions that affect their breathing, and a combination of masks and hot weather might be harmful to them.
Sometimes, he said, the number of attendees can reach the hundreds, leaving little room for social distancing.
Jacksonville Mayor Johnny Smith said the city typically hosts a memorial in honor of Army Maj. Dwayne Williams, a Jacksonville native who was killed in the attack at The Pentagon, featuring guest speakers. This year, he said, there will be a memorial, but only for Williams' family. 
"We certainly still want to honor all of the things Maj. Williams did," Smith said. "And we appreciate all his family has done to keep his memory alive."