SILVER LAKES -- "Let it go!"
No, it's not a rendition of the hit song from Disney's recent film, Frozen -- but a saying used by one set of golfers participating in today's Sunny King Charity Classic.
As golf balls soared threw the sky, competitors at Silver Lakes golf club
said, shouted and even whispered a variety of colorful expressions.
"That's golf talk," Michael Slade, a guest service representative, said.
The tense silence leading up to a player's shot was occasionally broken by hopeful pleas, as attendees watched closely to see where a ball would land.
Other expressions included:
Slade said that players typically experience highs and lows throughout the day, based on what scores they make.
---
PUTTING NAMES UP IN LIGHTS
Rich Lockhart is the man behind the board -- the Sunny King Charity Classic scoreboard, that is.
Lockhart works for Magnolia Golf Company, a business in Atlanta that provides scoreboards to charity tournaments. He said there is only one scoreboard for this tournament and it's at the Anniston Country Club because it's the headquarters of the event.
"It will stay up until the party is over," Lockhart said.
---
This year marked the first Sunny King Charity Classic for Jake Spott, head golf professional at the Anniston Country Club. He's only been with the club for four months, but he has a claim to the tournament that goes way back.
"When I worked at Wynlakes in Montgomery, I worked for the guy that said he started this tournament, Brent Krause," Spott said.
Spott said he was nervous earlier in the week about everything that goes into planning a tournament of this size. Now that the first day is almost behind him, Spott is feeling a lot better.
"Everything is going about as perfect as it can," he said. "We are on time and should be finishing on time, too."
---
THE OTHER GAME PLAYED AT THE TOURNAMENT
Golfers are spread along the links at the Anniston Country Club all vying for
the title at the Sunny King Charity Classic, but in the men's card room of the club, a different competition is heating up.
Four men, all in their 70s, sat at an oak table and dealt cards back and forth in a jovial game of Gin rummy.
Tony Cherry, who served as the de facto spokesman of the group, said that they have been meeting to play since the 1950s.
"There used to be more playing with us but they all died out and we don't have any young-ins who want to play with us," he said.
The group meets twice a week on Wednesday and Friday.
One man, who did not want to be named, said with a laugh that the group of men "had too many trophies between us to need to play in the tournament."
"We're doing it for the exercise," he said.
---
ENJOYING TIME AT SILVER LAKES
SILVER LAKES -- Partners Gene Hicks and Andrew Brooks said they are enjoying their day at Silver Lakes for the Sunny King Charity Tournament.
"I'm a member at Cider Ridge, so that's my favorite, but this one runs a close second," Brooks said.
Hicks said they are pretty happy with their game so far.
"I've got a great partner -- he's pulling us along," Hicks said.
---
SILVER LAKES -- Brothers Jason and Christopher Alderman are spending their afternoon at Silver Lakes listening to music on Pandora and teeing off.
It's an opportunity the two rarely miss: This is the 11th year the two have competed in the Sunny King Charity Classic together.
The opportunity is even sweeter for the brothers, considering it's one of the few times each year the two have an opportunity to rendezvous: Christopher lives outside Atlanta.
"I don't play all that often," Jason said. "This is my fourth round all year. But we don't miss this."
---
WILDLIFE ON THE GOLF COURSE
SILVER LAKES -- Embedded within the man-made landscape of Silver Lakes golf club is what some might call a surprising amount of wildlife.
Turtles, kittens, barn swallows, cranes and other creatures coexist within the course's freshly-mown grass and rolling hills.
Tanner Dixon, guest services representative, said maintenance crews occasionally stumble across deer during hunting season. The deer typically retreat after dawn, before players reach the course, he said.
"We've got a ton of wildlife here," Dixon said. "We've even had cows run around the fairway."
The isolated incident occurred last summer, when the animals escaped a nearby cow pasture, he added.
Michael Slade, another guest services representative, said that at one point, a turkey periodically wondered into the club's parking lot.
Dixon said that Silver Lakes was developed out of an extensive woodland area, which may account for some of the wildlife presence.
---
OXFORD -- A golf course is nothing without a greenskeeper. At Cider Ridge, Chad Robinson, the course superintendent, has 10 at his disposal.
"We've got about 85 acres we maintain," he said. "We started preparing about two weeks ago just detailing stuff, edging bunkers and smoothing things out."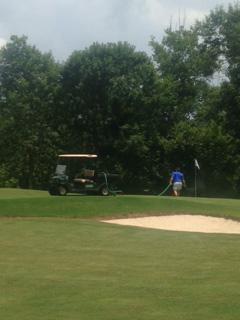 As most cases go with golf course employees, the day began early: 2:45 a.m. Robinson, however, has no complaints.
"Everything else has just fallen into place for us," said Robinson. "The weather's been dry, which is good. The course has been in good shape all year and we really haven't had to do too much."
"We're going out right now to check the moisture on the greens to make sure they're good for the day, but other than that, it's pretty simple."
---
SILVER LAKES -- Jason Callan, the 14-year director of golf at Silver Lakes, fondly remembers playing golf with his father as a boy in Minnesota.
Callan always wanted to rent a cart, yet his father insisted they walk most of the time.
"It was always a treat to rent a golf cart," Callan remembered.
Now, Callan's job requires him to be on the cart all day, especially during the summer.
Of course, Callan sees the same joy in kids who want to ride in a cart, his children included.
But, much like his father before him, he doesn't guarantee his kids a ride on the golf cart. "It depends on if they're being good or not," Callan laughed.
---
ANOTHER DAY FOR SILVER LAKES RESIDENTS
SILVER LAKES -- Silver Lakes residents Leslie Hix and Debbie Neal play on the course "nearly every day," they said. Today, though, they're at the course to feed a stray kitten they found while playing golf last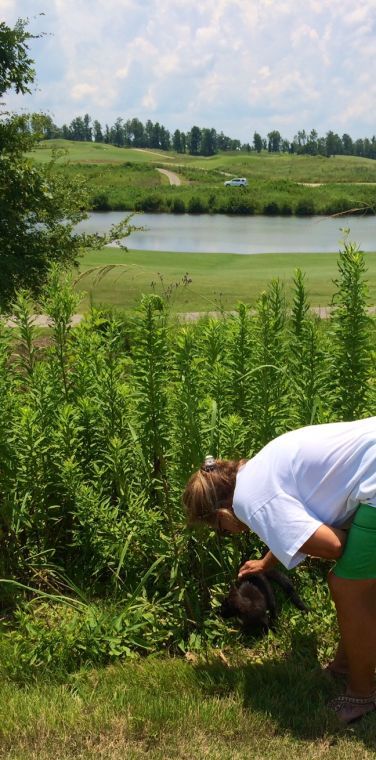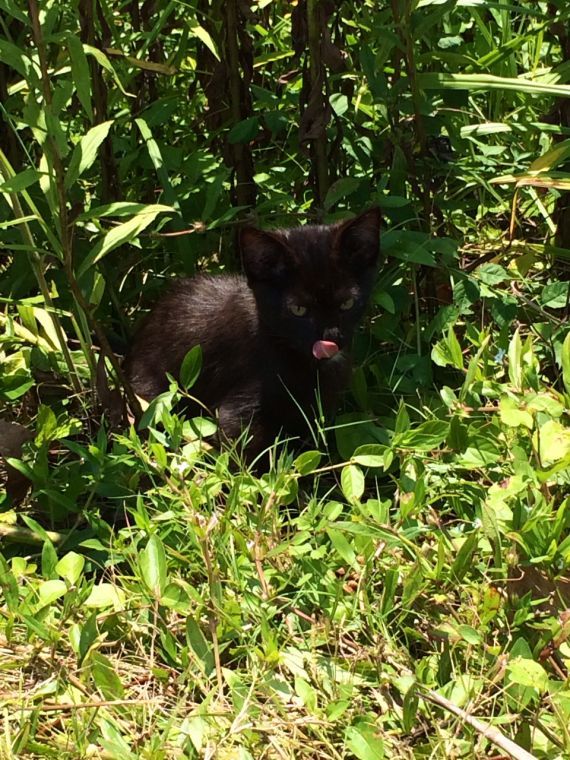 "We were out playing a round, and we kept hearing loud meowing from the weeds," Hix said.
Hix and Neal (shown in the photograph) said they plan on catching him after the tournament and finding a home for him.
The women, who know several competitors in the tournament, said they weren't aware that a women's version of the tournament used to exist, too.
"We would love a women's tournament," Neal said. "We might have to make that happen again."
---
ON THE LOOKOUT FOR HOLES-IN-ONE
OXFORD — A hole-in-one to win $20,000 toward a car at a Sunny King dealership sounds easy enough, right?
Jason Lindell and Seyram Selase (an Anniston city councilman) of the local Agency for Substance Abuse Prevention chapter have been watching players come through all afternoon in hopes of seeing someone sink it in on the par 3 No. 3 at Cider Ridge.
According to Lindell, "Players have come within about 10-15 feet, so nothing real close yet." He mentioned that tomorrow the competition will heat up, as the more advanced golfers come to this particular course.
---
SILVER LAKES -- Two employees are getting their feet wet with the Sunny King Charity Classic here at Silver Lakes. Kallie Liston is starting her first day on the job with food and beverage at the course.
"I have a friend that works here, and it is a great work environment for the summer," Liston said.
---
SILVER LAKES -- For Rob and Jack Svensen, competing in the Sunny King Charity Classic is not only a great way to kill time, but a great father-son bonding opportunity.
Jack, 14, will be competing in his first ever tournament with his father, who has competed in the classic several times.
"It's pretty awesome," Rob said. "I'm pretty excited about it.
"With that said, the competition won't be limited to just teams this afternoon: Jack hopes to shoot a better round than his dad.
Still, the two think they'll do well as a team.
"We'd just like to finish at the top of our flight," Rob said. "We'd be pretty happy with that."
---
The rain has begun at the Anniston Country Club this afternoon, but that doesn't have any golfers soggy about their games.
Brandon Whitman and Chance Harris had the last tee time at 1 p.m. and were excited regardless of the weather.
"It's looks like we might be playing in this all day," Harris said laughing.
The golfers took to their cart and looked out as the clouds moved over the hills.
"It'll definitely soften the greens up," Whitman said.
---
GETTING DONATIONS FOR SECOND CHANCE
OXFORD — On the back nine at Cider Ridge, Susan Shipman and Danielle Ballenger are keeping players hydrated by the drink station at the 13th green.
Although some players may not be swinging as well as they had hoped, the donations toward the Second Chance domestic violence shelter continue to roll in — including one golfer's gift of $100. Players also can buy $5 raffle tickets for a prize pack of up to $1,000 in value.
Shipman, the director of the organization, said they they have been volunteering with the tournament for as long as she can remember. "It's a great way to interact with the community," she said. "Most of these guys are repeat players."
---
Band X of Atlanta will be the featured performers tonight at the party for the Sunny King Charity Classic.
The band is self-described as a "high energy party band" and will cover everything from 60's classics to Robin Thicke and other new acts, according to the band's spokesperson David Cole.
Band X is set to play from 7 p.m. to 11 p.m. at Anniston Country Club.
Saturday night will feature performers Tracey and Alan.
A little bit of rain here at Anniston Country Club as last dozen foursomes come through.

— Tim Lockette (@TLockette_Star) July 11, 2014
---
A PRO AT GOLF COURSE TURF MANAGEMENT
SILVER LAKES -- Maintenance is name of the game for Taylor Reid -- or where the paycheck comes from, anyway. Reid has been changing pins, spraying the chemicals that fertilize the greens and landscaping for four years now at Silver Lakes golf course.
Reid, who grew up in Jacksonville, will be attending Rutgers University to study golf turf management.
"I love being out here, it's hard to get up so early, though," Reid said. Reid said he gets to work at 5:30 a.m. to start his day on the course.
---
MEETING JOE NAMATH (NO, NOT TODAY)
For Dori Burns, traveling to sporting events and golf tournaments with Chip Shots Photography has meant the chance to meet a lot of interesting people, including some of the Alabama graduate's heroes.
She recently met Joe Namath at the Crimson Celebrity Classic, and after taking his picture, Burns asked to be in one.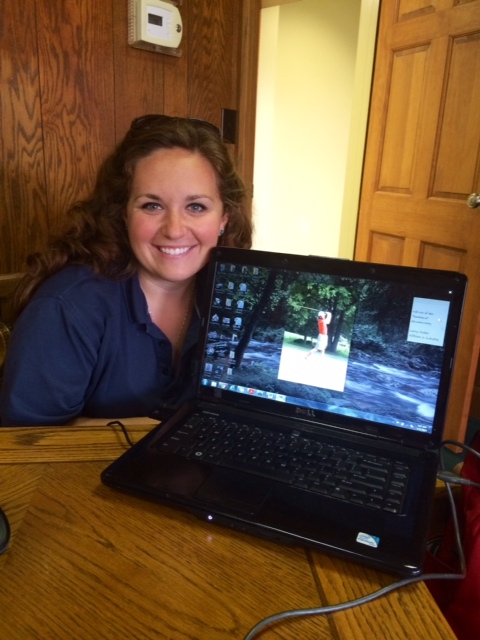 "You put some other girl out there and she might not know who they are," she said.
Burns said that the Boys and Girls Club will receive the proceeds from the photo packages this year's Sunny King Charity Classic, one more reason she enjoys working at the tournament.
"I really like this tournament a lot," she said. "It's grown a lot since last year."
---
THE KING CLASSIC ON THE AIR
SILVER LAKES -- Timmy Woodard of radio station K-98 WVOK hopes one day to participate in the Sunny King Charity Classic.
But for now, Woodard is just happy broadcasting from the course here at Silver Lakes, his fourth time covering the event.
"I'm broadcasting out here from 10 to 4," Woodard said. " Everybody wants to hear or see their name in the paper or radio."
"I joined Kiwanis because I felt like Robinson Crusoe, Eiland says of retirement.

— Tim Lockette (@TLockette_Star) July 11, 2014
---
SMILE FOR THE CAMERA, GUYS
As the players drive down the cart path and up to the first hole at Anniston Country Club, Dustin Massey is one of the first people they see. It's he who has one of the most interesting views of the Sunny King Charity Classic, though. It's a view seen through the lens of a camera.
"Being there in the moment is neat," he said. "I'm looking for the form and setting up the scene, too. My job is to provide them with something they don't normally get to see."
Massey, a freelance reporter, is at the tournament with Chip Shots Photography. He's faced backwards in golf carts to catch action shots at other tournaments, but today, the action shots take place at tee off.
Some players say they would rather pose for their action shot because they don't want to throw off their game. Others seem to have vanity in mind.
"He said his practice swing was prettier than the real thing," Massey said.
Dan Kleckler's taking over as a hole-watcher on No. 4. Says he's never seen a hole in one here.

— Tim Lockette (@TLockette_Star) July 11, 2014
---
BREAKING KING CLASSIC NEWS: THE MENU FOR THE PARTY
While golfers work to get out of sand traps and water hazards, the staff of Classic On Noble works in the kitchen of the Anniston Country Club as they prepare for tonight's party following the Sunny King Classic.
Julie Wilborne, who works for Classic at the country club, said that as many as 600 people are expected to attend the event following today's rounds of golf.
"It's hectic," she said. "I may be here until 1 in the morning."
Paul LaRocca, the executive chef for Classic On Noble, said that tonight's menu will feature shrimp cocktail, roast pork tenderloin, fried okra and chicken satay, among other things.
LaRocca has been a head chef for nearly 20 years and said that he is excited to bring his talents to the Anniston Country Club, which is now catered by Classic On Noble.
"We want to bring a freshness and wow factor to the country club," he said.
---
Eight pallets of ice were delivered to the Anniston Country Club for the Sunny King Charity Classic today, and with each pallet came 200 bags of ice. Those 1,600 bags might seem like a lot, but according to Gibson Coleman, who handles the tournament's logistics, you can never have enough.
"We go through a lot of ice on the hot days and it's going to be hot," Coleman said.
Coleman has worked with the tournament for 29 years, and though his role was mainly to oversee manpower in the past, he's now tasked with logistics. Making sure that all three courses have ice is just one of the many logistical jobs Coleman has this year. He is also in charge of hole sponsorships, which is another way the tournament is able to raise money for charity.
---
TENSE COMPETITION AT SILVER LAKES
SILVER LAKES -- It's a quiet atmosphere here at Silver Lakes golf club. One could cut the tense silence with, well, a golf club.
Players in today's tournament pace back and forth on the green looking for a good shot -- deliberating swing angles with the solemnity of a Greek philosopher.
"Most of them are nervous," Ken Green, a longtime player at Silver Lakes, said. "They've watched too many pros on TV."
Slowing to a near halt on their golf carts, passersby give the players a wide berth.
Occasionally, sudden shouts and even an expletive or two break the silence after an unsuccessful shot.
While playing a morning round of golf, Green occasionally stopped to observe participants in today's tournament. He commented that, unlike an everyday game, anxiety levels spike during competitions.
---
PRAISE FOR SILVER LAKES GROUNDS CREW
SILVER LAKES -- Robert Edmonson was astounded at the work his grounds crew put in to prepare Silver Lakes Golf Course.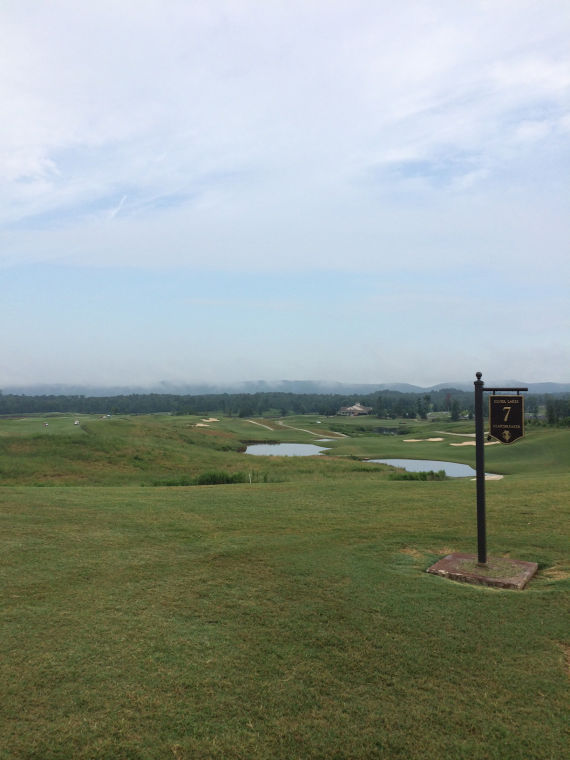 The course looks as pristine as ever, yet had to be prepared a day earlier to be on time for the Sunny King Classic.
"Our guys have done a tremendous job for us, going above and beyond," Edmonson said this morning. "All praise goes to them."
---
As the weather heats up at the Sunny King Classic, safety measures are essential to having a fun experience.
Joe Jankoski, community chapter executive of the Red Cross of Calhoun-Cleburne counties, said several steps can be taken to have fun while staying safe.
"Be sure to stay hydrated, wear sunscreen and insect repellent, especially if you are wearing shorts," he said this morning at Anniston Country Club.
Even though this is his first experience with the Red Cross at this event, he said the organization has played a major role in making the tournament enjoyable for years.
"This is incredible for local charities and we are happy just to be a part of it."
---
REMEMBERING THE TREES AT SILVER LAKES
SILVER LAKES -- "The biggest thing we did after the (2011) tornado was re-grassing and putting new surfaces in the greens -- a lot of people really like that," Jason Callan, golf pro at Silver Lakes golf course, said this morning.
The course lost 40,000 trees and its maintenance building during the 2011 tornado that went through the area. Since then, Callan said business has climbed back to its usual amount.
"We've had mixed reviews on the new look of the course; some people like it because it's so much more open," Callan said.
---
OXFORD -- When it comes to being on your feet all day, the golfers have it easy. Nicole Papaspiros, the restaurant manager at Cider Ridge, has been on her feet in the clubhouse since 6 a.m.
We've been getting ready for this for about two weeks," she said. "Nothing's been too hard so far. I've just been getting all my girls together and getting them on board with me."
As most restaurant work tends to go, prep work has been an integral part of Papaspiros' morning. Supreme Beverage supplied the club with nine kegs of Miller Lite. Coca-Cola contributed nearly 150 packs of drinks and Ready Ice has unloaded at least 50-pounds of ice, according to Papaspiros.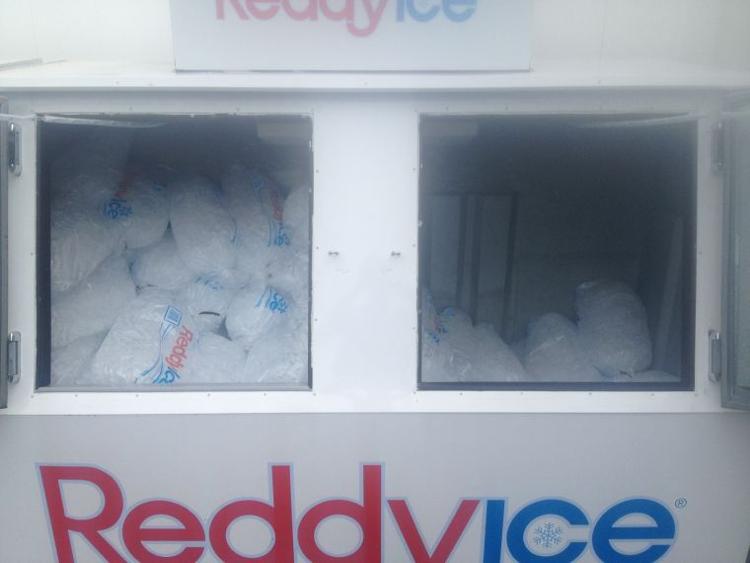 However, when it's all said and done, Papaspiros said that customers are what keeps her going on the busiest weekend of the year.
"They're always so nice," she said. "Those guys are always on their best behavior and we love them. Hopefully someone gets a hole-in-one on number three."
The prize? A 2014 Toyota sedan, courtesy of Sunny King.
---
'WE'D PLAY IN THIS ANYWAY'
SILVER LAKES -- For Jake Goggans, playing in the Sunny King Charity Classic kills two birds with one stone.
He gets to golf, and play for a good cause as well.
"We'd play in this anyway," Goggans said. "But since it's for a good cause, it makes you want to do it even more."
Goggans, who is competing in the tournament for the third time, said he's treating the tournament as a competition. He's currently 3 under par, but wants to keep playing well.
"We've still got a lot of golf left to play," Goggans said.
---
A 'COPS' star on the course at ACC
The Red Cross of Calhoun-Cleburne County has several volunteers from different backgrounds working today at the Sunny King Classic at Anniston Country Club.
Greg Banovese, a former Miami Police sergeant who served 20 years on the force, is volunteering by carting ice and drinks to golfers.
Before his service as a volunteer, Banovese was featured in a full episode of the hit show "COPS" in 1996.
"I'm a volunteer because I've been through so much as a police officer," he said. "I'm young and strong enough I can still help out."
As he loaded drinks and bags of ice on his cart, he said that he was just happy to be there.
"It would be a waste of my time if I just sat on the sidelines and watched," he said.
---
Amateur golfers in the Sunny King Charity Classic are eligible to win $20,000 toward a new vehicle from the Sunny King Automotive Group, the tournament's title sponsor.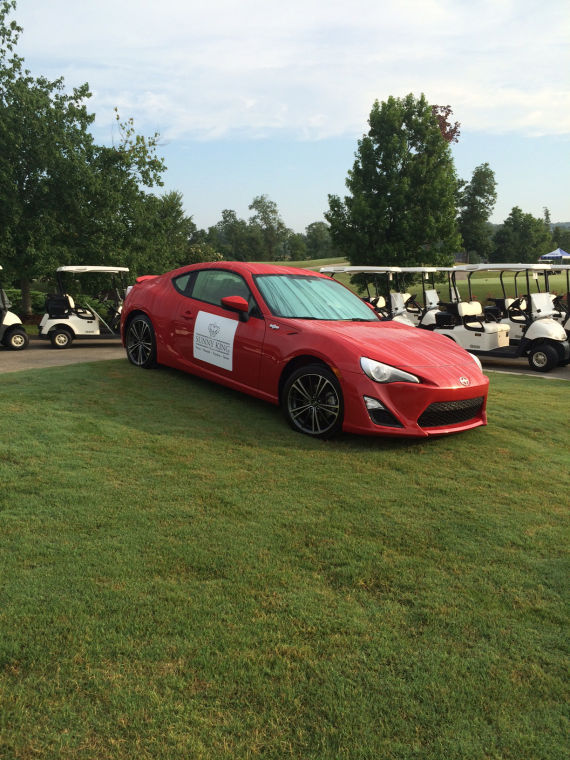 At Silver Lakes golf course, a red Scion coupe and a Honda Pilot are parked on the course, enticing the players.
---
OXFORD — Matt Haisten has one of the best views of the tournament. Standing in the cool, air-conditioned pro shop at Cider Ridge Golf Club, he is able to beat the heat and watch players as they approach the 18th green.
"The only issues we've faced this year is a shortage on carts," he said. "We have every one of ours out there, and we had to borrow a couple more."
Haisten has worked at Cider Ridge for almost a year and enjoys the business aspect of the game. He plans to enter the PGM program, the PGA Golf Management.
---
TRAVELING VENDORS ON THE COURSE
SILVER LAKES -- Silver Lakes has taken a proactive approach to making sure its guests are refreshed today.
The course has set up traveling vendors that sell snacks, beer and liquor to golfers.
Brittany Weems drives one of them. Weems, who has worked at Silver Lakes since March, said she expects to make a bunch of sales.
"I've heard some of these tournaments get up to 500 people," Weems said. "I haven't seen as many people as I thought I would. It's still early."
---
SILVER LAKES -- Amanda Akhtar, a longtime volunteer at the Sunny King Charity Classic, said the event is really about one thing: charity.
"It's definitely a worthwhile cause," she remarked.
The tournament supports several local charities, Akhtar said. Among these organizations are the Calhoun County Deputy Sheriff's Association, the Anniston Soup Bowl and the Jacksonville State University Foundation, among others.
Brittany Weems, a Silver Lakes employee selling refreshments in today's humid weather, said the event usually raises a significant amount of money for participating charities.
"Thank you to our talented golfers who love this event and continue to provide the excitement and sizzle that makes our three days of golf successful," Sponsor Patty King wrote in an opening letter in today's event program.
A player tell me he's "Just here to drink the beer." Then won't give his name, because of "the Baptists, you know."

— Tim Lockette (@TLockette_Star) July 11, 2014
---
GRACE CHURCH HELPS AT TOURNAMENT
OXFORD -- Between holes 5 and 6 at Cider Ridge, Robert Smith and Bill Madden are selling refreshments this morning.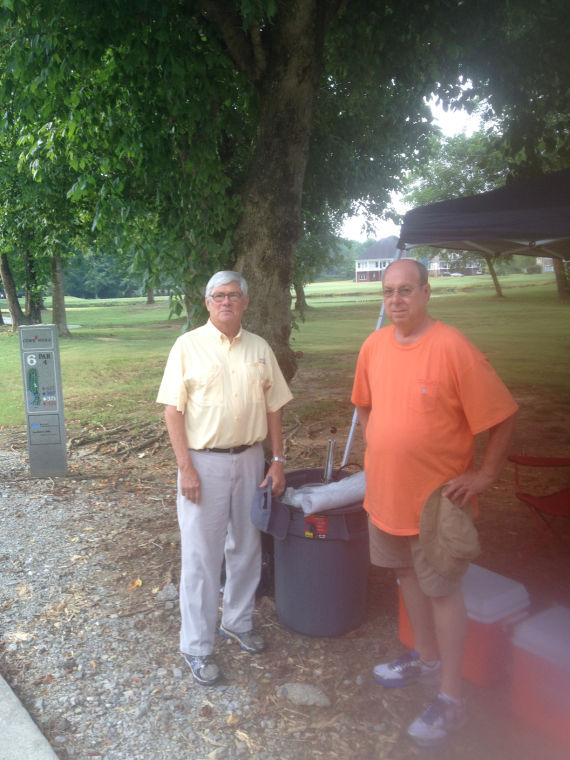 Smith, a volunteer from the Grace Episcopal Church, is in his third year at the Sunny King Charity Classic. His work at the tournament provides his church with money for a preschool program for underprivileged children. The program currently has 12 students enrolled and is in its 13th year.
"We get two thousand dollars for this," Smith said. "We are real happy to do it."
---
IN CHARGE OF MULLIGANS AT CIDER RIDGE
OXFORD -- At Cider Ridge, employees from the Calhoun County Mental Health Center are responsible for registering teams, passing out gifts, providing snacks and selling an all important golf item: mulligans.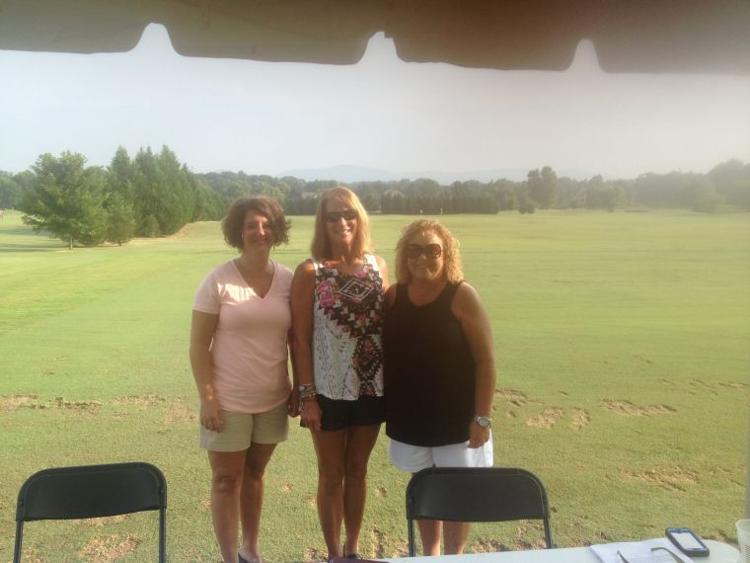 For Charlotte Stewart, an employee at the mental health center, the morning began at 5 a.m.
"I love all of it," said Stewart, who is entering her fifth year as a volunteer. "They raise funds for our developmental disabilities division so we volunteer every year."
---
The pro shop at the Anniston Country Club has been relatively quiet this morning at the Sunny King Charity Classic.
Chadd Yarborough, who has worked at the course for seven years, took a break in the shop's air conditioning from running carts.
"Everyone came pretty well prepared today," he said.
Steve Pressley, who was getting ready to hit the links, came into the pro shop for a simple order: a three pack of Titleist Pro-Vix golf balls.
"I got three, but I'm only going to need one today," he said.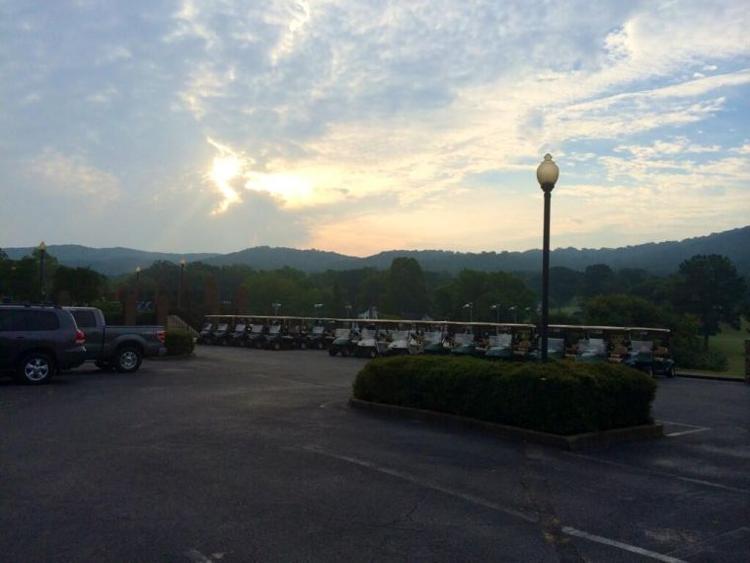 ---
KEEPING GOLFERS COOL WITH DRINKS
Braxton Harris, co-chairman of the Sunny King Charity Classic, has been part of the tournament since 2005. In the past, Harris was on a team of around four who managed the event, but that's definitely not the case today.
"We started asking the charity organizations to be part of this, too," he said. "It's not a group of just four of us now. It's 30 plus organizations working together."
Harris said there are four drink stations on the course today, and that keeping them cool is an important job for him and the other volunteers.
"The key is to get it all out and iced down before they start," he said. "It's nice now, but by 11 it will really heat up."
---
SILVER  LAKES -- Throughout the course at Silver Lakes, kegs and various drinks are available for the competitors during the Sunny King Charity Classic.
Devan Langley began working for Silver Lakes three weeks ago and mans one of the drink stops during the tournament. During the year, Langley is a second grade teacher at Hokes Bluff Elementary.
"I really love it out here -- it's a peaceful place to work," Langley said. "My best friend's rehearsal dinner is tonight, though, so I'll have to hightail it home to get ready!"
---
KEEPING OUT OF HARM'S WAY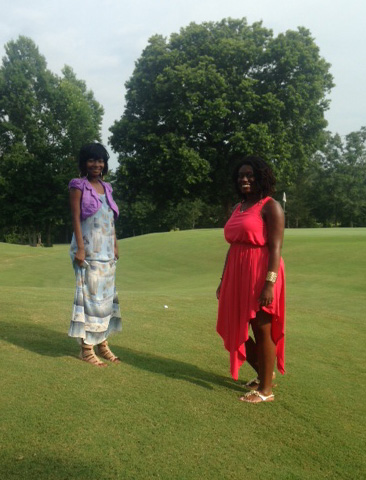 OXFORD -- Nearing the third green at Cider Ridge, Misha Whatley and LaShundra Shears of the local Agency for Substance Abuse Prevention waited for golfers to approach. Donned in bright sundresses, these ladies were thrilled to volunteer at the Sunny King Charity Classic for their first time.
The ladies heard a distant voice down the fairway and suddenly heard a thud about six feet away. "Oh my goodness! I heard it coming but I didn't think it was gonna be that close," Shears said.
Whatley added she might watch the rest of the tournament from a nice shady spot under the trees, to keep out of harm's way.
Been out on the course at the #SunnyKingClassic 10 minutes and already heard some disgruntled golfers drop a few swear words.

— Zac Al-Khateeb (@zalkhateeb_star) July 11, 2014
---
SWIMMERS HELPING GOLFERS AT ACC
The Calhoun County YMCA is participating at the Sunny King Classic as a fundraiser for its swim team.
The YMCA Blue Dolphins are working to process golfers before the first hole at the Anniston Country Club and are handing out complimentary cups and divot tools to golfers.
Benji Coleman, 11, is a member of the blue dolphins and worked early this morning handing out programs.
"It was already a job for me to wake up this morning," he said. "Normally I get to sleep late over the summer."
The Blue Dolphins will compete in Atlanta this weekend.
---
SILVER LAKES -- Amanda Akhtar welcomed incoming attendees this morning in the lobby of Silver Lakes golf club for the Sunny King Charity Classic.
While Akhtar was busy handing participants event programs and souvenir cups, she said she expected a good turnout at today's event.
Akhtar, a volunteer veteran, said this makes her 15th straight year working the charity tournament.
At 7:40 a.m., volunteers Maggie Burn Owens and Krissy Burn Neu arrive at 4th hole with a keg. "They'll be hitting us all day, Neu says.

— Tim Lockette (@TLockette_Star) July 11, 2014
---
SILVER LAKES -- Mike Findley has an arduous task ahead of him at Silver Lakes today.
Findley, the manager of food and beverage, has to make sure his guests are properly hydrated on what will surely be a typically hot summer day.
"They supplied, donated water and sodas for the golfers," Findley said. "So we have a couple hundred cases."
He has the added task of making sure his guests don't take advantage of the course's three beer kegs.
"We don't have any problems with it," Findley said. "We monitor it very closely."
---
AN EARLY MORNING AT SILVER LAKES
Christen Bowman has an early morning at Silver Lakes Golf Course as the assistant food and beverage director. Bowman works the Bloody Mary bar on the porch of the clubhouse during the tournament.
"We start them today so they know they're here, but of course there is a fullbar inside," Bowman said.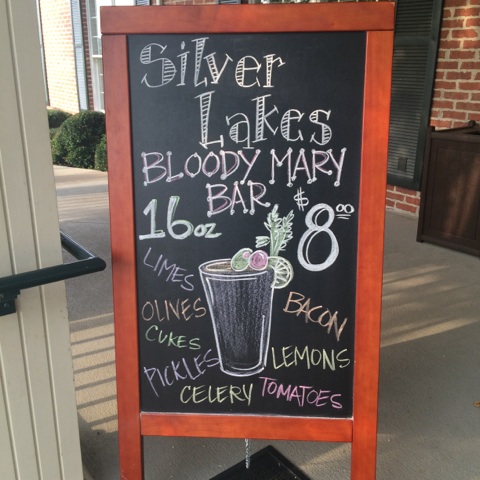 ---
WRANGLING CARTS AT SILVER LAKES
SILVER LAKES -- The Sunny King Golf Tournament starts today, and with it comes all the preparation you might expect.
Tanner Dixon, for example, had to be up at 5 a.m. to make sure he could be to work on time. He works in guest services for Silver
Lakes.
"It's a lot of stair-walking and wrangling carts," Dixon said.
Still, Dixon said the workload isn't too arduous, just tedious.
---
GREETING GUESTS AT CIDER RIDGE
OXFORD -- Clark "Rooster" Chapman greets guests at the Cider Ridge clubhouse parking lot with a cheerful hello for shortly after sunrise.
He has been shuttling golfers and guests at the Sunny King Charity Classic for eight years, and enjoys the growth of the tournament each year. "To put on an event like those it really takes everybody pitching in, plus a few more volunteers," he said.
---
The scene is overcast this morning at the Anniston Country Club as golfers file in for the Sunny King Charity Classic. The weather is mild and the sun has yet to crack the clouds as dew covers the links.
Kyle Johnson, an employee of ACC, handed out tees and scorecards to those showing up.
"It's looking like we are going to start on time, but I'm sure we will fall behind as the day goes on."
Dennis Austin, who has a 7:30 a.m. tee time, was itching to start.
"I'm just excited," he said with a grin.