Northeast Alabama is under a heat advisory until Tuesday at 9 p.m., according to the National Weather Service, along with most of the rest of the state.
Temperatures have been forecast to reach the mid-90s Monday and Tuesday, according to data posted to the service's website, with humidity helping push the heat index as high as 108 degrees during the afternoon hours.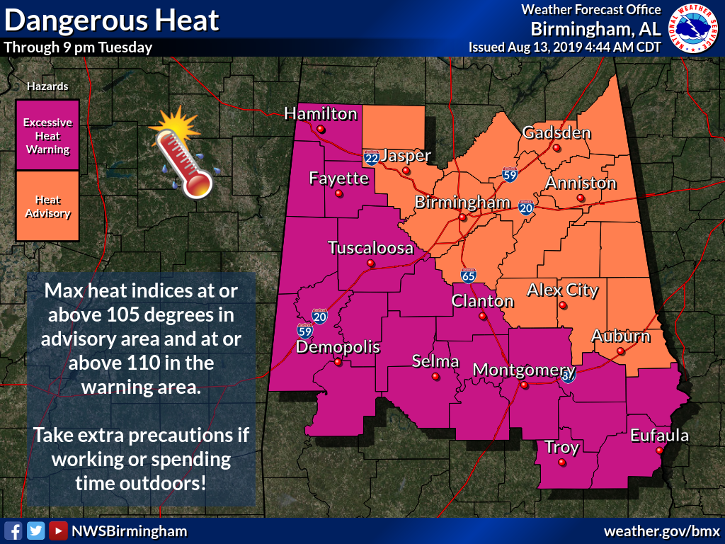 Holly Allen, a meteorologist at the Weather Service's Calera station, said cooler air should arrive Wednesday, bringing along cloud cover and a chance of rain, along with slightly cooler temperatures.
"By 'slightly cooler,' I mean highs in the lower 90s instead of the upper 90s," Allen clarified. 
She said the heat index was unlikely to rise again toward the weekend, and any yard work might be best saved until then. 
"Take precautions if you do have to be outside," she said. "If you can put it off until closer to sunset, do that."
Those obligated to work outside should drink plenty of water, wear loose-fitting, lightweight clothing, and take regular breaks to avoid overheating, she said.
Allen added that now is a good time to check on neighbors and make sure they've got a way to keep cool, and to be sure that outside pets have shade and plenty of water.
Various community and civic centers open Tuesday for use as cooling centers, according to local governments: 
— Piedmont Civic Center is open from 6 a.m. to 9 p.m. at 500 Mill St.
— In Anniston from 1 p.m. to 9 p.m., Carver Community Center at 720 W. 14th St.; Hodges Community Center at 3125 Spring Valley Road; Wiggins Community Center at 2202 W. 17th St.; and South Highland Community Center at 229 Allen Ave. will be open with water and air conditioning. 
— Jacksonville Community Center, 501 Alexandria Road SW, is open from 6 a.m. to 9 p.m. 
— The Oxford Civic Center at 401 McCullars Lane is open from 8 a.m. to 9 p.m. and Friendship Community Center at 2930 Friendship Road is open from 8 a.m. to 7:30 p.m.
— Bynum Community Center at 200 Victory Drive in Eastaboga is open from 8 a.m. to 9 p.m. 
Calhoun County's southwest corner has been included in an "abnormally dry" area within the last month, according to the U.S. Drought Monitor, though the current map shows a smaller portion of that corner in a dry zone. 
Most of Talladega and Cleburne counties are included in the dry zone, though, along with a little less than half of southern St. Clair County. According to the monitor, about 13 percent of the state's population is in drought, with 24 percent more in abnormally dry areas.