The hills and valleys between Bains Gap and Choccolocco Road are among Calhoun County's most picturesque places, miles of steep rock formations and forests of pine and oak that men can't avoid. Creek Indians lived there. Army soldiers trained there. Boy Scouts from Camp Zinn mapped the trails.
Stanley Hill rests in the middle of that expanse.
It's neither the county's tallest point (that's Morton Hill, at 2,063 feet) nor its best-known mountain. There are two main ways to get there: one, drive south on Ridge Road from Bains Gap Road; or two, climb north from Choccolocco Road near Camp Lee, an awful uphill slog of nearly 2 miles.
That's where GP Express Flight 861 crashed June 8, 1992, at an elevation of about 1,800 feet just inside the southeastern boundary of what was then Fort McClellan. Close by are rows of Native American rock walls that date as far back as 700 A.D.
Nothing marks the crash site, no memorial to the three who died, no wreckage to photograph.
It's as if it never happened.
Time, though, hasn't dissolved the memories of that day atop Stanley Hill, visions of burnt and bloodied survivors, dead among the wreckage, trees charred black.
A bloody man on Choccolocco Road
Jimmy Langley, Heflin High graduate, Vietnam veteran, is one of the local boys who hunted deer and hiked the rocky paths east of Anniston. "I knew those woods," he said. He called Chulafinnee home. Taken by the Army in 1972, he knew he didn't want to kill. There had to be another choice.
"When they drafted me and they wanted to stick a gun in my hand, I said, 'Is there something else I can do? I want to help people.'" The Army made him a medic and flew him to Vietnam, his first taste of what he calls "man's inhumanity to man."
He became a paramedic after the war, working as a civilian EMS at Fort McClellan and volunteering with the Hollis Crossroads Fire Department. Then came that rainy Monday when a disheveled, bloody man limped out onto Choccolocco Road as Langley was returning home from a 24-hour shift.
It was Dennis Lachut, one of Flight 861's survivors, a 29-year-old Army sergeant who'd descended from Stanley Hill seeking help. His leg was broken. His head was bleeding. He was bruised and scratched from head to toe. At one point, he'd thrown a rock at a black dog that growled at him when he fell out of the woods behind Camp Lee.
He nearly stumbled in front of Langley's truck.
"You see a guy bloody in the road and instantly the paramedic in you kicks in," said Langley, who helped Lachut into the cab of his truck and started bandaging the sergeant's head wound. Langley thought there'd been a car wreck, but Lachut told him about the plane crash and the two survivors up on Stanley Hill.
Langley took him to the nearby home of Mary Warren and used the phone to call 911. Warren gave Lachut a glass of water. Her grandson, Mark Corbett, said Lachut "had blood on one of his eyes and walked around like his leg was broke." Of Flight 861's myriad side stories, this is among its quirkiest: an Army sergeant from Washington state picked up by an Anniston ambulance at a Choccolocco residence after a plane from Atlanta crashed into a wooded mountain inside a military post.
Langley grabbed his paramedic gear and headed for Stanley Hill.
A mountain shrouded in fog, rain
No Calhoun County rescue personnel knew Flight 861 had crashed at the fort, hitting Stanley Hill at 8:52 a.m., until Langley called 911 at 11:56 a.m., quickly igniting one of the accident's controversies. Why didn't EMS from Anniston and Oxford, Anniston police and firefighters and Calhoun County 911 know about the crash when the Federal Aviation Administration, the Civil Air Patrol headquarters at Scott Air Force Base, Mo., Civil Air Patrol officers in Birmingham and Albertville and the Alabama Emergency Management Agency in Montgomery knew?
Those federal and state agencies had been told an Anniston-bound plane had dropped off radar at 8:49 a.m. The Calhoun County Emergency Management Agency learned at 10:45 a.m. that a commuter flight was missing, but didn't notify local responders. In the three hours between the crash and the 911 call, a survivor pulled from the wreckage, Bill French, had died on the scene and Lachut had crawled for nearly two hours down the mountain seeking help.
Lachut's Choccolocco Road stumble in front of Langley's truck broke that silence.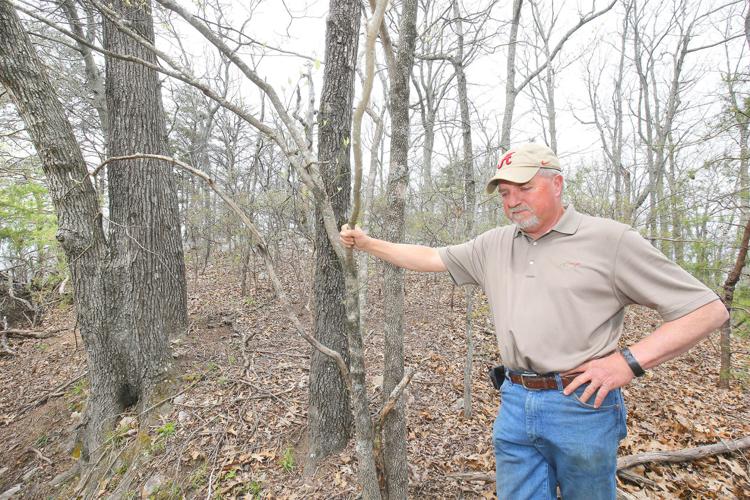 Fireman J.J. Brooks was among the small group of first-responders who first arrived at Camp Lee, thinking the crash was just above the Methodist church retreat. One of the responders' other issues — the inability of the different agencies to talk to one another via radio — exacerbated the confusion about where the plane had crashed.
Anniston Fire Chief Louis LeFoy told a group of firemen, including Brooks, to hike north and find the plane.
"We threw down our equipment and started going straight up the mountain," Brooks said.
Nearby, Anniston police investigator Glen Pettus was driving on Greenbrier Avenue when APD's dispatcher said the Fire Department was responding to a possible plane crash on Choccolocco Road. Back in the day, Pettus had ridden motorcycles on the serpentine paths above Camp Lee. He knew the place. He headed that way.
Once on scene, Pettus and another officer started up the mountain. So, too, did Alabama State Trooper Ron Hayden. It was pouring rain, making it hard to hear their radios. Pettus split with the other officer who was making better time heading uphill. He sat down for a second to catch his breath, then started climbing again.
The rain slowed. The forest grew quiet.
He heard someone yell.
"Plane crash!"
All Pettus saw were trees and hills, no wreckage, no survivors. The rain came again, in torrents this time. The woods cleared as he neared the top of Stanley Hill.
Flight 861 had crashed near a road.
"The first thing I saw was an individual with some injuries and broken bones," said Pettus, who also fired into the air to notify others coming up the mountain. "He had a piece of aircraft, had it pulled out so people could see it. He was sitting down."
Pettus had found Mike Feeney, 35, a survivor from Lawrenceville, Ga.
"There was another individual standing upright between two trees," Pettus said. "I spoke to him but he didn't speak back. He was in shock. His pants were burnt."
Pettus had found James Meadows, 24, Flight 861's co-pilot, of Indianola, Iowa.
Farther down Stanley Hill, the firemen heard gunshots overhead — an audible signal that a first-responder had found the wreckage. It was Hayden, who said he "emptied the clip" of his 9mm handgun when he reached the scene. The treetops above Brooks started to shorten, clipped by the aluminum wings, the tell-tale sign of the plane's descent through the fog.
"It looked like you had used a bush hog on top of that mountain," Brooks said. "The plane was split just perfect. It was just split to the cabin. Where the passengers were was still intact."
Brooks was among the three firemen who soon joined Hayden and Pettus at the crash site, including medic Jim McCaig.
"As we started working on this guy, these (television news) helicopters came up (from Atlanta)," Brooks said. "They were blowing our stuff off the ground, that's how low they were. We were throwing rocks at them. They blowed away all the bandages that we had laid on the ground."
Chaos atop Stanley Hill
Two people died immediately when Flight 861 slammed into Stanley Hill: pilot Vernon Schuety, 29, and passenger Peggy Yurk, 42. Passenger French, 40, died about an hour later after Feeney and Lachut pulled him from the wreckage and sat him on the ground, propping him up against a tree near the road.
McCaig began attending to the survivors. Hayden took off his uniform shirt and wrapped it around the shivering Meadows, who was going into shock. Brooks headed to the plane. By then, the cockpit fire had burned out, blackening the nearby trees.
He looked inside the cabin and saw a person wearing a red-and-black flannel shirt, lying on the floor.
"I just assumed it was a guy," Brooks said.
It wasn't. It was Yurk, a nurse from Oshkosh, Wisc., whose husband, Army Maj. Mike Yurk, was stationed in Germany and had been reassigned as provost marshal at Anniston Army Depot. She was flying to Anniston to close the deal on a house in Oxford. Autopsy reports said she died from blunt-force trauma.
Brooks went to the cockpit, split open by a tree.
On one side was Meadows' empty seat.
On the other sat Schuety, the pilot, still buckled in, who'd died in the fire.
Life on one side, death on the other.
"He still had his headphones on," Brooks said.
By mid-afternoon, a phalanx of first-responders and several agencies joined those from Anniston atop Stanley Hill. The coroner. Sheriff's deputies. Federal Aviation Administration officials. Pettus initially tried to keep the scene organized and limit the chaos. "I told them you can't touch anything or move anything, and you need to get anyone who is not involved with helping people out of the way," Pettus said. Federal marshals soon arrived, followed by Army personnel who took control of the crash site and put it under armed guard. Soldiers from Fort McClellan used four-wheel-drive ambulances to remove the survivors.
A female soldier holding what Brooks remembers as an M16 stood in the fuselage's doorway. "She locked it down. That was the last time we were in it," Brooks said. "We'd probably been there 45 minutes to an hour looking all through it." Federal marshals loaded Brooks and other first-responders into their vehicles and drove north toward Bains Gap and into Fort McClellan. Volunteer firefighters returned them to the staging area in the rear of Camp Lee.
Their day was through.
The bodies of the dead came off Stanley Hill around 5:30 p.m.
'They all stay with you'
Twenty-six years have passed since Flight 861 flew into the side of this Alabama mountain. Those who climbed that Monday afternoon have aged, retired, moved away. Some have died. But forgotten? No.
Langley, the paramedic from Chulafinnee, is now 64 and has lived since 1996 in McAlester, Okla. He changed careers — "I got 'BRAC'ed," he said, during one of the Pentagon's base-realignment and closure efforts — and became a civilian explosive safety specialist for the Department of Defense. The Army sent him twice to Iraq, where he served with the 3rd Infantry Division during Desert Storm. He's seen stuff, in Southeast Asia, in the Middle East, on Alabama mountains.
"I was a medic in Vietnam, so (the plane crash) was just a bump in the road for me," Langley said. "You will find EMS personnel who have been on the job for a long time, and they learn to put things in a compartment. They look back on it and said they did the best they could. You have to if you work rescue."
Pettus, the police investigator, retired from APD as a shift sergeant in 2012. He lives today in Oxford and moonlights as a bailiff at the Calhoun County Courthouse.
"They all stay with you," Pettus said. "That's not the first or last burned bodies I've seen. They all stay with you to a degree. I worked homicide for a number of years. I worked numerous suicides, stabbings ... But I can only tell you that it stays with you to a degree and you have to push it back somehow."
Brooks, who lives in Rabbittown, retired from the Anniston Fire Department in 2013 as assistant chief. His skin is hardened, like Pettus' and Langley's, from a life spent responding to man's worst times. Questions about Stanley Hill on June 8, 1992, are like pricking a water balloon. Memories gush out, unstoppable and vivid.
"You see how well I know about it, don't ya?" he said. "I really, really had some problems with the way that cockpit was split. We're talking about six inches from death to life.
"I can see the crash right now if I let my mind do it. I can see the red dirt, the mud. It's unreal. That's one of those calls that stayed with me my whole career."