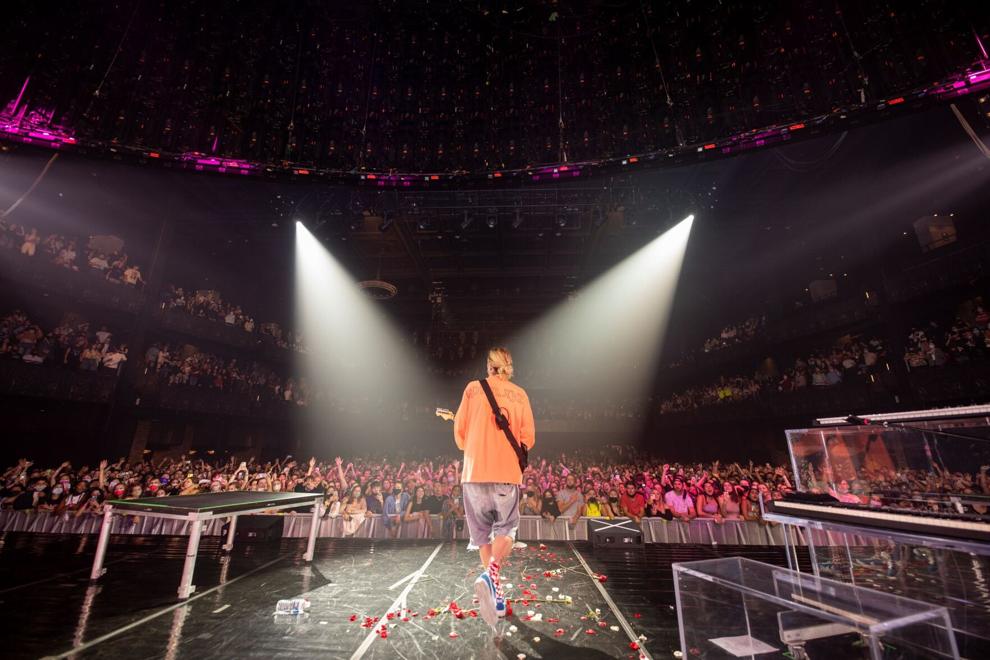 I really love it when a new artist sneaks into my listening orbit. I'm destined to obsess over their entire output, whether it be singles, collaborations and albums or whatever a deep dive on YouTube will produce. LANY has been that group for me since the summer of 2018.
I first heard their song "Good Girls" on a playlist by The 1975, another band that lassoed my musical attention span in late 2014. I found myself singing the song at differing times during my days and was hopelessly enchanted by their mix of jaunty music and vulnerable lyrics. The brave honesty of "ILYSB" and "Super Far" made their debut album "13" a permanent ear worm for the rest of the year. 
Fast forward to this summer and two more superb albums later, and I'm smitten yet again. Their new record, "Gg bb xx," came out in August and showcases the growth of members Paul Jason Klein, Les Priest and Jake Goss. The new songs are raw with emotion, while the instrumentation is rock steady as ever. In a recent interview, Klein talked about writing songs, modern romance and performing at the CMT country music awards.
Q: Your new album is out. Is there the same feeling/excitement with putting this one out as the first?
A: It's always the greatest feeling finally giving the world what you have been working on for so long. It's like spending a year on putting together the best birthday present for your favorite person in the world and finally being able to give it to them. I think it only gets more exciting with each album.
Q: I'd like to ask about some specific songs on this new record. The first is "Dancing in the Kitchen." It's got such a positive vibe. How long does it take for a song like that to come together? It seems like the author is in such a good place.  
A: I was actually trying to write a different song the day we wrote "Dancing in the Kitchen." I wanted to write a song called "Til I Don't," which basically says, "The world is a crazy place, I have no idea what tomorrow holds, I can't promise you forever, but I can promise that I'll love you 'til I don't." While writing the bridge for that song, I shouted out, "We fly around the world just to dance in the kitchen." Everyone in the room perked up and was like, "We have to write a song called 'Dancing in the Kitchen.'" So we did. That is the first and only time in my life I've written two songs in one day.
Q: The next is "Never Mind, Let's Break Up." It's the opposite end of the spectrum from "Kitchen." I find it interesting to find those dissimilar perspectives on the same record. 
A: "Never Mind, Let's Break Up" wasn't written until we finished the album. I wanted to set aside a few days, give us space from the album, and see what might fall out of the sky. We wrote that song in one day and had it finished the next.
Q: Tell me about the collaboration with Kelsea Ballerini and how it came together. I was really surprised to hear it on the CMT country music awards show.
A: Kelsea and I have been friends for a few years now! She came to our Nashville show at the Ryman in 2019, and I would randomly run into her in LA. I was in Nashville for a few weeks at the beginning of 2021 writing for the album, and she asked if I would write a song with her. We wrote that song on a Friday afternoon. Everything about it was effortless and easy. She was asked to host the CMTs this year and so graciously wanted to perform together. The whole experience has been a dream.
Q: You've worked with other artists in the past. Would you be interested in just writing and producing for other artists in the future without the songs being on a LANY record?
A: I think one day, for sure! Right now, there's nothing in the world I care more about than my band. If I'm in the room and a group of us write a huge song, it's gonna be a LANY song, lol.
Q: LANY is known for having control over all aspects of their artistry, whether it be social media, merch or creating music. Are you interested in other artistic endeavors like TV or movies? I think you'd be naturals in that world. 
A: Thank you so much! Yes, absolutely. I grew up doing musical theater. I'm currently being sent scripts, and I'm super excited about that.
Q: Your shows continue to get bigger audiences. What's your prep before performing, and is it harder to reach the fans in the back of the room when they're so many there? 
A: The prep has stayed the same! During our careers so far, we've had amazing learning experiences playing in front of a lot of people and also not very many people at all. My goal has always been the same … to try to look into as many eyes as possible.
Q: Your music videos are all really well done and convey the mood of the songs really well. I especially like the interlocking chapters in "Good Girls" and "ILYSB." Who came up with the concept for those two videos? 
A: Thank you! I did! That was really fun to write and pull off.
Q: Your social media is exceptional and does a great job of keeping fans up to date on the group. It feels like a one-on-one exchange between the artist and your followers. 
A: Thanks! I still choose all the pics and write the captions and post everything, lol.
Q: Last question. "Til I Don't" encapsulates what dating is like in the current landscape. It's one of the more open songs I've heard from LANY and taps into how disposable relationships can be now. I think it actually ties all the records together and may be the best thing you've written. Is that about one person or an amalgamation of several? 
A: Oh wow, I did not expect that. Thank you so much! It's definitely super honest … I remember people around me thinking it was a lot more "savage" than I felt it was, haha. The truth hurts sometimes. But lying to yourself or others always hurts more.
Larry May is the owner of CD Cellar record store on Noble Street in downtown Anniston.