TALLADEGA -- A Talladega woman has been charged with making a terrorist threat after allegedly saying she was going to shoot her child's teacher on Facebook. Graham Elementary School was placed on lockdown this morning as a result of the threat.
Anna Jordan Ford, 30, was in the Talladega County Jail awaiting an initial appearance this afternoon. No bond has been set in the case.
In a post on her own page Sunday night, Ford wrote in part: "I don't think people understand the extreme a parent(s) will go when it comes to their child(ren)... I'm done talking about it... what will happen is I will put a round at 2,700 feet per f---ing second into the medulla at the base of your s---ty ass brain and you'll be dead from the neck down before your body even knows it."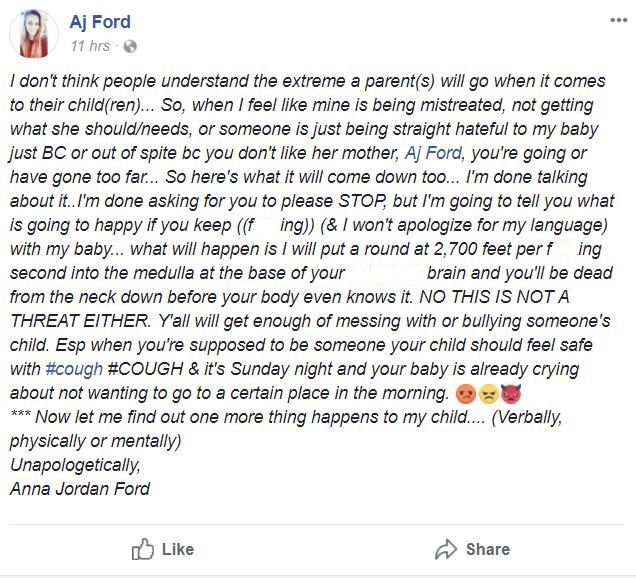 The post was visible to anyone with a Facebook account.
The post had not been taken down when Ford was arrested early this afternoon.
City Schools Superintendent Terry Roller issued a statement this morning saying, "The school was placed on lockdown due to a perceived possible encounter with the parent. The School Resource Officer was notified, district staff members were notified and appropriate support was dispatched to Graham. No students or staff were in danger but safety precautions were taken and emergency protocols were implemented. Student safety is our highest priority.  We value the diligence and watchful eyes of the community stakeholders."
Roller said this afternoon that the lockdown has been lifted.
Talladega Police Capt. John McCoy confirmed that officers were dispatched to the school, and that the students had been placed on lockdown after breakfast had been served and they had been taken to their classrooms.
During the investigation, McCoy said officers went to Ford's home and brought her in for an interview. She turned herself in at City Hall shortly afterward.
Making a terrorist threat is a class C felony in Alabama, punishable upon conviction by one year and one day to 10 years in prison.