JACKSONVILLE — At one point during the day, as Jacksonville State's baseball players, coaches and staff went about their various jobs, head coach Jim Case had nothing to do.
Jacksonville State was preparing to play Eastern Illinois on Sunday afternoon, and Case already had made out the lineup, which is his big responsibility on gameday until the actual game starts. So, he was left to simply chat with me for a while as his players took swings in the batting cage.
Commenting on how he thought the whole operation would run just fine if he hadn't shown up, he said with no hint of sarcasm, "You can see how unimportant I am."
Hardly.
Everybody in the organization takes their cue from Case, an even-keeled man of 59. He has coached baseball since 1982 after a four-year playing career at Louisiana Tech. He grew up in Ensley and is close to his family. He and wife Jan Case, a JSU math professor, have been married for 36 years.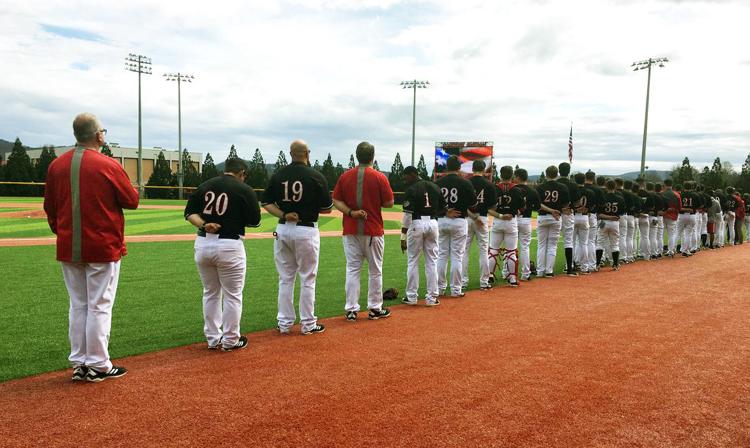 He is in his 18th season as Jacksonville State's head baseball coach and has won more OVC games (264) than any other active baseball coach in the league. Six of his JSU teams have won league championships. The new baseball stadium is named for him.
His hallmark, however, is consistency. Since JSU joined the league 15 years ago, his team has made the league tournament every year, even though for most years only six teams qualified. In dealing with his players and staff, he is consistent in attitude, approach and demeanor. Never gets too up, never gets too down. That has some of us referring to him as "Gentleman Jim."
During Jacksonville State's 12-5 home win over Eastern Illinois on Sunday, Case allowed me to spend gameday with him. Wherever he went, I was allowed to go.
Here are some of the highlights of the day:
9:50 a.m.: The players are filtering into the baseball complex. Several of the guys are gathered in the players' lounge.
They helped with parking for JSU football games, which raised a little money for the team. The players were allowed to vote on how they wanted to spend it, and they decided to use it for a game system for the lounge. That's now a popular way for them to spend a little downtime before starting earnest preparations for the game.
Case is already in the building. That's obvious because his red truck already is parked near the complex's main door.
He had an 8 o'clock speaking engagement at a church, but he hustled over to the baseball park immediately afterward. At the moment, he is tucked away in the coaches' locker room, putting on his uniform.
10:49 a.m.: Case is sitting alone in the dugout, making out his lineup. About halfway through his first attempt, he changes his mind, discards that sheet, and starts over.
He looks so focused and intent on his task at hand, I stand about 20 feet away, figuring this is when I should be quiet. Case notices and says, "Come sit over here, you're not going to bother me."
When Case finishes, he uses athletic tape to post a copy in the dugout. Later, one of the JSU assistant coaches posts a sheet of information on every Eastern Illinois pitcher, which includes details such as what pitch he likes to throw and how quickly he delivers a pitch to home plate. That's important for potential base-stealers.
10:51 a.m.: Eastern Illinois' team has arrived, and the Panthers' players and coaches are making their way into the visiting dugout. Their coach, Jason Anderson, comes over for a moment. Case says Eastern Illinois is welcome to take batting practice inside the JSU hitting facility or outside on the field, Anderson says he would prefer outside, even though it's drizzling.
The weather in Illinois hasn't allowed the Panthers to practice outside often. In fact, Anderson had asked Case earlier if his team could practice at the JSU stadium Monday as well, because after this series, his team is headed to Montgomery for a two-game series with Alabama State. Case agreed to let them use the Gamecocks' field.
These are polite and civil moments between the two coaches, whose teams haven't had the best relationship in the past two years. When JSU visited EIU last season, one game was interrupted by an on-field brawl, which resulted in suspensions on both sides.
As Case's players began pouring off the bench to join the fight, he jumped in front, held out both arms and yelled, "Stay in the dugout! Stay in the dugout!" Unfortunately, "Gentleman Jim" was no match for an angry baseball team, as the players flowed past him like water over a dam.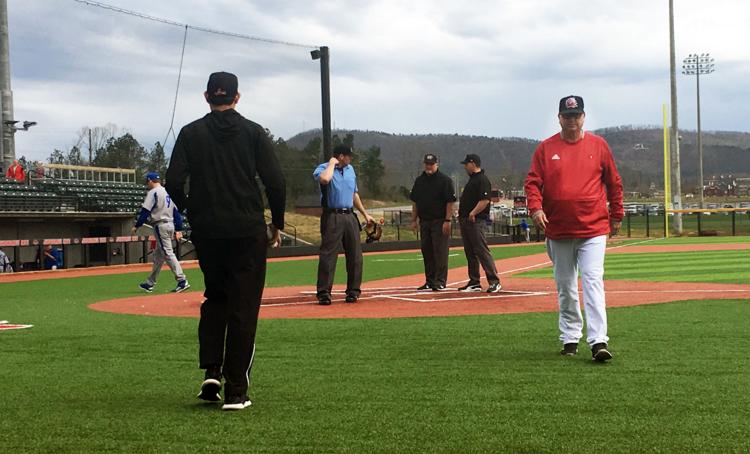 Then on Saturday night, as EIU closed out a one-run win over Jacksonville State, a Panthers player turned to the Gamecocks' dugout, pointed at his crotch and then wheeled around to extend his middle finger at a group of rowdy JSU fans, who occupy a spot beyond right field called "Cocky's Corner."
It's clear that Case doesn't want to add to the heat.
11:58 a.m.: While looking for a team manager to take some tickets for friends to the JSU box office, Case explains his comment about why he thinks he's unimportant on gameday.
He repeats something he says he tells valuable assistant coaches Evan Bush and Mike Murphree and volunteer assistant Trevor Fitts:
"I tell them, 'If I get thrown out of a game, it is no factor. None at all. If you get thrown out, it hurts.'"
12:53 p.m.: The game is close to starting. Several of the players are talking about longtime baseball announcer Bob Uecker, which in turn begins a discussion about his best lines from an appearance in the movie "Major League."
The players are trying to recall the name of the character Uecker played.
"Harry Doyle," Bush interjects. A check online shows he's right.
1 p.m.: Gametime. Case anchors himself in his accustomed spot, next to the wall on the side of the dugout closest to home plate.
When JSU is at bat, he'll go out to coach third base, while Murphree handles first and Bush the dugout. But when the other team is at bat, Case stays put next to the wall.
He is completely focused on the game. He asked me later, "Where did you sit during the game?" When I said I was on a bench with the pitchers about 10 feet away, he said, "I didn't realize that."
When the other team is at bat, Case keeps a small scorebook and writes in it often. He says he's done it since 1984, marking down results, tendencies of opposing hitters, and anything else that could help him help his players.
Case also decides which pitch to throw, but not every one. The catcher this day, Alex Webb, will call many of the pitches, but on occasion, he'll look back at Case. In those situations, Case will give a complicated set of signs to indicate what pitch he says should be thrown.
Sometimes Case will just point back at Webb as if to say, "You've got it. It's your call."
Webb has the option to point back at Case as if to say, "No, seriously, I want you to call this pitch."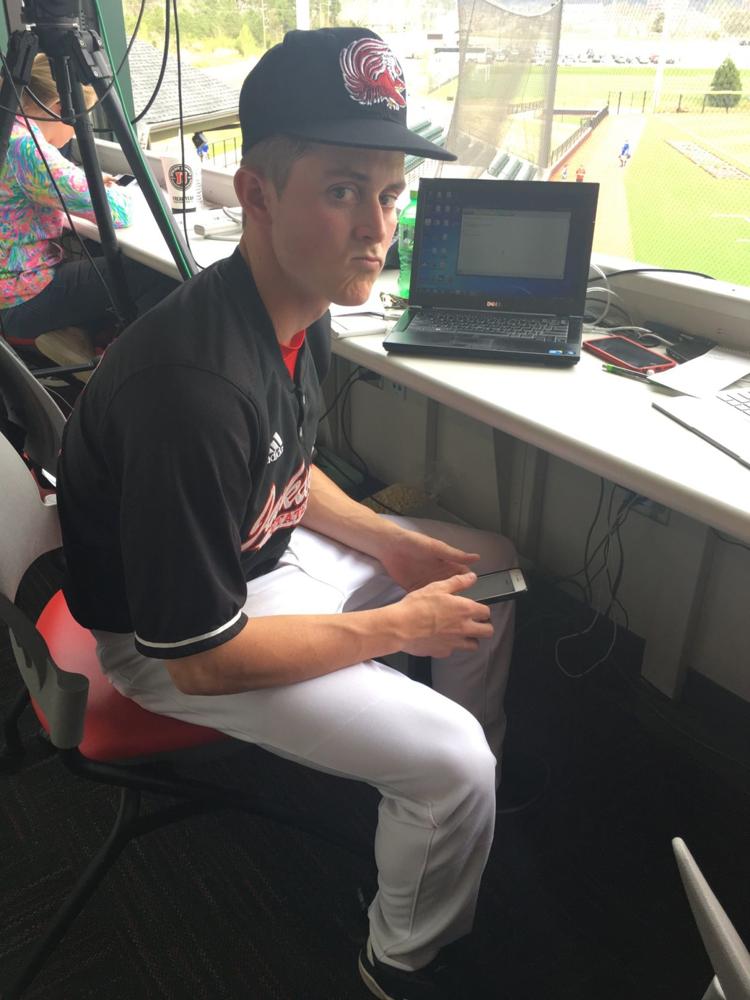 1:08 p.m.: Considering the recent history between the two teams, the first inning gets off to a bad start.
That Eastern Illinois player who made the gestures the previous night is at bat. JSU pitcher Dylan Hathcock loses control of a slow curve, and the ball strikes the guy in the upper arm. That draws shouts and angry complaints from the Panthers' bench. An EIU assistant coach moves to the top step of the dugout, throws up his arms, and screams at Hathcock, who ignores the fuss.
The JSU bench is muted. They all know if you're going to gun for an opposing batter, you're going to do it with a fastball. Even one of the JSU players shouts back, "It was a curveball!"
1:34 p.m.: After Eastern Illinois scores twice in the top of the first inning, JSU answers with two of its own on an EIU error.
This is where JSU relief pitcher Corley Woods shows some of his personality. Whenever a JSU player returns to the dugout after scoring a run, Woods yells, "Put it on the booooaaaard!" His teammates answer back with a loud, "Yes!" In this case, since JSU scored two runs on the same play, Woods does it twice.
It's fun to see how Woods embraces his role as one of the vocal guys in the dugout. A junior from Benjamin Russell High School, he hasn't pitched a whole lot in important situations. That's beginning to change, and it's good when an upbeat guy like him gets on the field for critical moments.
2:45 p.m.: It's been a tough game, and little seems to have gone according to plan for JSU.
Case had to go to his bullpen in the first inning. Also, remember that lineup he filled out so painstakingly? That changed in the third inning when he inserted Alex Strachan for Andrew Naismith for a better matchup at the plate. Even so, JSU just can't get that critical hit to break open the game.
Still, JSU is tied with EIU 4-4 after Cole Fredrick's solo home run in the bottom of the fourth.
It is now the bottom of the fifth, and Nic Gaddis has singled and Strachan followed with a double. That puts runners on second and third but two are out as outfielder Chase Robinson steps in the batter's box.
He ignites the JSU dugout by driving a double to right field. Gaddis and Strachan score easily, and Woods has two more chances to yell, "Put it on the booooaaaard!" His teammates yell back, "Yes!" even louder than before.
JSU is up 6-4 with its first lead of the day, and it's like a ball of tension has disappeared. Everyone is more relaxed.
Even Case, who's been stoic the whole game, seems a little different. When he returns to the dugout from coaching third base, he gets a drink of water, and while walking back to his wall, he smiles and says to nobody in particular, "Oh, that was a good hit."
2:51 p.m.: It's the top of the sixth inning, and guess who's in the game? Woods gets his turn on the mound.
In Friday's one-run win, he entered the game in the eighth inning with the bases loaded and one out. He got EIU to ground into a double play, and he's no less effective this time.
He'll work four innings to close out the 12-5 win and not give up a hit until EIU's Ryan Ignoffo belts a solo homer in the ninth.
3:31 p.m.: In the bottom of the eighth, Gaddis hammers a three-run homer to account for JSU's last three runs.
The Gamecocks had been slumping at the plate for the previous three weeks, but that's over now.
3:38 p.m.: Woods gets EIU's Dane Toppel to ground out to end the game. JSU takes two of three in the series with EIU.
Case says with a smile, "It was a good series. If we had won all three, it would be a great series."
There are no fireworks afterward between the two teams, not even in the postgame handshakes. Per tradition in the OVC, JSU and EIU line up and walk by each other, giving each opposing player a high-five and saying something positive like, "Good game."
It all goes without a hitch. That's what Case wanted.
When the handshakes are done, the players gather around Case in the dugout, and he compliments them on getting the win. He also praises them for keeping their cool.
4 p.m.: Case is upstairs in the JSU press box, having just finished an interview with Jacksonville State radio voice Mike Parris.
Case is about to leave, says that he's headed to eat dinner with some family members.
Before going, he talks for just a bit about why it's so important to him that his players conduct themselves a certain way: "Class always wins out. I believe that. Class always wins out."