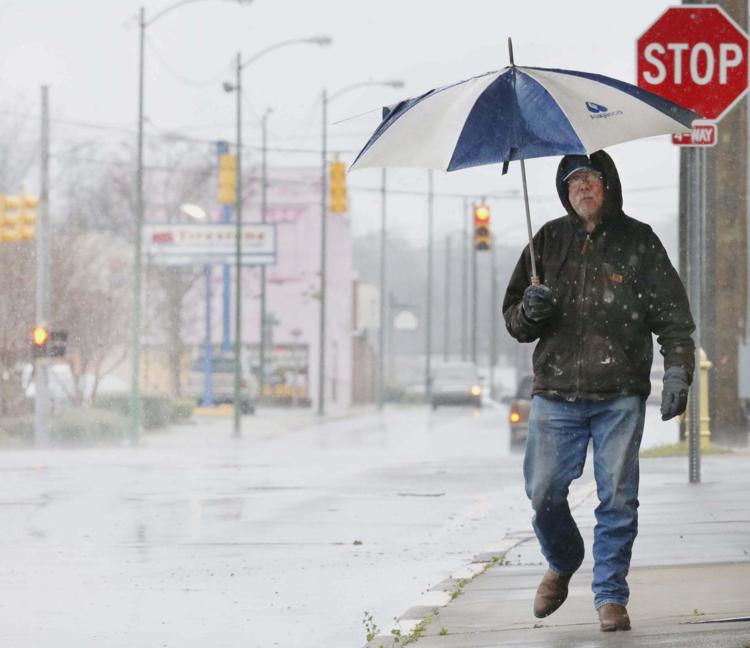 Northeast Alabama is under a flash flood warning until 8:30 p.m., as heavy rain continued to pummel the region.
The National Weather Service issued the warning at 2:30 p.m., moving up from a flash flood watch set to expire Tuesday night and an areal flood watch — in which flooding happens over a long time — set to expire later this evening. The warning includes Calhoun, Talladega and St. Clair counties. 
"A warning means we've gotten a report of flooding or it's very likely to occur soon," said Gerald Satterwhite, a meteorologist at the National Weather Service station in Calera. "It's time to take action for people that are in those flood-prone areas or who have seen flooding nearby." 
About 2.11 inches of rain fell from 8 a.m. to 4 p.m. at the Anniston Metropolitan Airport, according to data from the National Weather Service's automated station there. About 1.25 inches of that total fell from 1 p.m. to 4 p.m., with no sign of slowing down. The weather service issued a flood watch earlier this morning that won't be lifted until 6 p.m. Tuesday. Another weather watch will be in effect from 6 p.m. Wednesday to 6 a.m. Thursday, with the potential for tornadoes and damaging winds up to 60 mph. 
According to Myles Chamblee, an officer of the Calhoun County Emergency Management Agency, there were reports of flooding in Anniston around 2:45 p.m., and the Sheriff's Office had reported flooding on Post Oak Road and Cameron Court off of U.S. 431 in Alexandria.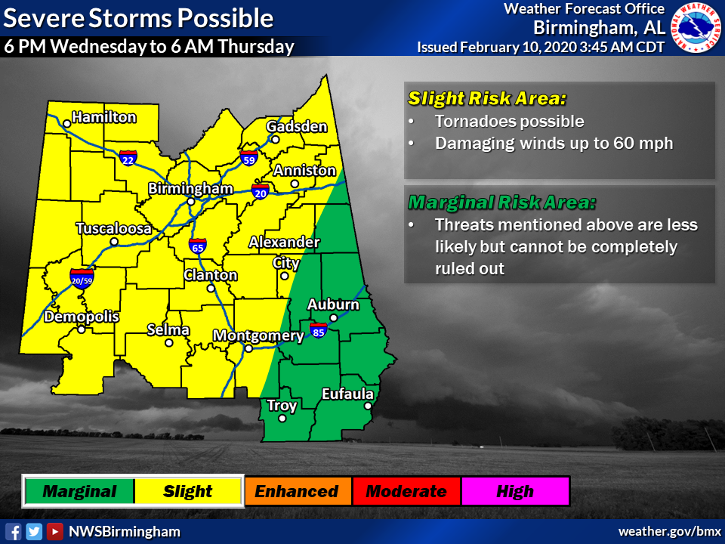 The Calhoun County school system announced a two-hour delay for Tuesday morning at around 4:15 p.m., along with the Donoho School, Oxford City Schools and Anniston City Schools. 
Anniston officials reported through the city's Facebook page at 3:30 p.m. that flooding had impacted several roadways, including Black, Gurnee, 11th, West 13th and West 15th streets, and Duncan Avenue. 
The Oxford Police Department had closed off Recreation Drive by 4 p.m., near its intersection with McCullars Lane in the area of the Oxford Civic Center. Ball fields near the civic center had been flooded. Oxford Fire chief Gary Sparks said around 4 p.m. that Recreation Drive was one of three roads flooded; the others were Wilson-Willingham Road in Coldwater and part of Ponderosa Trail in Eastaboga.
"That number's probably going to rise as the rain keeps falling," Sparks said.
Sparks said firefighters were called to Recreation Drive earlier this afternoon after a car drove through a flooded area and slid into a ditch. Sparks said firefighters pushed the car back onto the road and the passengers were able to drive away safely.
Cleburne County officials said there had been damage to County Road 924 that left the road impassable. 
According to county engineer Lee Estes, there are a few houses on the short, dirt road, located less than a mile northeast of the junction of County Road 36 and Alabama 9. 
"It was the only dirt road we had completely wash out," Estes said at about 1:30 p.m. "There are a few houses on the end of it but they have access from the other side." 
Estes said the road's only drainage was a 36-inch pipe that flooded over the roadway. A few other dirt roads sustained damage, but nothing so severe as Cleburne 924. A few shoulders had washout problems, too, he said, but those had already been repaired. 
Satterwhite had warned against flooding earlier this morning, given that the ground has been saturated by rain over the last few days. 
"We really want people to pay attention to that flood threat," Satterwhite said. "We're going to rack up high rain totals in a short amount of time, and the ground is so soggy since the beginning of the year, so there's some flooding going on already." 
Wednesday's threat of severe weather ranks as "slight," the second least severe of five rankings in the weather service's scale. 
"Right now there's a lot of wind shear with the system, and not that much instability," said Satterwhite. "It's not an alarming system as far as severe weather goes, but there's just enough there we can't rule out damaging winds." 
The risk categories are judged on factors like how many storms may hit the area, how long they could last and what kind of weather they could produce, Satterwhite explained. In higher risk categories, tornadoes might be longer-lived and more violent.
Estes, the Cleburne County engineer, warned drivers against taking their chances on flooded roadways, where they can easily lose control of their vehicle or find themselves swept away by floodwaters. 
"Don't drive through it," he said. "You don't know how deep it is or how fast it's flowing." 
This story includes reporting by Star staff writer Mia Kortright.