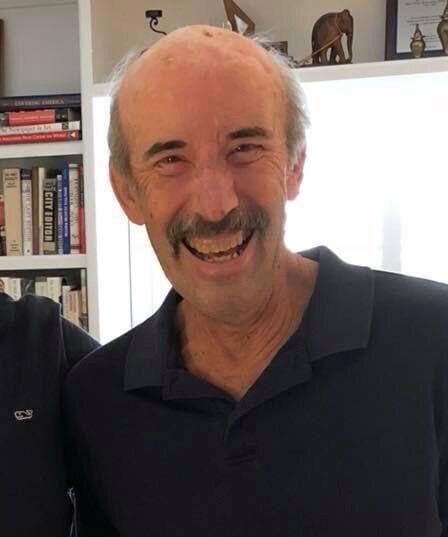 Joe Distelheim thought the Chicago Cubs hung the moon, which, given my unhealthy tryst with the St. Louis Cardinals, should have been an ironclad disqualifier. How could we be polite acquaintances, much less friends?
Granted, Joe D. — that's what most of us called him — was The Star's executive editor back in the first half of the '90s, not some obnoxious lout I met over beer and baseball. For four years he was my boss, a superb journalist who injected modernity into a small-town newspaper guided by its past.
Joe D. died Wednesday morning in Hilton Head Island, S.C., where he and his wife, Dottie, lived in retirement. He was 78.
I learned the news with a phone call. A ring, then silence, then shock. 
There were so many memories I could have recalled, most retellable. But I thought first of Joe D.'s love of baseball, which I shared, and his adoration of the Cubs, whom I loathed, and still do.
Four years ago, in the fall of 2016, Chicago's insufferable Northsiders made the World Series. 'Bout time. Joe D., ever the writer, wrote this for The Hardball Times, a baseball-themed website for those who think passionately about the game:
"We are Cubs fans. We are constantly mocked, perennially disappointed, inexperienced at even a penultimate step toward success. Now, our team is in the World Series. How are we supposed to feel?"
Surely he felt relieved, gleeful, even ecstatic. World Series trophies do that to people.
Joe D. came to Anniston not from Birmingham or Atlanta or Nashville, places we know well, places comfortable to us, but from Detroit. From Michigan. He'd worked in North Carolina and married a North Carolinian, but he was different. Born in Chicago, schooled at Northern Illinois, a soft-spoken sergeant in the Marine Corps Reserves.
His chops buckled my knees. In Charlotte, he led a staff that won the Pulitzer Prize. At Detroit's Free Press, he edited the sports section for five years, a span that included the Detroit Tigers' 1984 run through the World Series. He hired Mitch Albom — Mitch Albom! — long before "Tuesdays With Morrie." And here he was, in Anniston's dilapidated newsroom on West 10th Street, treating The Star's journalists no different, and expecting no less of us, than he did those with oversized readerships and larger paychecks he left behind.
He wasn't Mr. Distelheim. He was Joe D.
Unlike other editors I'd known, and would know later on, Joe D. had no perceptible ego. He empowered The Star's journalists, mentoring the inexperienced and embracing the old-timers. He knew his success was dependent on the paper's. He was ethical to the core.
Brief as it was, his time in Anniston marked the final years before the internet imploded the world and changed both how, and from whom, we get our news. He was The Star's editor during the first Gulf War, Bill Clinton's first presidential election, the wonderful fall of '92 — when both Alabama and Jacksonville State won football national championships — and Gov. Guy Hunt's resignation.
Joe D. was no stranger to snow, but not even he could prevent the Blizzard of '93 from halting delivery of the editions we cobbled together during the storm.
Thirteen inches of snow that March covered our part of Alabama. Power was spotty. A few Star staffers slept at the office; others walked to work if they were brave enough to try. The roads were officially closed. But when another editor threw bundles of a combined Saturday-Sunday-Monday edition — 600 copies — into the back of his pickup and set off to deliver them downtown, Joe D. hopped in. 
No ego, no show.
"People actually lined up as our inexperienced hands fumbled the bundles into vending machines in front of grocery stores and gas stations," he wrote after the snow melted. "They asked eagerly, 'Is it today's paper?', and pressed money into our hands. It was great therapy for (our) frustration."
 Joe D. left Anniston in November 1994. It wasn't, he explained, a hard decision. He and Dottie loved Anniston and The Star, but moving to Huntsville — where he'd edit The Times — was a professional opportunity he couldn't ignore. "If it had been a tough decision," he wrote, "we'd be staying in a city that has been welcoming from the first, comfortable throughout, and gratifyingly complimentary as we leave."
The Star was a better newspaper when he left than when he arrived.
Earlier this year Joe D. and I had traded emails, back before the pandemic kicked in and ruined everything. We mentioned journalism and The Star, but mostly we talked baseball.
"The Cardinals are going to eat the Cubs' lunch this year," he told me.
They didn't, but I appreciated the sentiment nonetheless.
Email: ptutor@annistonstar.com