They call him "TaZ," short for Tasmanian devil, and for good reason. The five bicycle chain medals hanging from his neck explain why.
"I feel like the king right now," said 12-year-old Cheaha rider Cayden Nelson, a sixth-grader at White Plains Middle School and the top racer in his division within the Alabama Interscholastic Cycling League.
Established in 2015, the Alabama Interscholastic Cycling League offers mountain biking programs to sixth- through 12th-grade students, according to the league's website, alabamamtb.org. The Alabama league is part of the National Interscholastic Cycling Association, and Calhoun County is represented by three teams, the Cheaha Mountain Bike Composite, the Donoho School and Jacksonville High School.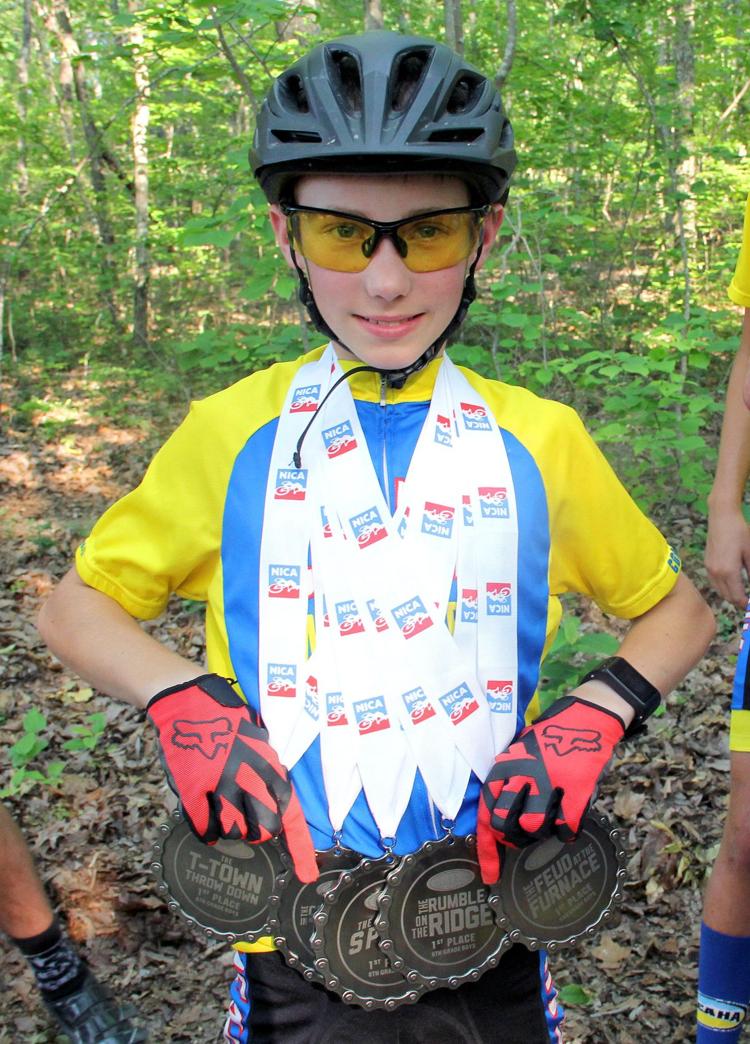 This season featured five weekend races — the T-Town Throwdown at Munny Sokol Park in Tuscaloosa; the Crank Down in Tiger Town at Chewacla State Park in Auburn; the Space Race at the U.S. Space & Rocket Center in Huntsville; the Rumble on the Ridge at Oak Mountain State Park in Pelham; and the Feud at the Furnace at Tannehill Ironworks Historical Park in McCalla.
Drawing riders from throughout the state, the races are exciting and require a lot of endurance, riders say.
"Whenever you cross the finish line, you feel like you're about to die," Nelson said. "And then when you're standing up on the podium, you feel like, 'That hard work just paid off. This is like being a king.'"
Nelson isn't the only one familiar with the glory of winning. Kelcie Comisac, an 11-year-old sixth-grader at Kitty Stone Elementary, is hailed as the fastest — and only — girl on the six-member JHS team. She, too, has the medals to prove it.
"It's just really fun to do," said Comisac, who finished first, second and third place three times during the five-race series. "When I go out there, it's just a little adrenaline rush during every race."
The 2017 season finished May 7. Cheaha's team placed fourth overall out of 26 teams, and the Donoho School and JHS placed 12th and 20th, according to league statistics.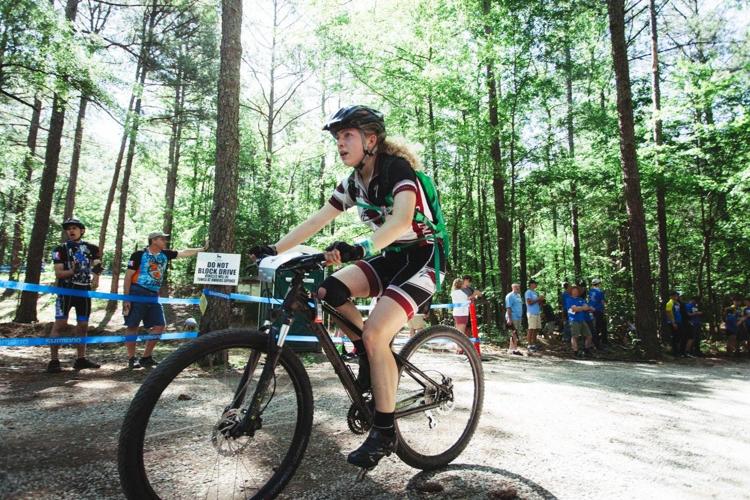 This season marked the first for Cheaha riders Morgan Wyatt, 17, an 11th-grader at Faith Christian School, and Sloan Harmon, 17, an 11th-grader at Pell City High School.
Lacking interest in other sports, Wyatt said she wanted to try riding because it offered something unique. She wasn't so sure about things when she first began riding and climbing difficult hills, but the friendships she formed with her teammates encouraged her to keep trying. She now plans to ride next year.
"I pretty much enjoy all of it," Wyatt said. "And it's something else different from what everybody else does."
Harmon said he was drawn to mountain bikes by social media and through talk about the large trail at Coldwater Mountain. He, too, looks forward to riding next year and has his sight set on making it to varsity.
"Being my first year, that feels pretty good," Harmon said about his finishing placement. "But I feel like there's a lot of room for improvement next year."
Libby Davis, an 18-year-old Donoho School graduating senior, embraced her first opportunity to race in the varsity girls division this year. She said the Alabama league is great for young riders and provides them with a positive outlet.
"I love seeing the young people compete, too, and win a medal," Davis said.
Besides speedy thrills and extreme tests of stamina, Dawson Hathaway, 16, and 14-year-old Joseph Francis of the JHS team said racing offers opportunities to meet other riders who are also passionate about the sport.
"You get to make a lot of new friends," said Hathaway, a 10th-grader. "It's just a great way to get out and enjoy nature."
"The first year there were all seniors, and I was in the seventh grade," said Francis, a ninth-grader who's been a rider with the Alabama league since it began in 2015. "But I still keep in touch with a few of them who are in college. And they come to see me at some of my races. It's really nice."
Head coaches Tony Jewah, 55, of the Cheaha team and Matthew Johnson, 50, of JHS hope the sport will attract more riders. For them, it has been a pleasure watching riders bond, compete and develop strong friendships.
"When they're standing on the line waiting for the race to start, they're making friends with the kids standing around them," Johnson said.
Added Jewah: "It's amazing to watch them come in and later come across that finish line. You can see they've accomplished their own personal victory, and you can see it on their face."