JACKSONVILLE — Helping restore the tornado-ravaged city wasn't a choice for David Williams on Friday.
It was a debt he intended repay.
The day after Monday evening's tornado ripped through the city, hundreds of volunteers poured into Williams' neighborhood, many helping him board up the holes in his house.
"We weren't really helping; we were just in shock," Williams said of him and his family. "People just came in and helped us with everything."
After that initial wave of help though, officials closed the city to volunteers so crews could restore power and clear streets. When the city reopened to volunteers on Friday, Williams decided he'd repay the help given to him.
"I plan to work until I drop today or I run out of diesel," Williams said Friday before operating excavation equipment that he owns for his concrete company. "I'm now just in the insurance waiting phase so I have no work on my house to do … it would be wrong for me not to come out here and help after I was helped."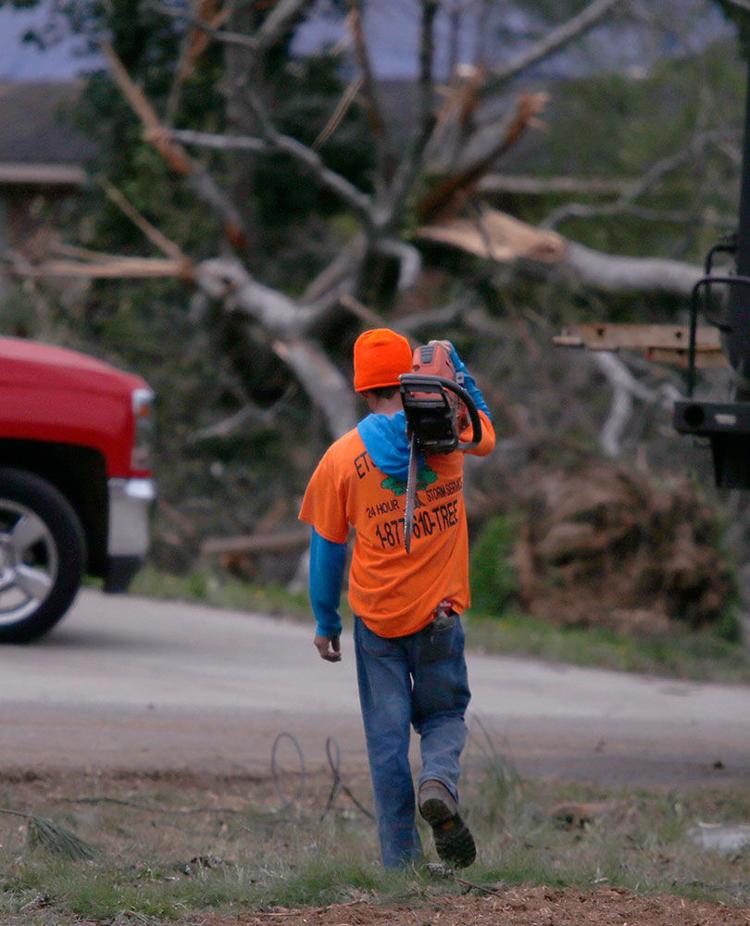 Williams was one of more than 1,000 volunteers who cleared debris in the city Friday. Relief organizers say now that Jacksonville is safe enough for volunteers, they'll need all the help they can get for at least through next week.
Ruth Moffatt with United Way of Etowah County and organizer of the Friday volunteer cleanup, said that between all the individual volunteers, church groups and nonprofits, there were easily more than 1,000 people helping clear debris and cut fallen trees in the city Friday.
A drive around east Jacksonville. pic.twitter.com/CJA1gC3yzn

— Trent Penny (@TPenny_Star) March 23, 2018
Anyone who wants to volunteer can register at the Jacksonville Community Center.
"We will be here all weekend and all into next week," Moffatt said. "I think next week we'll start to scale back efforts a little, but we need as many people as we can get."
Emma Winkels, 20, of Fort Payne, came with Alabama Campus Ministries Friday to help remove tree limbs from residents' yards. Winkels said she volunteered because of the help her family received after their home was hit during a tornado in 2011.
"I remember people coming in from South Carolina and asking what we needed … that always stuck with me," Winkels said while standing in a yard near 12th Street NE. "The only good that comes from tornadoes is it brings people together to help."
Jacksonville and 11th Street and 9th Avenue. pic.twitter.com/v41fuUDBuT

— Trent Penny (@TPenny_Star) March 23, 2018
Kaitlyn Glenn, 21 of Ashland, was also with Baptist Campus Ministries and had previously helped in Houston after a hurricane hit there last year. Glenn said helping in Jacksonville was personal, though, because she has family in the city and once attended Jacksonville State University.
"And I've been through a tornado, so I know how hard it can be," Glenn said.
Nearby on 9th Street NE, employees with the charitable nonprofit arm of Southwire Company, a Georgia-based electrical wire manufacturer, helped move concrete blocks from a family's front yard.
"We got out around 8 a.m. and we've been walking from home to home, seeing what we can do," Kristian Whittington, manager of employee management and communications for Southwire, said Friday afternoon.
Whittington noted that she was a JSU alumnus and was devastated by the damage done to the campus.
"It's awful, just heartbreaking … I spent four years of my life here," she said.
Looking west from 5th Avenue in Jacksonville. pic.twitter.com/RhXKB2jWcE

— Trent Penny (@TPenny_Star) March 23, 2018
Jason Pollard, senior director of corporate communications for Southwire, said he was also a JSU graduate and was glad he could help the city recover.
"We've done a lot of these disaster relief efforts, but this is different because this is where we grew up," Pollard said of himself and several coworkers. "We have a lot of Calhoun County and Heflin people here, so we're invested in the community."
Tornado damage from intersection of 10th Street and 10th Ave NE in Jacksonville pic.twitter.com/KJIGFj2XkS

— Trent Penny (@TPenny_Star) March 23, 2018