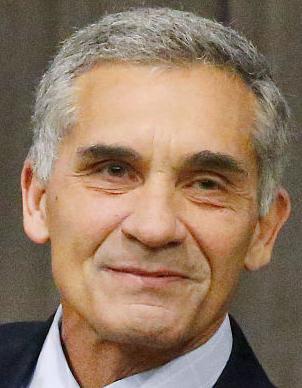 State Sen. Del Marsh, R-Anniston, said Thursday he's not behind a poll that reportedly floated his name as a write-in alternative to Republican U.S. Senate candidate Roy Moore.
In fact, Marsh said he doesn't think the party should propose a write-in alternative at all.
"I would suggest to the party that they should not do a write-in campaign," Marsh said. "All that does is elect Doug Jones."
Moore, a former judge and longtime celebrity among religious conservatives, faces Democrat Doug Jones, a former federal prosecutor, in a special election to fill the Senate seat once held by U.S. attorney general Jeff Sessions.
Moore's campaign was knocked back on its heels last week when The Washington Post published the accounts of four women who said Moore pursued them romantically in the late 1970s, when the women were in their teens and Moore in his early 30s. One of the women was 14 when Moore allegedly initiated sexual contact with her, according to the report.
Since then, five additional women have come forward with similar stories – including Anniston-area resident Beverly Young Nelson, who said Monday that Moore groped her in his car in Gadsden in 1977, when she was 16 and Moore was 30.
Moore has denied the charges. In a press conference Wednesday, Moore's lawyers challenged a key piece of evidence – an inscription Moore allegedly made in Nelson's high school yearbook – saying they wanted the yearbook submitted to a third party for analysis.
The candidate held another press conference Thursday, in which pastors and politicians spoke on Moore's behalf for 90 minutes.
"My friends in the media... Your knee is going to bow, and your tongue is going to confess that He is Lord," said Flip Benham of Operation Rescue. "You have no choice in that matter."
Moore later rose to speak, saying that the allegations are "not only untrue but they have no evidence to support them." Moore left after brief remarks, and didn't respond to questions from reporters.
Public reaction to media asking about allegations pic.twitter.com/PtHiTPd2dE

— Kirsten Fiscus (@KFiscus_Star) November 16, 2017
The accusations have caused a rift in the Republican Party, where many local officials have defended Moore – some even saying they'd vote for him if the charges were true – while national Republican leaders have abandoned him. Republicans in the Senate this week floated the idea of refusing to seat Moore in the Senate even if he's elected.
Moore can't be removed from the ballot even if he steps down from the nomination, state officials have said. Absentee voting has already begun. Gov. Kay Ivey has rejected calls by some Republicans to change the election date, a move that some contend would reset the clock and allow the party to name a new nominee.
That would leave the Alabama Republican Party few options. Among them: Move forward with Moore or throw their official support behind a single write-in candidate.
Party leaders met Wednesday, but seem to have taken no action. The party's Twitter feed still boasts a "Moore for Senate" poster as its main art. Members of the GOP's steering committee declined to discuss the committee's deliberations Thursday morning, but party chairwoman Terry Lathan later released a prepared statement saying the party "supports Judge Roy Moore as our nominee."
Someone, however, is floating the names of Marsh and U.S. Rep. Mo Brooks, R-Huntsville, as write-in candidates, according to a Thursday report by ABC 33/40. Marsh said he's not behind the effort, and he'd vote for "whoever is the party's nominee."
Brooks was one of Moore's opponents in the GOP primary for Senate. Marsh, long considered a contender for the seat, never launched a run.
Another of Moore's primary opponents said he expected many voters to write in a name in December, whether the party names a new candidate or not. Still, state Sen. Trip Pittman, R-Montrose, said he didn't support the idea of a write-in alternative.
"It's not the write-in party; it's the Republican Party," said Pittman, who didn't make the runoff in the Aug. 15 primary.
A Wednesday report in the website Politico suggested Republican leaders are pressuring sitting Sen. Luther Strange to resign, creating a situation in which Gov. Kay Ivey could have the power to set a new special election. Ivey's spokesman, asked about that possibility, sent a recording of Ivey reiterating that the election is set for Dec. 12.
Montgomery-based political consultant David Mowery says a rescheduled election could easily backfire on the GOP.
"People don't like to be forced into things," Mowery said. "Especially in Alabama. It's on the state seal."
The Latin state motto, "audemis jura nostra defendere" translates to "we dare defend our rights."
"There is a Democratic option," Mowery said. "The Republicans are playing with fire if they try to replace the nominee."