So, who you got: Nick Saban or Bear Bryant?
Which one is Alabama's greatest all-time football coach? It's an interesting question to pose, as Saban's Crimson Tide will face Ohio State in the national championship game Monday.
A victory would give him seven national championships, and that'll break him out of a tie with Bryant for the most in major college football history.
Of course, objectively picking which one is better is an impossible task. Your answer likely will depend on when you grew up. A win or a loss Monday won't change how anybody ranks the two.
I'll always pick Bear Bryant, who won his last national title in 1979, even if Nick Saban were to win 20 national championships. ESPN agrees with me. Last year, when the network presented its list of the 150 greatest college football coaches of all time, Bryant was first, and Saban was second. Notre Dame's Knute Rockne was third. Three other Alabama coaching legends were on the list: Wallace Wade at No. 56, Frank Thomas at No. 67 and Gene Stallings at No. 123.
But, if you pick Saban, I'll concede that you'll have plenty of ammunition to make your case.
Bryant maintained an incredible streak of elite results. He won 15 conference championships, with the first coming in 1950 at Kentucky and the final one at Alabama in 1981 — a 31-year gap between first and last crowns. That's just incredible to stay on top for that long.
Saban has won 10 league championships — the first in 1990 at Toledo, and his most recent one in 2020 at Alabama — a 30-year gap. Just one short of Bryant.
Bryant won national titles in 1961, '64, '65, '73, '78 and '79, and the college football landscape changed dramatically during that span.
The first three came when the University of Alabama didn't have any black athletes. The final three came when Alabama and the sport were heavily integrated.
Also, NCAA rules limited substitutions significantly when Bryant won his first two titles, which meant players often had to play both offense and defense. He was using smaller, quicker, more durable players to win, before switching to larger guys who could dominate if they had to play only offense or defense.
Bryant won his titles before there was a playoff, and the poll voters weren't big fans of Southern football. It's a bit of a surprise that six of his teams managed to end the season ranked first. Two of his other squads could make solid cases for championships, too, but they didn't impress the voters enough.
Saban has to deal with so much that Bryant didn't.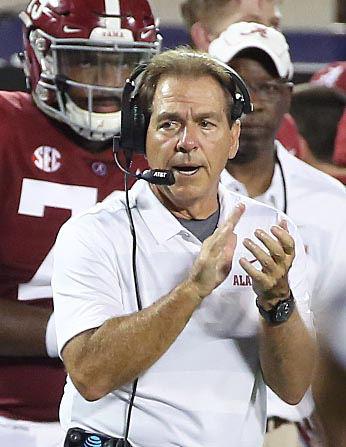 Recruiting is more difficult. There's more money and more competition in college football now. There was a two-team playoff, and now it's up to four teams. There's a conference championship game, and the SEC has grown from 10 teams in Bryant's day to 14 now.
Saban's teams have had to go through a tougher gauntlet in their championship years than Bryant's did.
Like Bryant, Saban needed to make a significant philosophical shift to keep winning. He used to win with defense and the running game. But, the passing game keeps growing in importance every year in college football. Even so, Saban has stayed ahead of the trend.
Bryant and Saban are alike in some important ways. They both consider recruiting to be the most important part of building a program.
They're able to get everyone on board with how they want things done. Saban calls that "the process," while Bryant called it "one heartbeat."
Still, if you prefer Saban, his record is worthy, but even Saban himself won't agree with you.
"Alabama would not be what it is — the job I have would not be what it is — if it wasn't for Bear Bryant and all that he did to make Alabama, the University of Alabama, the success that they have, the tradition, the expectations, the national image, the national pride," Saban said a day after winning the 2015 national title game over Clemson. "I mean, there's so many things that I don't even touch that his presence had tremendous significance in establishing and making a part of the aura of what the Southeastern Conference and the University of Alabama is through history."