Rest easy, Gamecocks fans.
Yes, ultra-popular Jacksonville State radio voice Mike Parris has retired from his full-time job at the university.
But, he will continue calling Gamecocks football, basketball and other sports on radio. He doesn't plan to quit anytime soon.
"Hopefully, if they'll let me, I'll keep doing this," Parris said. "They may carry me out of here in a pine box. I don't know, man. I'll do it for a while, hopefully."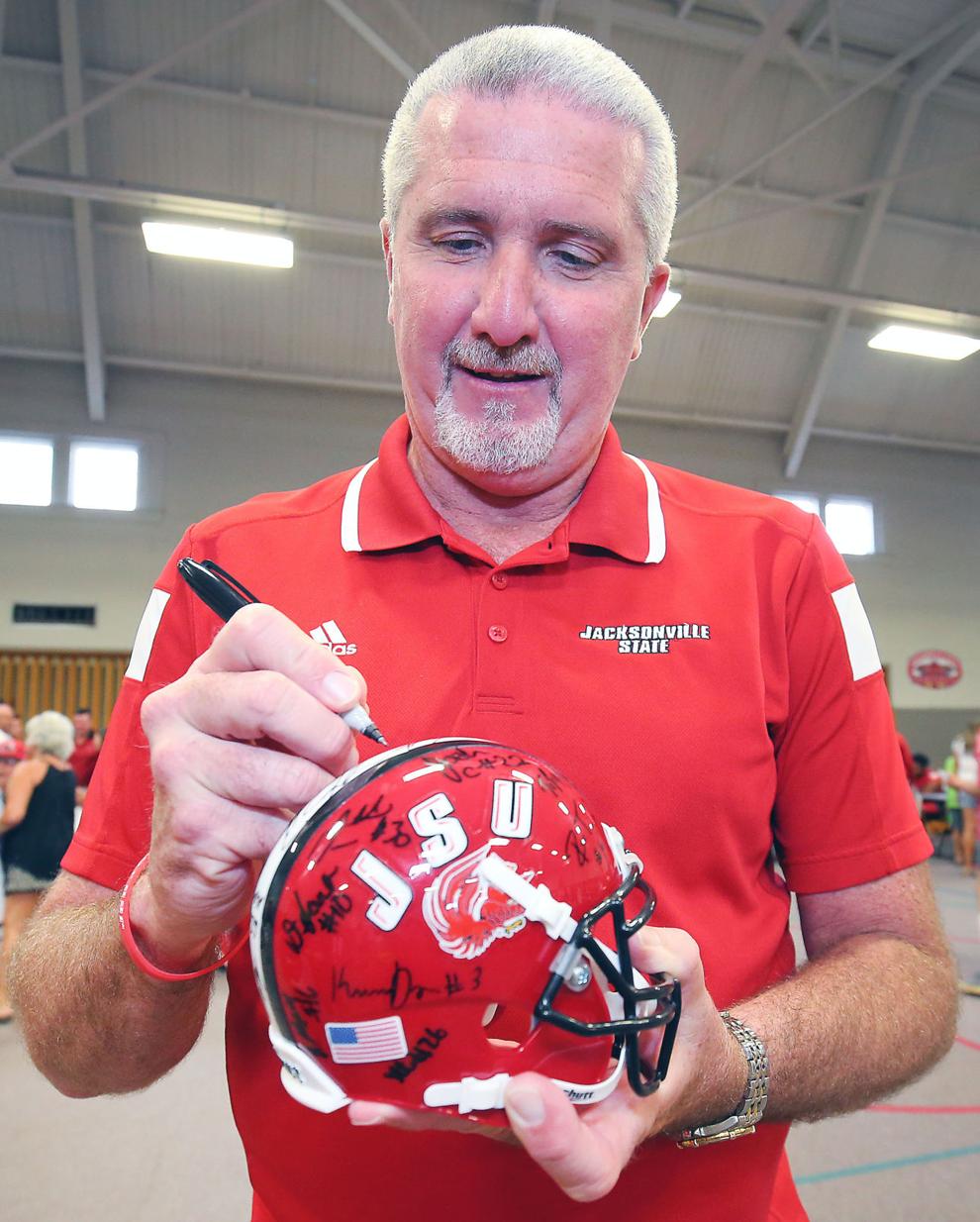 Here's the deal: Parris has retired from his JSU job as assistant athletics director for broadcasting. That was official Aug. 1.
He was told that if he retired, Alabama law required him to wait 30 days before he could return to work for the school. So, he'll be back as a part-time employee Sept. 1 — the day JSU faces UAB in football in Montgomery.
His "new" position will involve just doing the broadcasts. When he has a late game during the week, he won't need to go to an office at 8 or 8:30 a.m., as he did in the past.
This will be his 39th football season after calling his first JSU game in 1983. Parris wouldn't be able to do this had JSU athletics director Greg Seitz not agreed to let him continue working games.
"Why retire?" Parris said, repeating a question posed to him. "I don't know. It just felt like the right time, and the fact that Greg was gracious enough to let me keep doing the radio broadcast. That made it a whole lot easier to make the decision. If he had said, 'No,' I don't know. I'd probably still be working full-time."
Parris said he's looking forward to more free time. He also has a grandchild who just turned 1.
He's earned the break. Mike Parris is as dedicated to JSU as anybody who works there, and he works a breakneck schedule. Jacksonville State is lucky to have him.
There have been times when he'll call men's and women's basketball on the road but hustle back to town to call a baseball game the next day. This is a common enough occurrence that he's been told it's OK if he misses the occasional game because of a conflict between events.
It's unlikely the average JSU fan would've realized that Parris has made a significant life change, if not for a social media post he made the day before his official retirement.
While cleaning out his office, he noticed an old cassette tape. It was still in the original wrapper.
"I take a picture, and dummy me, I post a picture on social media and tag that I was cleaning out my office and came across this," he said. "I said I probably won't be able to use this again."
Some people took that to mean he was done broadcasting games.
"Nothing is going to change from the radio standpoint," he said. "I'll keep doing what I've been doing. I'll keep doing all that — football, basketball, baseball."
His retirement isn't the only big thing in Parris' life recently.
He's also entering the Jacksonville State Athletics Hall of Fame as one of four members of the Class of 2020-21. It's a stout class, which also includes former major league baseball player Todd Cunningham, 2016 Masters champion Danny Willett, and three-time football All-America punter Richie Rhodes.
"Greg called me the other day, and he said two things: 'You won't have to EmCee this year. We'll find somebody else to EmCee so you can enjoy the night.' And, he said, 'Normally, you're not speechless. You're speechless, aren't you?'
"I was totally surprised. I had no idea it was coming."
The reaction to that has been significant: "I'm not a big social media guy, but in the last few days since word had gotten out, all the people through email, social media, telephone calls or text, it's been quite overwhelming. Nice to know people think of you and think highly of you.
Parris said he grew up in Georgia wanting to call games on the radio, just like legends in the business, such as Larry Munson at Georgia, John Forney at Alabama, John Ward at Tennessee and John Ferguson at LSU.
"An SEC job would've been very intriguing, quite honestly," Parris said. "But, those jobs just don't come open."
In the end, staying at Jacksonville State has worked out well for him. He said Jacksonville was a great place to raise his children. He's gotten to travel from Maine to California, and Michigan to the Virgin Islands.
He added that he's enjoyed watching the program grow from Division II to Division I with better and better facilities.
"The old football press box on what is now the visitors' side of the field," he recalled. "The sun shined on you. You'd die at a Saturday afternoon game, especially in September, it would be awful."
But, it's more than that.
"It's just home," he said. "You build relationships with people. The closeness and family-type atmosphere here, and I'm not talking just athletics; it's campus-wide."
And Mike Parris is a large part of that.